Elinz Digital Wireless 9" Quad Splitscreen DVR Recording Function Built-in Speakers 12V 24V 2.4GHz Monitor Only
SKU: M9DG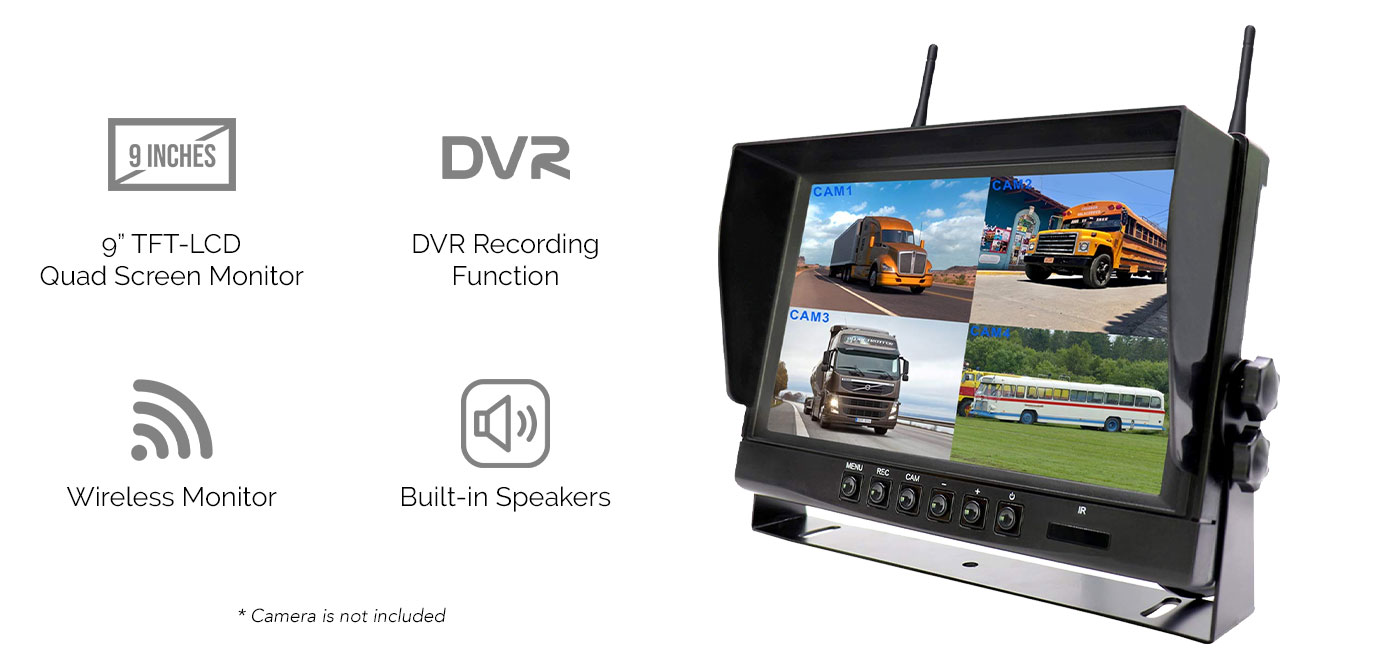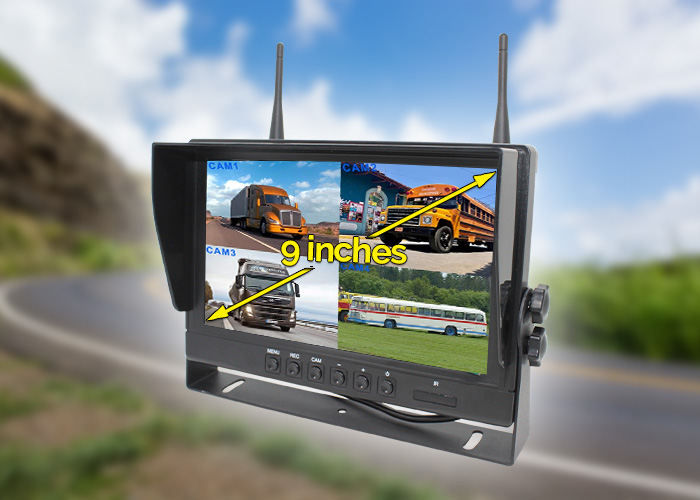 9" TFT-LCD Quad Screen Monitor
800 x 480 Resolution
Support audio recording for all 4 channels
Sunshade is not removable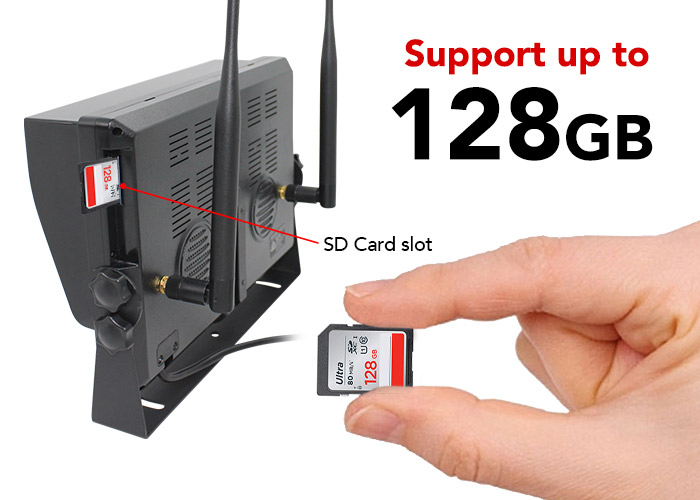 Can support up to 128GB SD card so you can record your footages from all camera. (SD card not included, available to be purchased separately)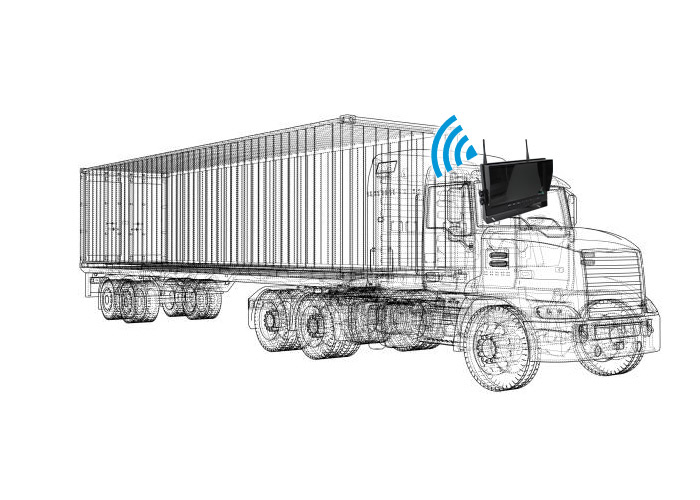 No more complicated long video cables from the monitor to the camera.

*Note: camera is not included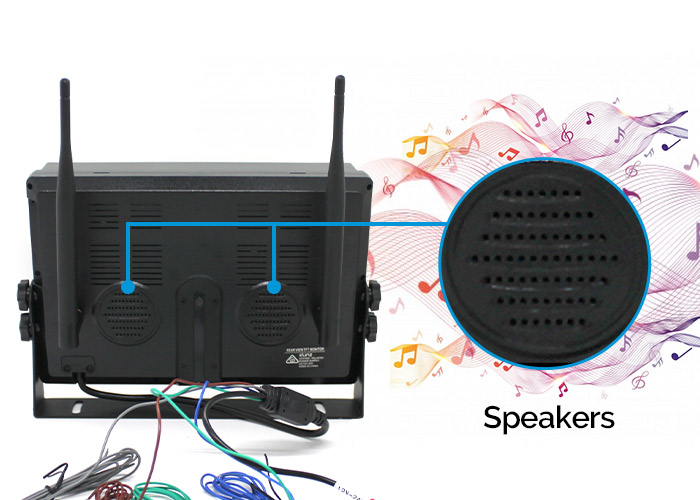 With built-in speakers for easy communication, designed to support camera with mic.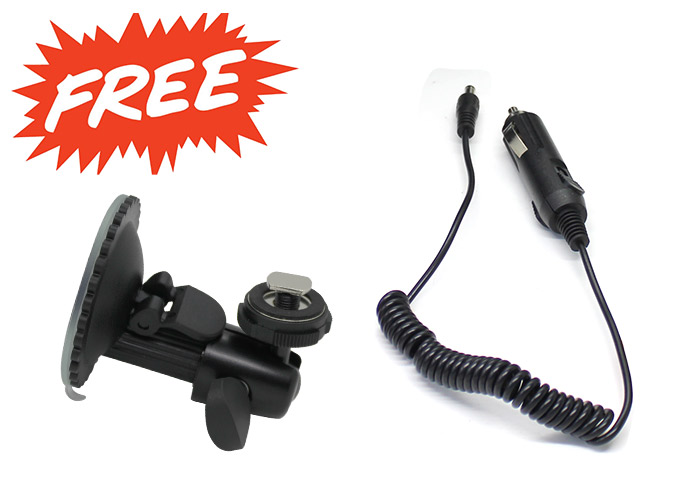 FREE Windscreen Suction Cup Mount and Car Charger
This new model comes with good quality windscreen suction mount so you can install the monitor easily on your windscreen.
Also includes a car charger so you can power up your monitor via cigarette lighter outlet.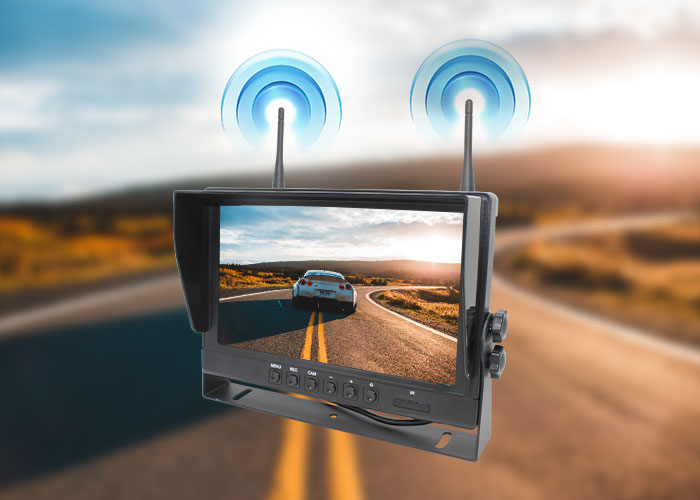 2.4GHz Digital Wireless Transmission
2.4GHz Digital wireless transmission has no interference as compared to Analogue wireless transmission which is prone to interference.
Stable signal and HD image, it is compatible to vehicles.
Improved wireless module to provide longer transmission distance of 30m-200m.
Dual antennas monitor with stronger transmission 30m with barrier, 200m when no barrier.
Stable transmission up to 100km/h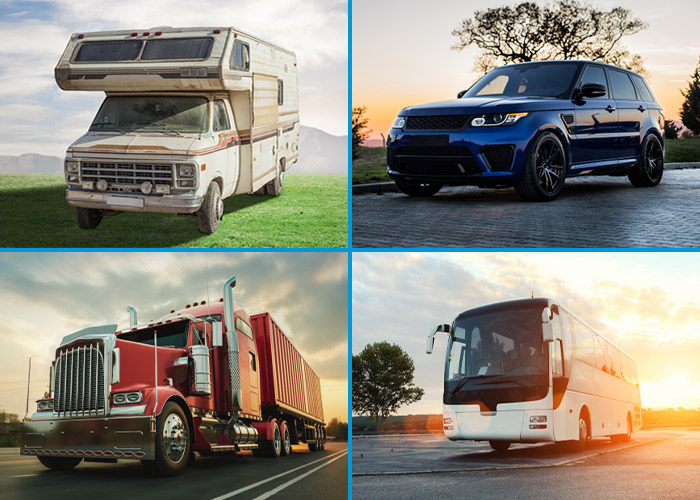 It is ideal for wide Variety of vehicles like cars, SUV, UTEs, Semi-Trailer/Box, Truck, 5th Wheel, Trailer, Bus, Caravan and more.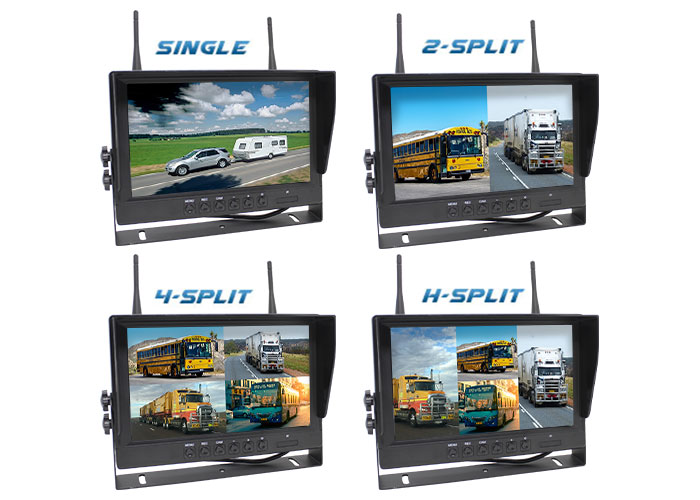 Quad Split Screen Monitor
This Quad view monitor allows you to show single screen, Split screen, quad screen or H-split screen.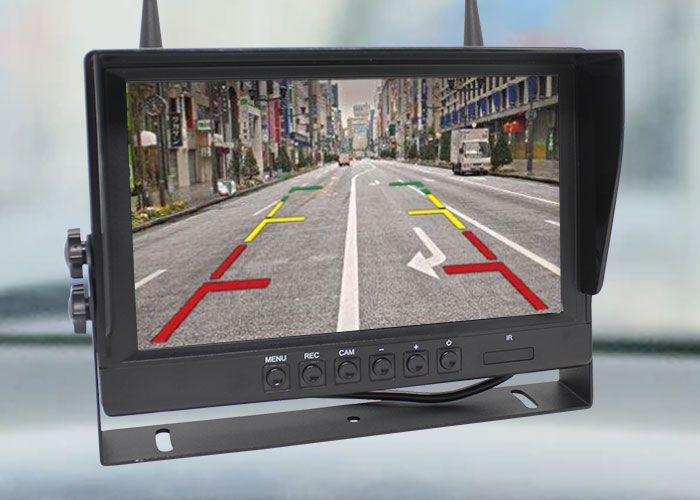 Parking Guideline Can Be Turned On/Off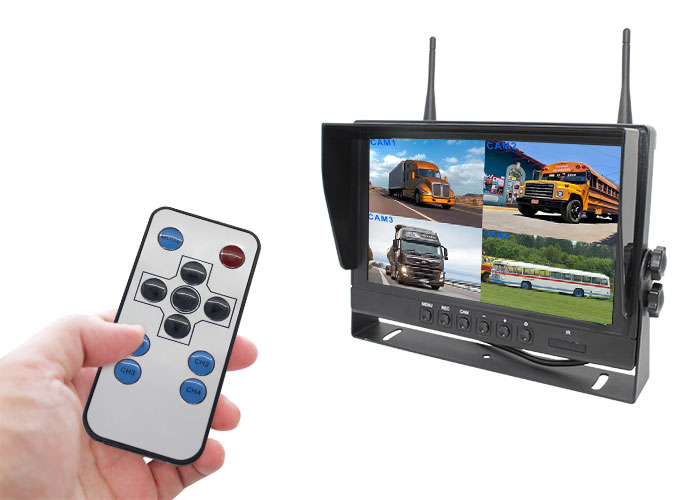 Remote access control that with simple interface and ability to control everything from afar.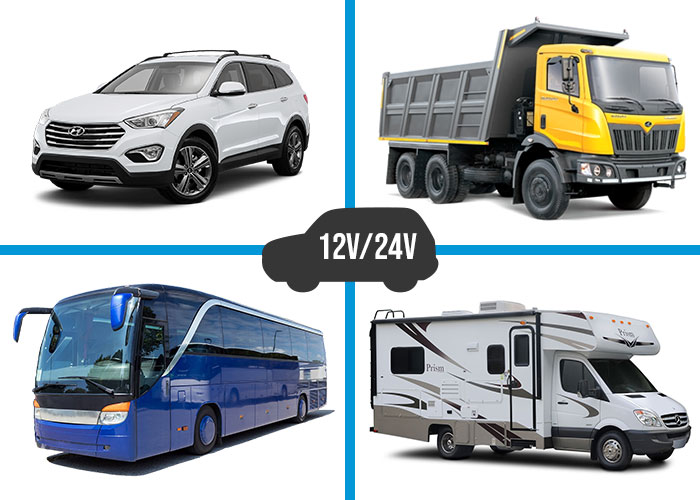 Suitable with 12V/24V Power Supply
Suitable for Trucks, Buses, Forklifts, Harvesters, Fire Trucks, Mining Trucks, Cane Trucks, Trailers, SUV, UTEs, Cars Semi-Trailer/Box, 5th Wheel, Caravan and more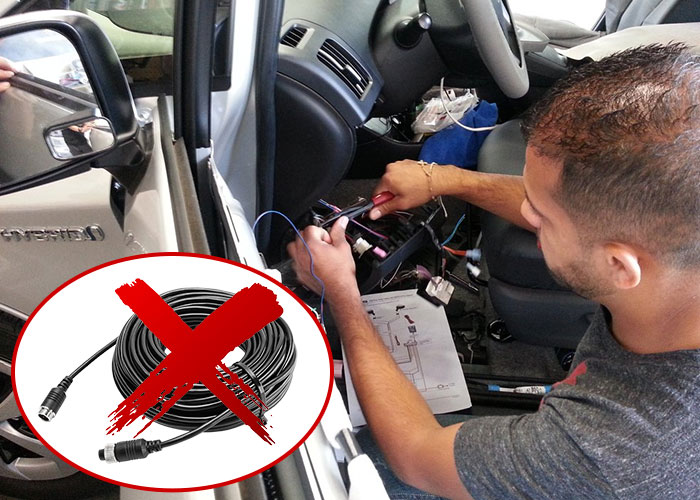 The monitor will start up automatically, and synchronously display the video from rearview camera when you're backing or braking your car.

* Note: camera is not included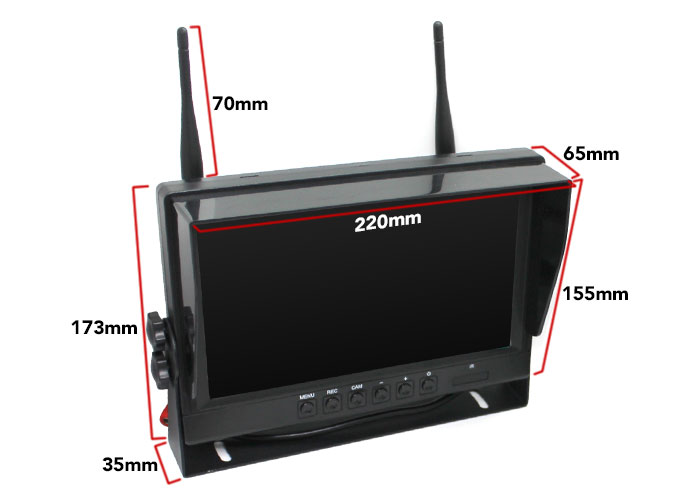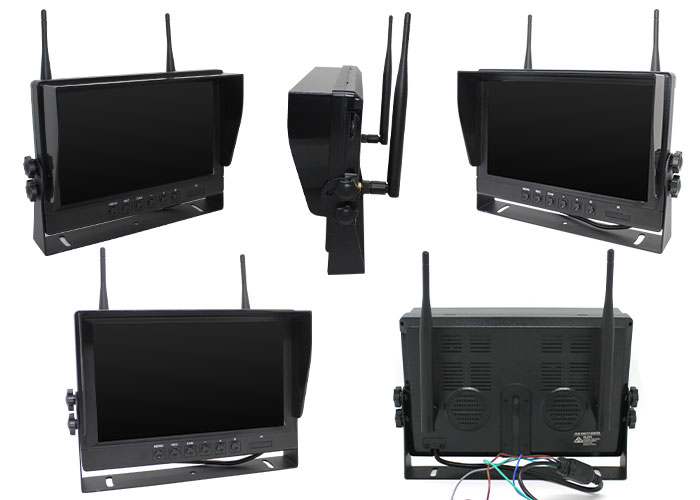 4CH Digital Wireless 9" Quad Splitscreen DVR Recording Built-in Speakers 12V 24V 2.4GHz Monitor Only

9" TFT-LCD Quad Screen Monitor that has 4 channels to support audio recording up to 4x cameras.The image can be adjusted : Mirror / Forward image adjustment available in the monitor setting. It uses 2.4GHz Digital wireless transmission has no interference as compared to Analogue wireless transmission which is prone to interference. This monitor has DVR Recording Function that can support up to 128GB SD card so you can record your footages from all camera. (SD card not included, available to be purchased separately).

It is ideal for wide variety of vehicles like Cars, SUV, UTEs, Semi-Trailer/Box, Truck, 5th Wheel, Trailer, Bus, Caravan and more. Suitable with 12V/24V power supply. You have 2 Ways to Install Monitor (1) Using monitor stand and (2) Using suction mount.

What is the difference between Wireless Analogue Transmission and Wireless Digital Transmission?

Analogue systems use the same technology/frequency as bluetooth/wireless networks therefore analogue monitors can pick up interference from Bluetooth phones/headsets etc. Digital systems are paired and only 'see' the digital signals, therefore there is no interference.

*Note: Cameras not included

If you need a wireless reversing camera monitor kit, please Click here
9" TFT-LCD Quad Screen Monitor

800 x 480 Resolution
Support audio recording for all 4 channels
Sunshade is not removable

DVR Recording Function

Can support up to 128GB SD card so you can record your footages from all camera.(SD card not included, available to be purchased separately)

Wireless Monitor

No more complicated long video cables from the monitor to the camera.

* Note: camera is not included

Built-in Speakers

With built-in speakers for easy communication, designed to support camera with mic.

FREE Windscreen Suction Cup Mount and Car Charger

This new model comes with good quality windscreen suction mount so you can install the monitor easily on your windscreen
Also includes a car charger so you can power up your monitor via cigarette lighter outlet.

2.4GHz Digital Wireless Transmission

2.4GHz Digital wireless transmission has no interference as compared to Analogue wireless transmission which is prone to interference
Stable signal and HD image, it is compatible to vehicles.
Improved wireless module to provide longer transmission distance of 30m-200m
Dual antennas monitor with stronger transmission 30m with barrier, 200m when no barrier.
Stable transmission up to 100km/h

Universal Fit

It is ideal for wide Variety of vehicles like cars, SUV, UTEs, Semi-Trailer/Box, Truck, 5th Wheel, Trailer, Bus, Caravan and more

Quad Split Screen Monitor

This Quad view monitor allows you to show single screen, Split screen, quad screen or H-split screen

Parking Guideline can be Turned On / Off
Suitable with 12V/24V Power Supply

Suitable for Trucks, Buses, Forklifts, Harvesters, Fire Trucks, Mining Trucks, Crane Trucks, Trailers, SUV, UTEs, Cars Semi-Trailer/Box, 5th Wheel, Caravan and more

Remote Control

Remote access control that with simple interface and ability to control everything from afar.

Easy to Install

The monitor will start up automatically, and synchronously display the video from rearview camera when you're backing or braking your car.

* Note: camera is not included
LCD Size: 9"
Resolution: 800 x 3 (RGB) x 480
Contrast: 500 | 1
Brightness: 400cd/m²
Viewing Angle: U: 50 / D: 70, R/L: 70
Dot pitch: 0.0642(W) x 0.1790(H)
Aspect Ratio: 16 | 9
Channel: 4 channels
Operating Frequency: 2400 - 2483.5 MHz
Receiving Sensitivity: -89 dBm
Decompression Form: MPEG4
Transmit Output Power: 17 dBm
Modulation: 2.4G FSK/GFSK
Time Delay: 120ms
Transmitting Distance: 30-200M
Micro-SD /TF Card: Max. 128GB
System Format: PAL / NTSC
Power Supply: DC 10-32V
Power Consumption: Max. 6W
Loudspeaker: 1.5W/8Ω
Operating temperature: -20~+70°C, RH90%
Storage temperature: -30~+80°C,RH90%
1. 1x 9" Wireless TFT LCD Monitor
2. 1x Monitor Car Charger
3. 1x Monitor Power Cord
4. 1x Monitor Suction Mount
5. 1x Remote Control
6. 1x User Manual