WAS From AUD $60.00
NOW From AUD $52.00
Sale Ends in
12:00 pm, 9 June 2022
Elinz Channel 1 Digital Wireless Receiver Transmitter 2.4GHz for 4PIN Reversing Camera Monitor

(SKU: HDWRL-A)

AUD $52.00

In stock

Elinz Channel 2 Digital Wireless Receiver Transmitter 2.4GHz for 4PIN Reversing Camera Monitor

(SKU: HDWRL-B)

AUD $52.00

In stock

Digital Wireless Receiver Transmitter 2.4GHz for 4PIN Reversing Camera Monitor
---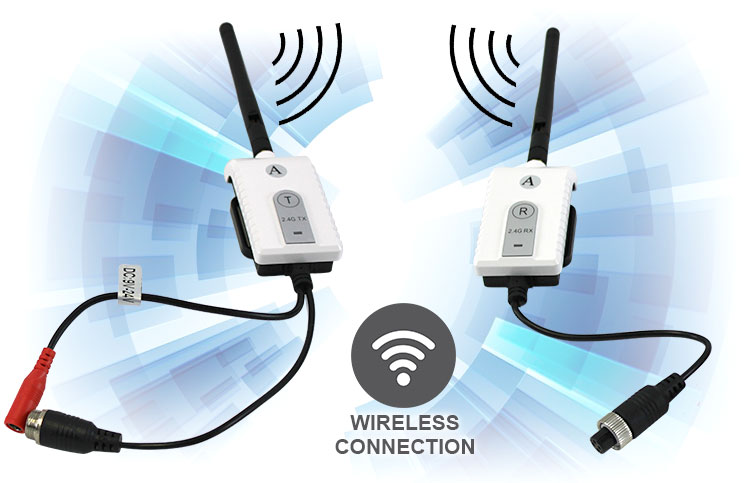 This Digital Wireless Transmitter Receiver is compatible to 4 PIN Monitor kits. You can safely drive with your reversing camera system with unbarred connections. With its digital connection you don't have to burden on signal interference. Remove your worries on installing as you can DIY installation as it is simple and easy.

---
Key Features
---
Digital Wireless Connection
New Technology using digital wireless transmission
No interference digital signal
Unobstructed Effective Range: 200m
Wireless connection is unhindered.
Images are delivered to your monitor clearly.
Wireless 2.4GHz Transmitter/Receiver Set
It can transmit images using high frequency connection
Power Supply: DC12~24V
Makes your Monitor Wireless
Makes your monitor wireless in less than a minute
Connect the transmitter to the camera part, and the receiver to the monitor part, the image can be transmitted wirelessly, so no wire needed between the monitor and camera
Compatibility
This Wireless Transmitter and Receiver is compatible with 4PIN monitor Kits
It is made to be used for heavy duty vehicles i.e. Trucks, Caravans, Cars, Boats etc.
Use of Digital Wireless Receiver & Transmitter
Connecting one camera to monitor

Choose any from HDWRL-A or HDWRL-B

Connecting 2 cameras in one monitor

To connect 2 cameras on your monitor, use HDWRL-A and HDWRL-B so channel A camera will not interfere with the signal of channel B camera.
Don't use the same channels in connecting to 2 cameras.
Different signals are used to connect 2 cameras to avoid signal interference
---
Item Description:
---
Power Supply: DC12~24V
Consumption Current: 150mA
Tx Channel: 1 channels
T/R Frequency: 2.2G~2.3G~2.4G
Output Power: 200mW
Unobstructed Effective Range: 200 m
Operating temperature: -10°c ~ +50°c
Transmitter Dimension: L8cm*W4cm*H2cm
Receiver Dimension: L8cm*W4cm*H2cm
Weight (Tx): 58g
---
No Interference Digital Signal
---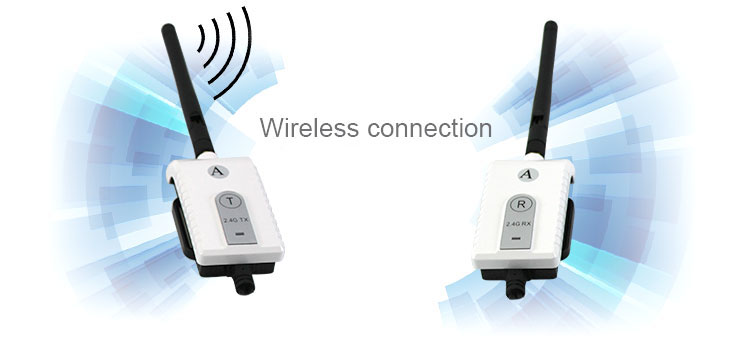 ---
What is the difference between Wireless Analogue Transmission and Wireless Digital Transmission?
---

Analogue systems use the same technology /frequency as bluetooth/wireless networks therefore analogue monitors can pick up interference from Bluetooth phones/headsets etc. Digital systems are paired and only 'see' the digital signals, therefore there is no interference.
---
Made to be used with Heavy Duty Vehicle
---

---
Optional Packages
---

---
Dimensions
---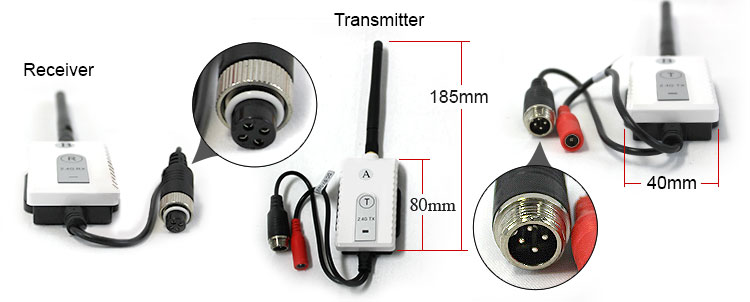 ---
How to Connect
---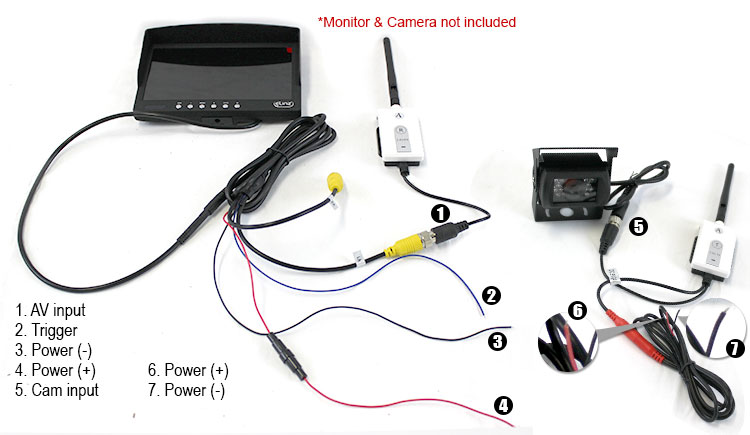 *no camera or monitor is included in the purchase, additional camera and monitor are available to be purchased on our store.
---
What's included
---

Frequently Asked Questions
No FAQs Available
---
Troubleshooting Guides
No Troubleshooting Guides Available
Average Customer Rating For Digital Wireless Receiver Transmitter 2.4GHz for 4PIN Reversing Camera Monitor:

Click here to write a product review!
Good quality of signal
The signal transfer was good. Camera and monitor are connected well.

Rating:

---
---
We Also Recommend...
---
Others Also Bought...
---
More From This Category...