Elinz Stainless Steel Food Vacuum Sealer Touch Button Bags Packaging Kitchen Storage
SKU: FVS03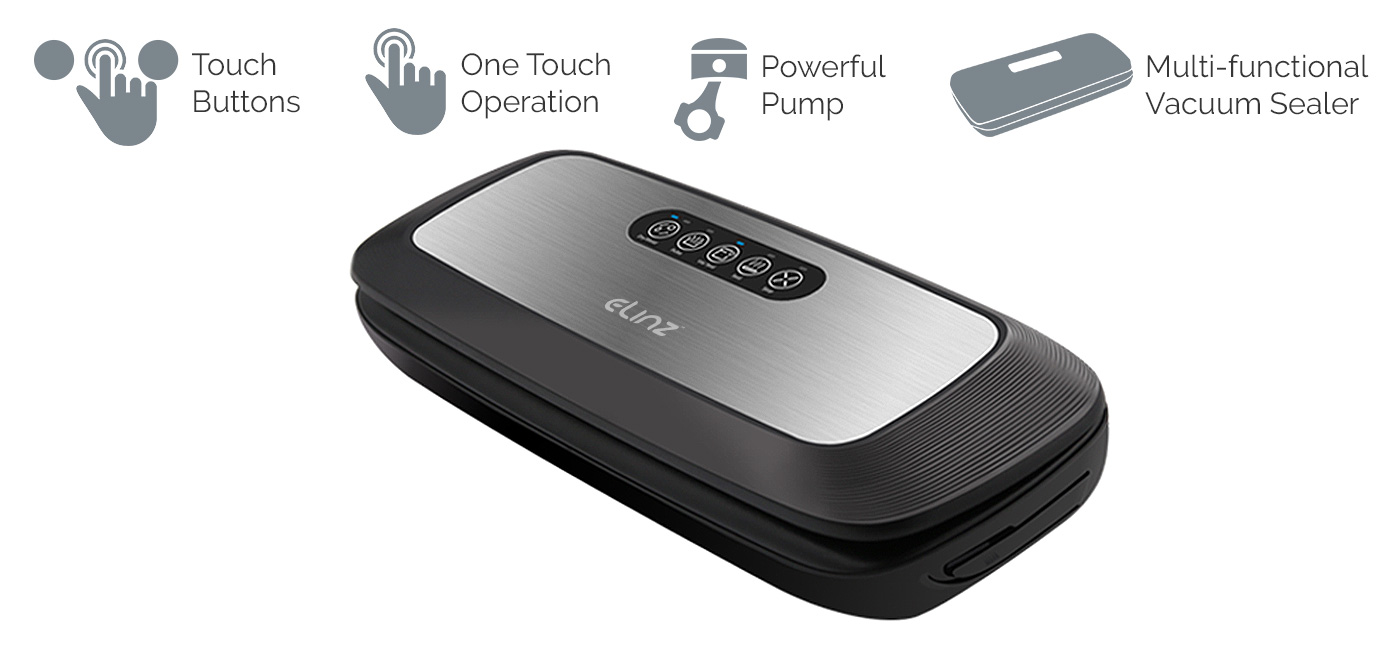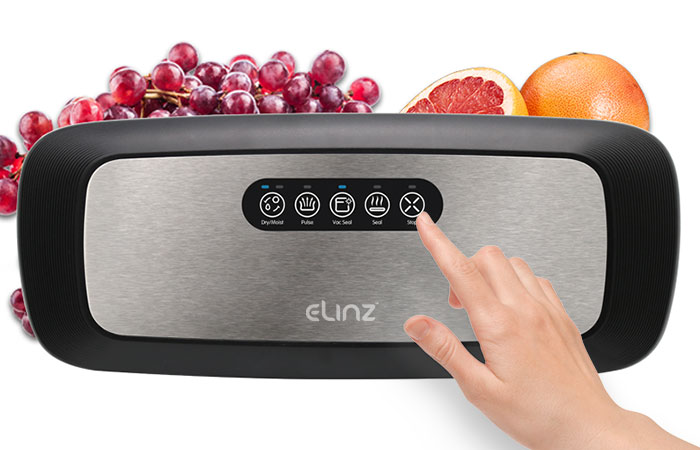 With Touch buttons and led indicator lights.
It makes vacuum seal and seal function much easier.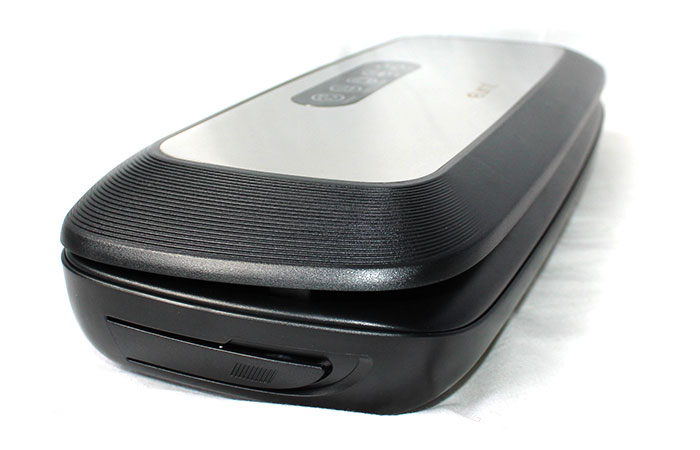 Made from High-quality stainless steel and ABS materials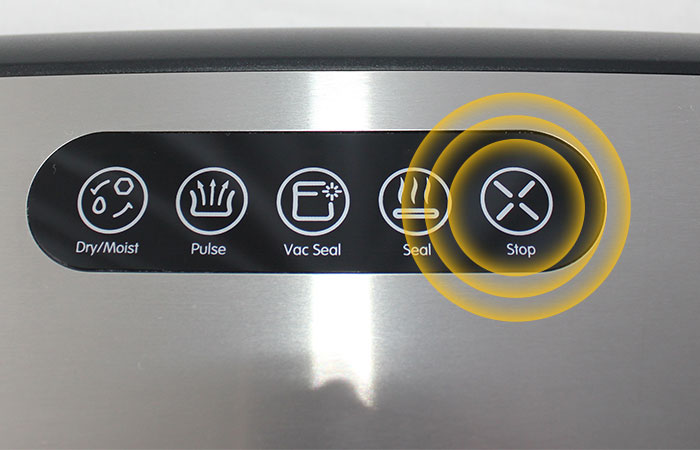 Turns off automatically after each usage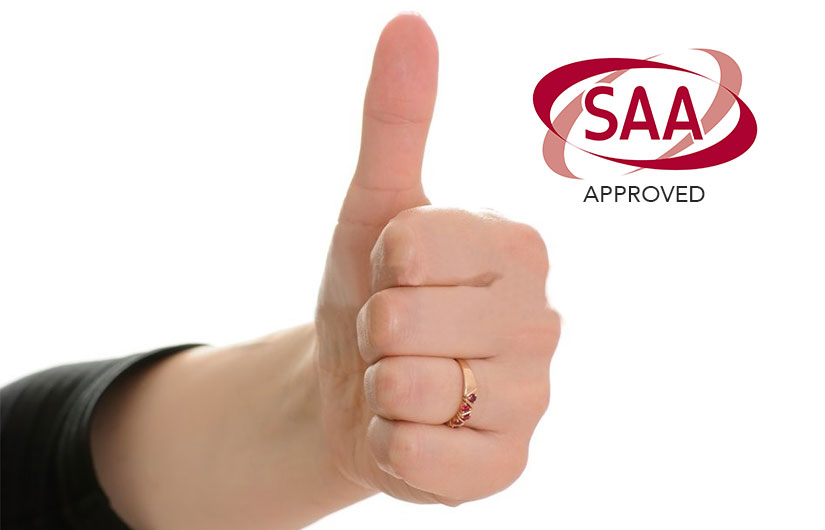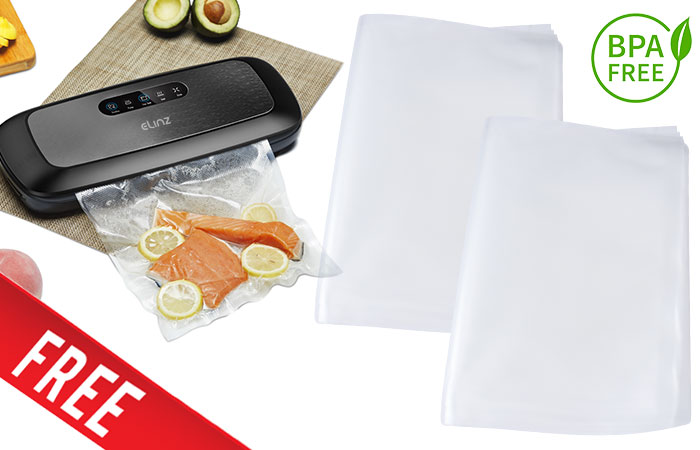 Includes 5pcs 20*25cm Vacuum Bags and 5pcs 12*20cm Vacuum Bags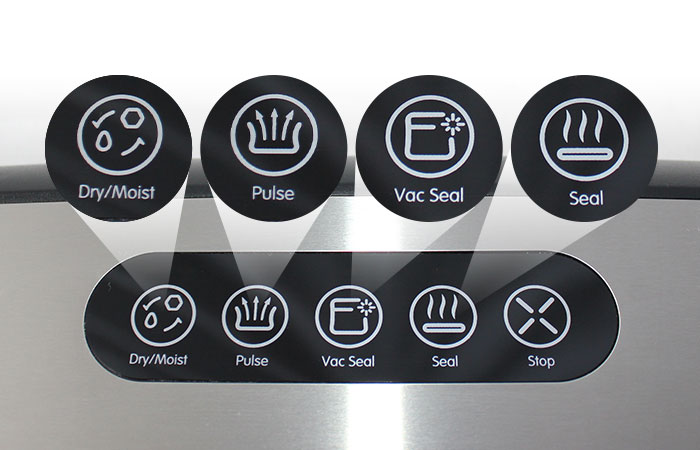 This food vacuum sealer is designed with Vac Seal & Seal modes to provide you perfect preservation based on what type of food you seal.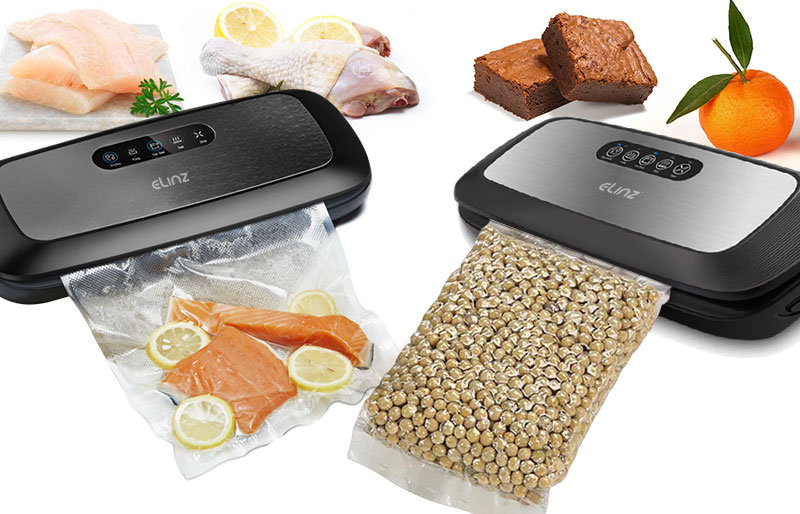 Our vacuum food sealer make it easier for you so you can switch freely between solid or wet food
Multi-Function Vacuum Sealer
Comes with a canister hose which works on certain canisters, marinator bowl and wine stoppers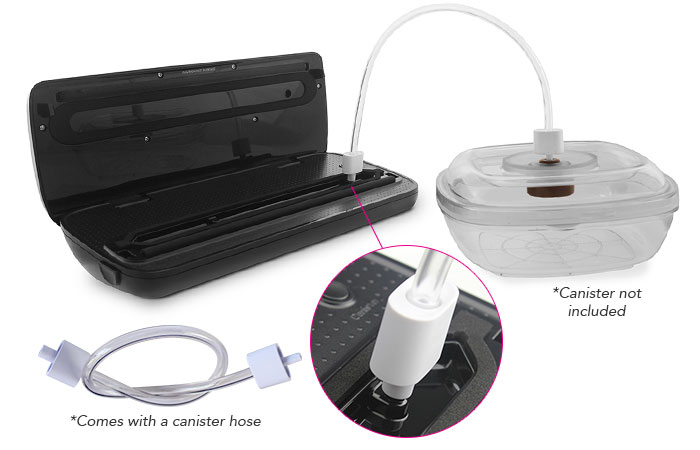 Powerful suction technology up to -60kPa
With extended 30cm heating bar that makes vacuum & seals more efficiently.
The 2mm extra width sealing strip design prevents air leaked effectively than other brands.
Keep food fresh 8x longer than ordinary storage.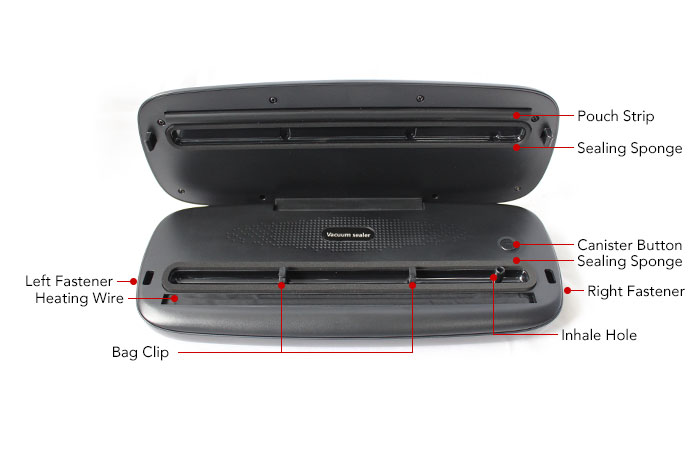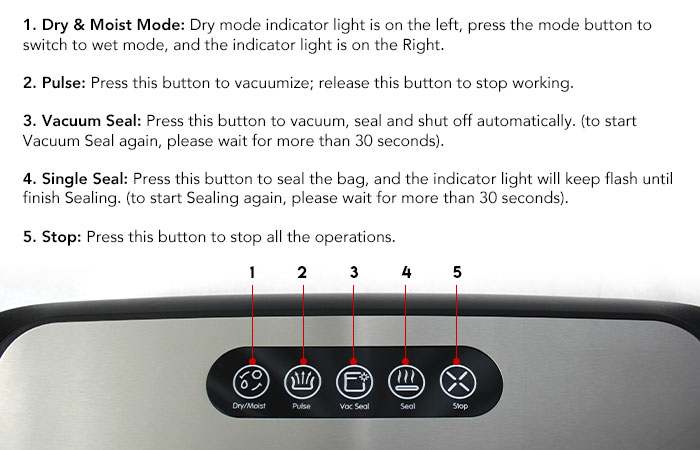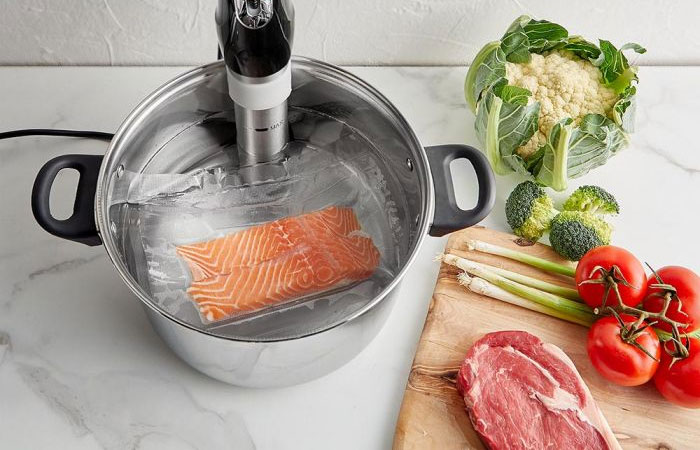 Sealing your food before sous vide cooking not only locking in nutrients and natural flavor but also kept its original appearance and better texture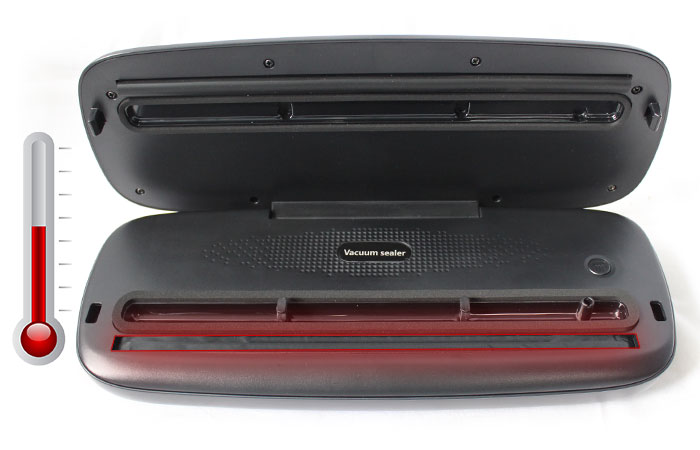 NTC Temperature control keep heating temperature within a safe range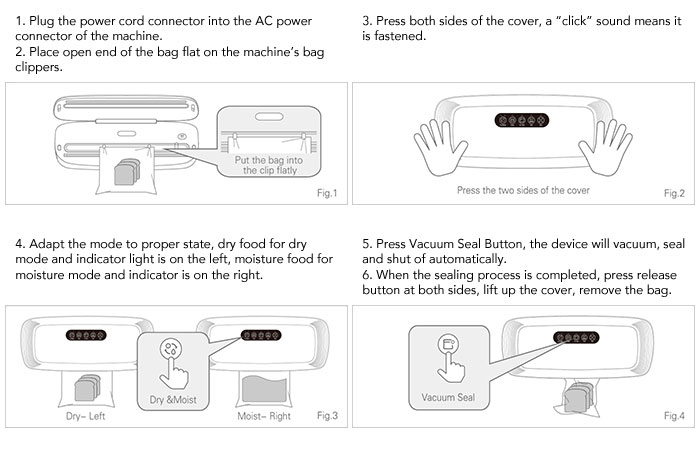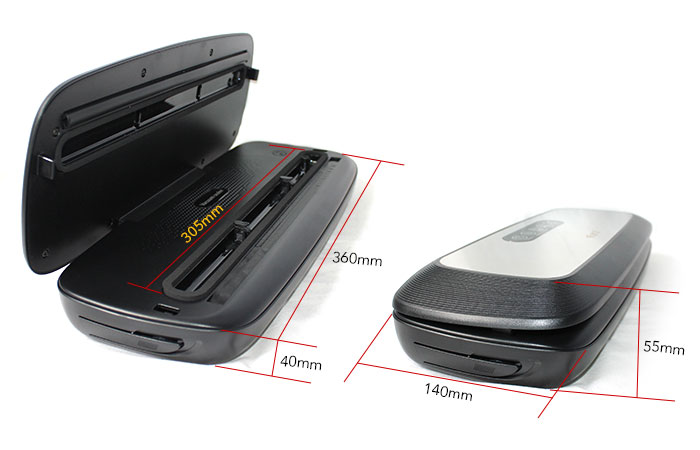 Seal your food with Vacuum Food Sealer. It is an innovative way to store food and keep them fresh in a longer time. Do not end up your food into trash bins.

The food vacuum sealer helps you to store your food while you store it's nutrients. It keeps the air out of the package that causes food oxidation and degradation. The food that you keep using the food vacuum sealer can last 3 to 5 times longer than ordinary storage.

It is very conventional to use as you can pack your food in smaller portions. You can easily operate the food vacuum sealer and have your food sealed as fast as 10 to 20 seconds. Then it is ready to go to your fridge.

It helps preserve all the freshness and flavours of the food. This is perfect for saving space in your fridge or freezer and keeping food healthy for a longer period.

Touch Buttons

With Touch buttons and led indicator lights.
It makes vacuum seal and seal function much easier.

Stainless Steel

Made from High-quality stainless steel and ABS materials.

One Touch Operation

Turns off automatically after each usage.

Safe and Reliable
Free Bags included

Includes 5pcs 20*25cm Vacuum Bags and 5pcs 12*20cm Vacuum Bags

Smart Sealing Modes

This food vacuum sealer is designed with Vac Seal & Seal modes to provide you perfect preservation based on what type of food you seal

Dry and Moist modes

Our vacuum food sealer make it easier for you so you can switch freely between solid or wet food

Multi-Function Vacuum Sealer

Comes with a canister hose which works on certain canisters, marinator bowl and wine stoppers

Powerful Pump

Powerful suction technology up to -60kPa

Seal in Freshness

With extended 30cm heating bar that makes vacuum & seals more efficiently.
The 2mm extra width sealing strip design prevents air leaked effectively than other brands.
Keep food fresh 8x longer than ordinary storage

Operating Instructions

Plug the power cord connector into the AC power connector of the machine.
Place open end of the bag flat on the machine's bag clippers.
Press both sides of the cover, a "click" sound means it is fastened.
Adapt the mode to proper state, dry food for dry mode and indicator light is on the left, moisture food for moisture mode and indicator is on the right.
Press Vacuum Seal Button, the device will vacuum, seal and shut of automatically.
When the sealing process is completed, press release button at both sides, lift up the cover, remove the bag.

Sous Vide Companion

Sealing your food before sous vide cooking not only locking in nutrients and natural flavor but also kept its original appearance and better texture

NTC Temperature control

NTC Temperature control keep heating temperature within a safe range
1. 1x Food Vacuum Sealer
2. 1x User Manual
3. 5pcs 20*25cm Vacuum Bags and 5pcs 12*20cm Vacuum Bags
4. 1x SAA AC Power Cord
5. 1x Canister Hose