9" Splitscreen DVR Monitor 12V 24V 4 AV Inputs 800x480 Bus Truck Caravan
SKU: DVR9N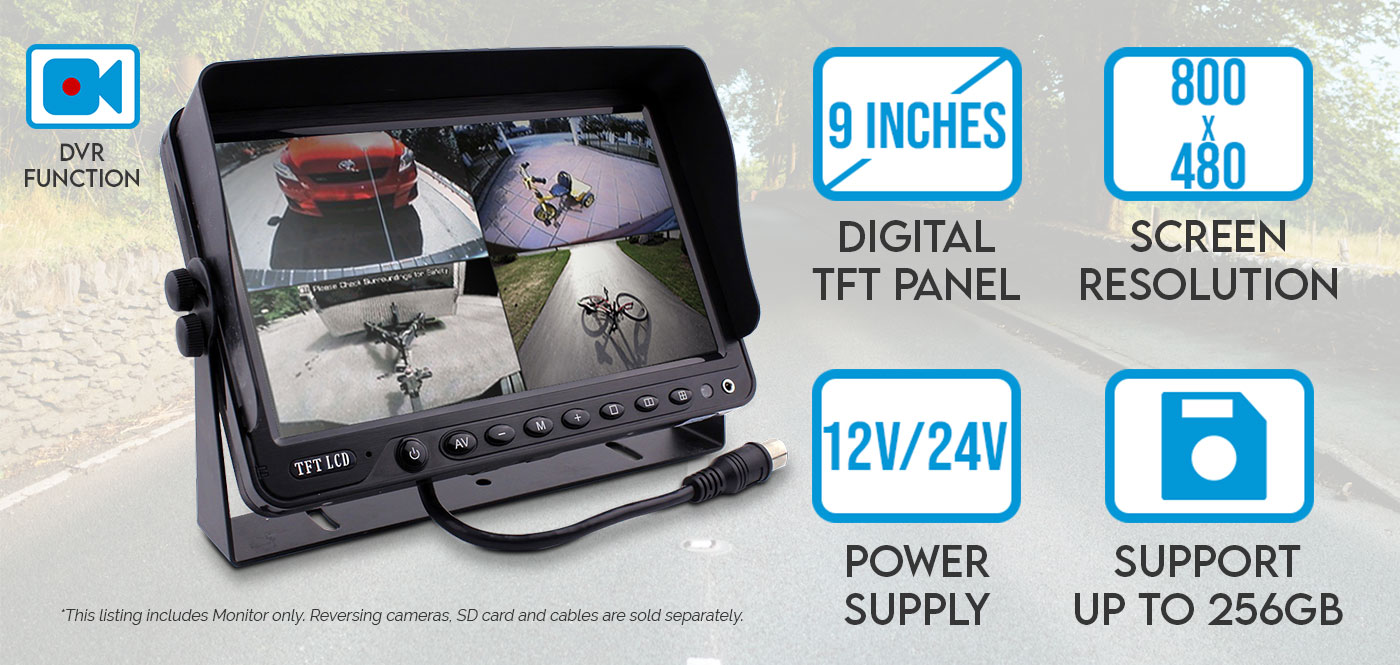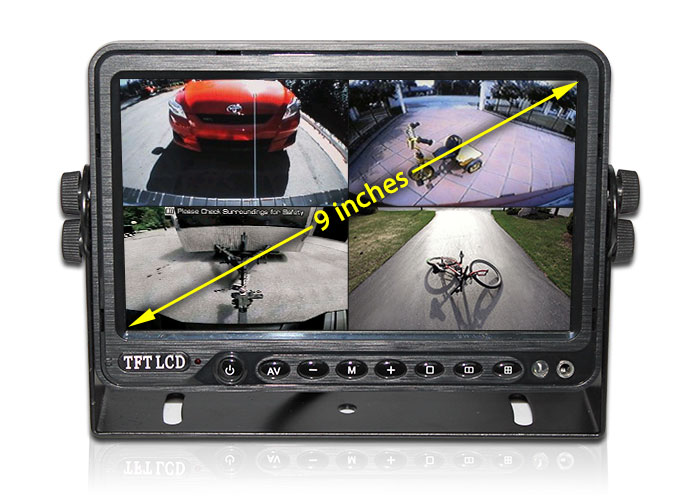 9 Inch Quadscreen Digital TFT Panel
9 inch quadscreen digital panel with resolution 800*R.G.B*480. Monitor has 4 Channels that can simultaneously record live full time.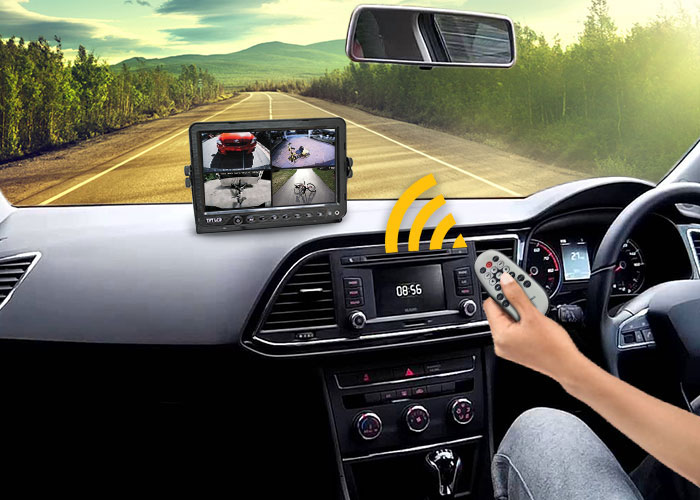 It allows you to record real time and can see objects on their original places or position.
You may easily control DVR using the remote control.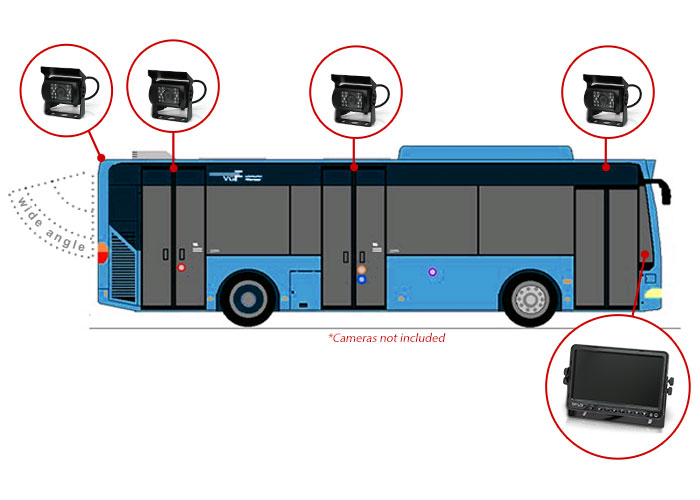 4 ways video input, 4 ways audio input, 1 way video output, 1 way Audio output
V1/V2/V3/V4 switching - Can be connected up to 4 cameras, cameras can be powered up by the monitor, no extra power source required. Reversing camera image can show up automatically on the screen when reversing gear is induced by connecting the trigger wire to the reversing light. All cameras can be shown on the screen at all times when driving, perfect for truck or caravan that need to monitor the rearview all the time.
*Only has 1 audio output, should be plugged to Ch1 for audio output to work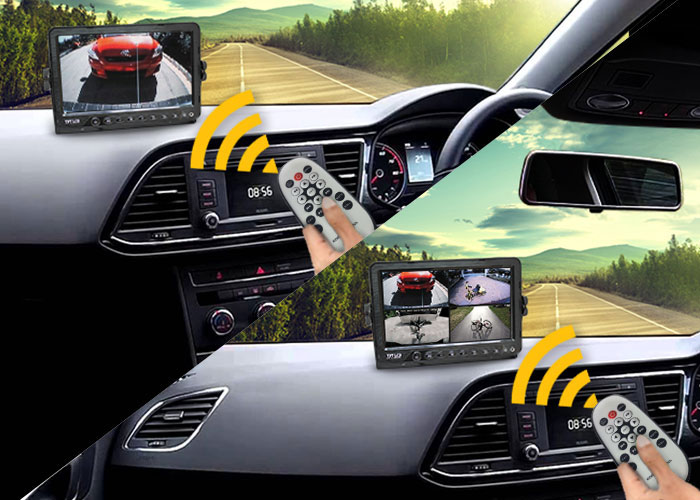 Locally playback in channel 1 or 4 channels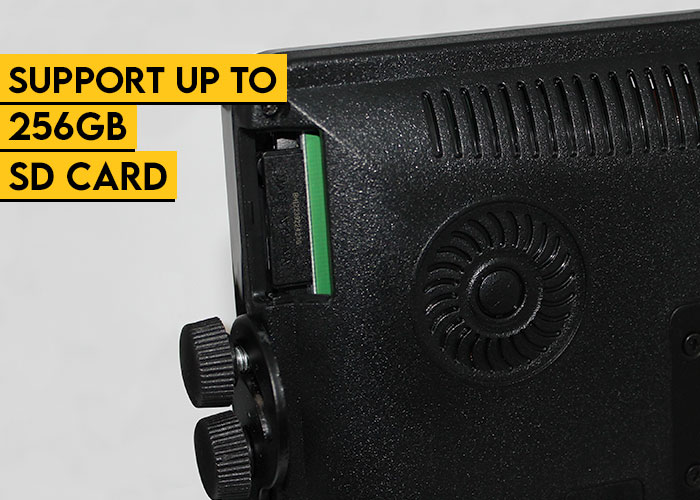 It can now support up to 256GB SD card.
SD card not included.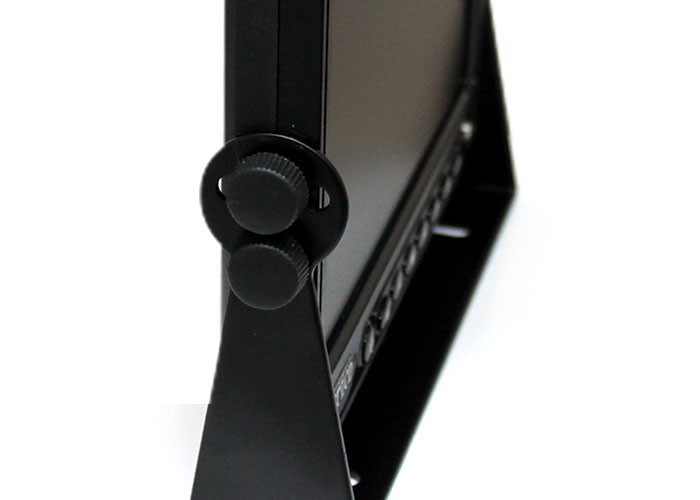 With the bracket screw lock, it can hold the monitor in placed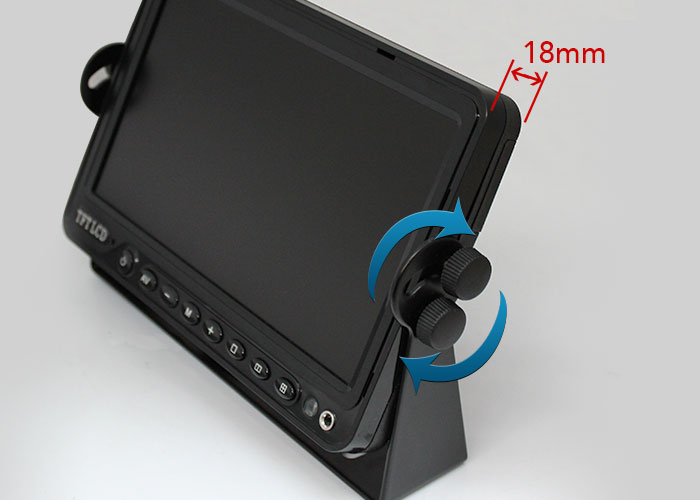 Rotational Angle Adjustment
You can adjust monitor view depending on your preference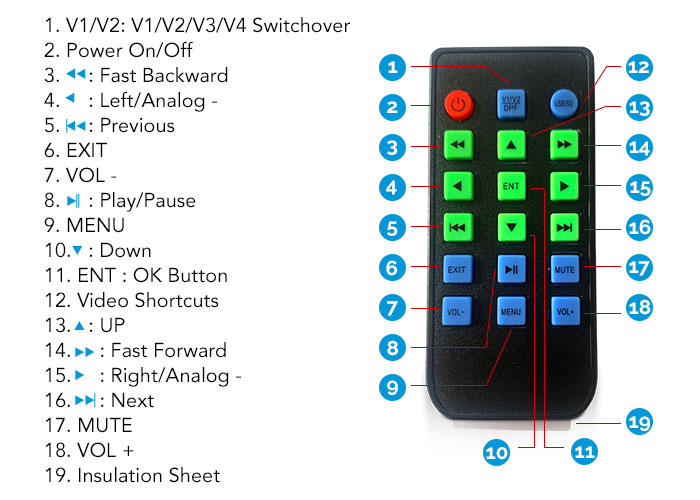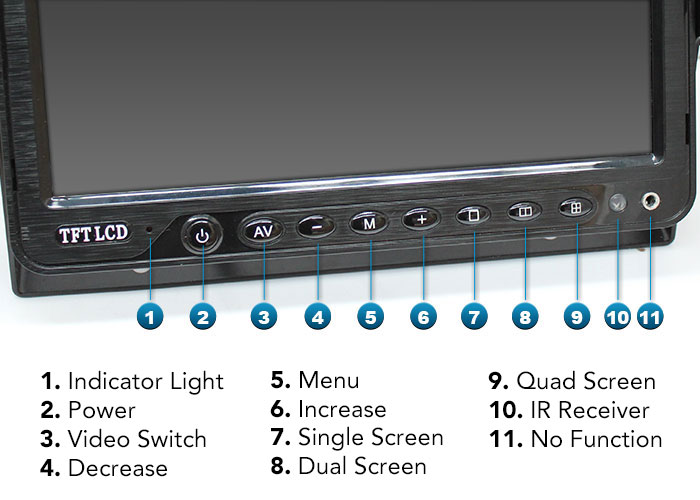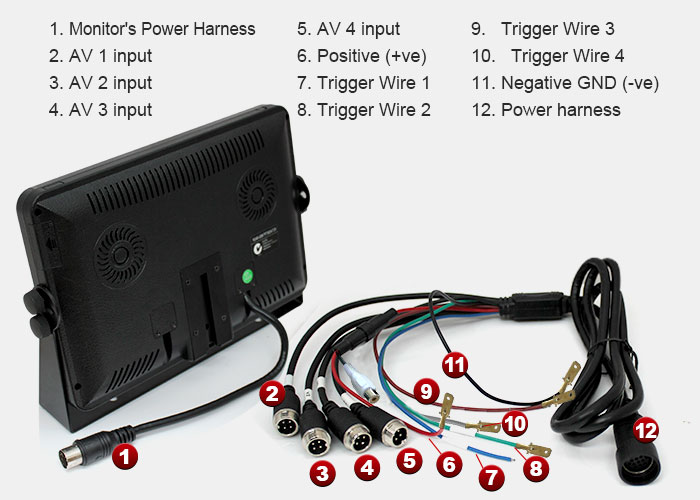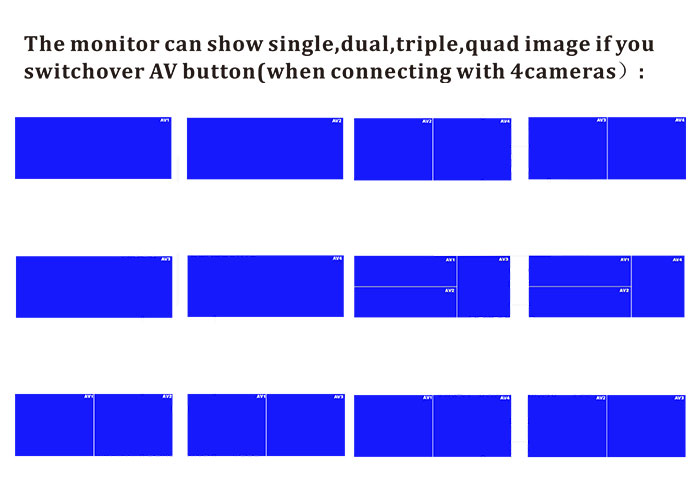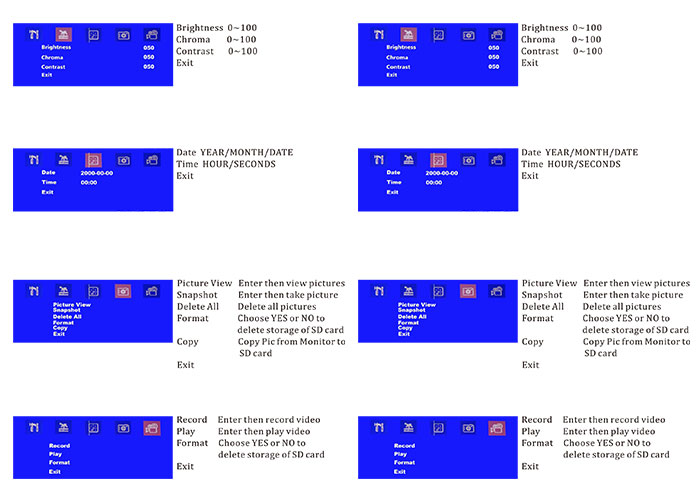 Menu Operation Instruction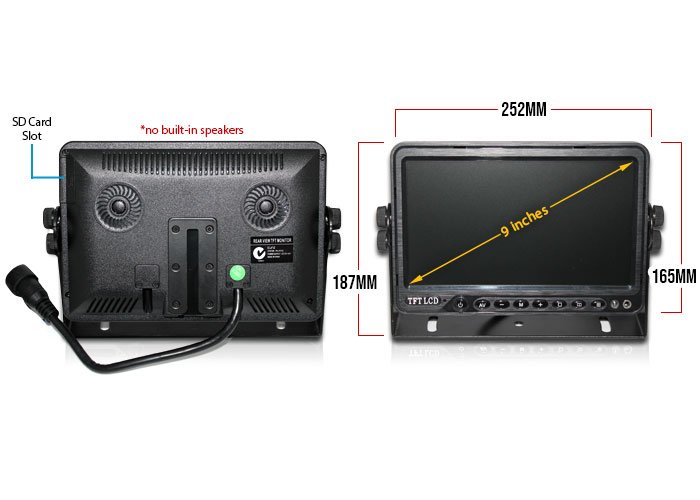 Managing a fleet service or trucking business can be challenging especially if you don't have the right equipment installed in your vehicles. You don't really have to spend on many different machines and other unnecessary technological innovations. Focus on what your trucks and drivers will need which is a reversing camera kit to ensure their safety. In addition to this, your trucks will have a guaranteed cost efficiency that will help you monitor their daily activities in order to effectively help your drivers get to their destinations on time.

This is one of the products we are most proud of. Featuring V1/V2/V3/V4 switching, you can connect this DVR monitor to up to 4 cameras. The better news is that you need no extra power source for it to work efficiently. With this 9-inch monitor, the reverse camera images and videos automatically appear when the reversing gear gets induced by connecting its trigger wire to the reversing light. All cameras can be displayed on the screen at all times while you drive. This is a perfect must-have for our caravan or truck that needs monitoring in the rear view all the time.

*This listing is for Monitor only. Reversing cameras, SD card and cables are sold separately.
9 Inch Quadscreen Digital TFT Panel

9 inch quadscreen digital panel with resolution 800*R.G.B*480. Monitor has 4 Channels that can simultaneously record live full time.

Real Time Recording

It allows you to ecord real time and can see objects on their original places or position
You may easily control DVR using the remote control.

4 ways video input, 4 ways audio input, 1 way video output, 1 way Audio output

V1/V2/V3/V4 switching - Can be connected up to 4 cameras, cameras can be powered up by the monitor, no extra power source required. Reversing camera image can show up automatically on the screen when reversing gear is induced by connecting the trigger wire to the reversing light. All cameras can be shown on the screen at all times when driving, perfect for truck or caravan that need to monitor the rearview all the time.
*Only has 1 audio output, should be plugged to Ch1 for audio output to work

Local Playback

Locally playback in channel 1 or 4 channels.

SD Card Slot

It can now support up to 256GB SD card.
SD card not included.

Bracket Screw Lock

With the bracket screw lock, it can hold the monitor in placed.

Rotational Angle Adjustment

You can adjust monitor view depending on your preference.

Monitor Button Panel Labels
Wiring Diagram
Image Modes
Menu Operation Instruction
9 inch digital TFT panel
Aspect ratio:16:9 image
Resolution:800*R.G.B*480
Monitor controlled by buttons on panel
DVR controlled by the remote
4 Channels simultaneously to full time live record
System: PAL & NTSC Auto-switching
Video decode H.264
Audio decode ADPCM
Recording by manually: time setting, alarm and moving detect
Video search: time retrieval, fact retrieval, channel retrieval
4 ways video input, 4 ways audio input, 1 way video output, 1 way Audio output
Full image/4 images adjustable
Picture adjust with single and quad pictures
Recording saved to SD card (support up to max 256gb sd card, sd card not included, to be purchased separately)
Recording speed PAL:25 FPS NTSC:30 FPS
Local playback in channel 1 or 4 channels
Alarm in:4 switching value (Optional)
Interface for saving:1 SD card slot
One way ignition signal
8V/35V power supply
1. 1x 9" Quadscreen Digital Monitor
2. 1x Sun Shade
3. 1x Remote Control
4. 1x Power Cable
5. 1x User Manual