Elinz 7" Rearview Mirror Monitor 12V 24V 3 Video Inputs Car Truck Caravan
SKU: R7MI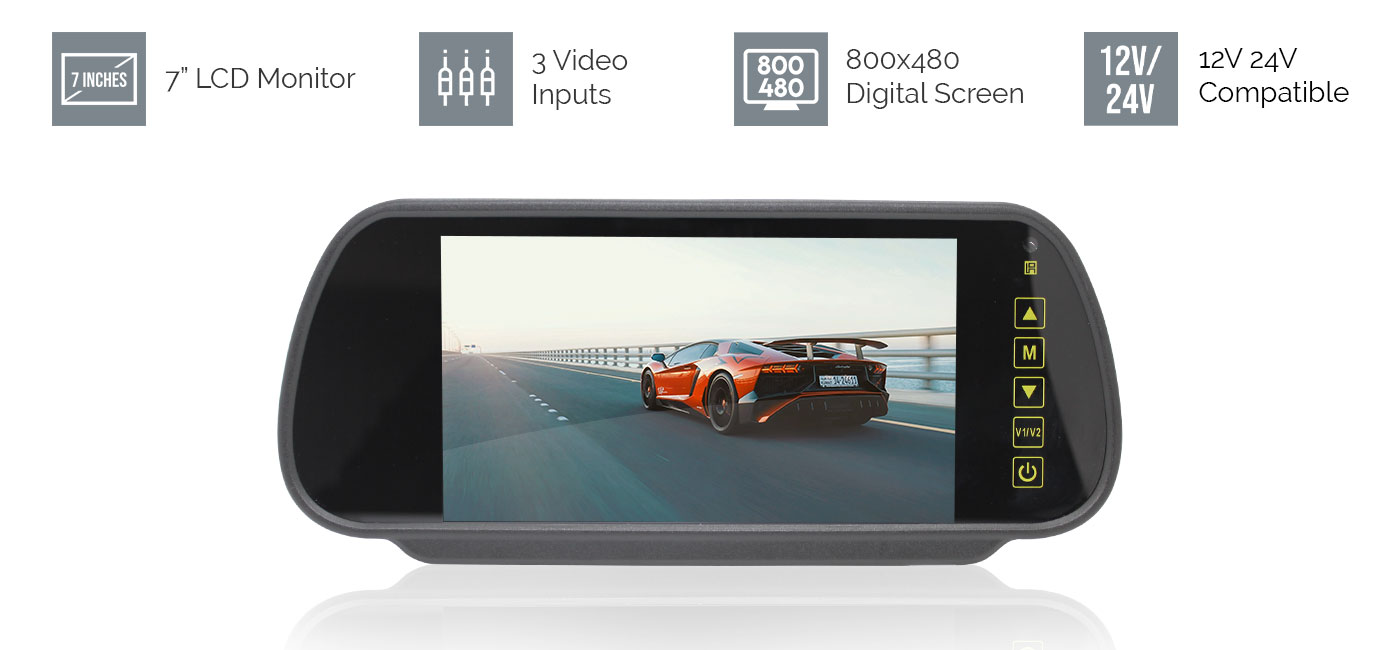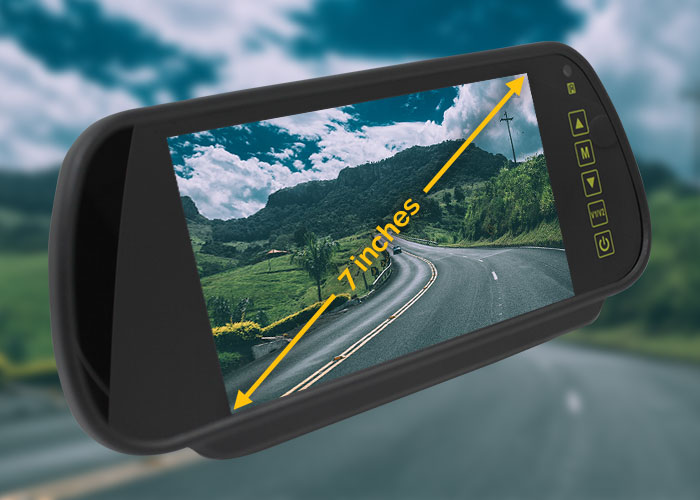 Anti-reflective clear vision rear view mirror
Automatically shows rear view when reversing
Rearview image can also be shown on screen at all times
Resolution degree 800 x 3 (RGB) x 480
Rearview mirror monitor will serve as your rearview mirror, you can view the back of your car clearly just like before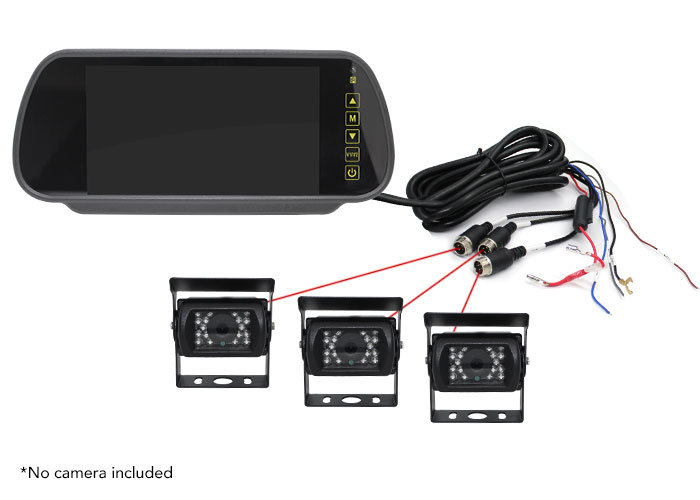 Can be connected up to 3 reversing cameras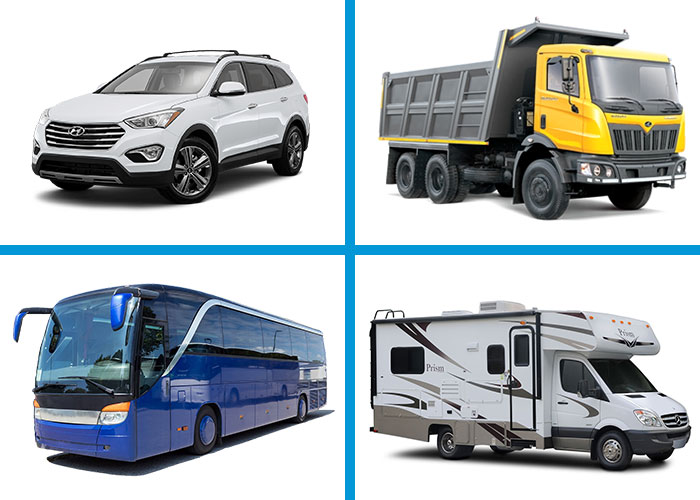 Suitable for use with Trucks, Caravans, Cars and more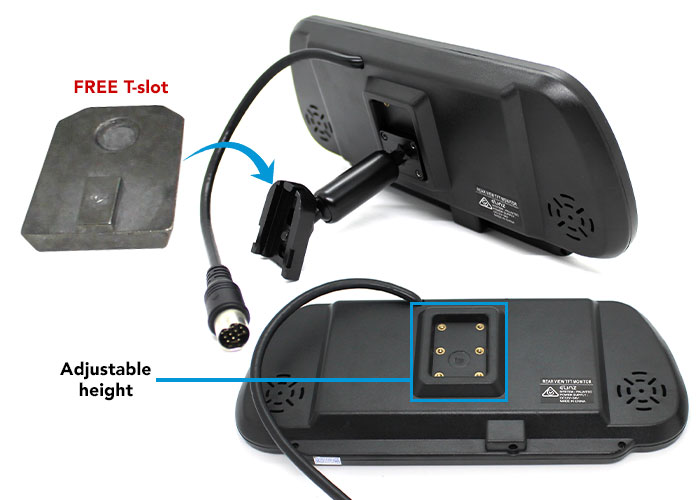 Adjustable Mounting Bracket
The mounting bracket at the back, you can adjust the height
It comes with T-slot that allows your rearview to fit on on your windscreen nicely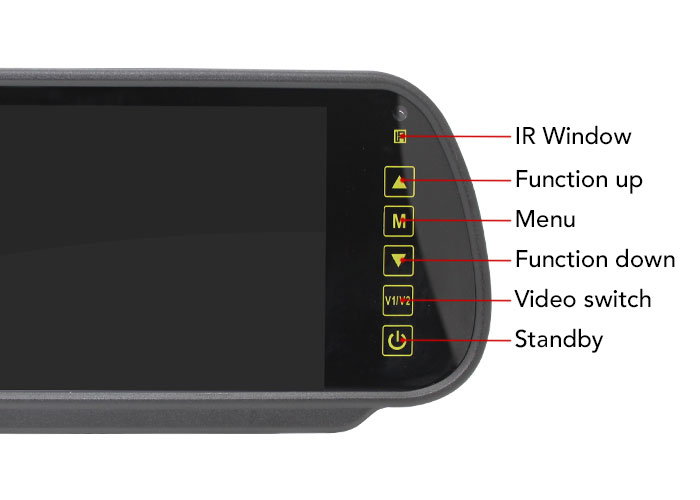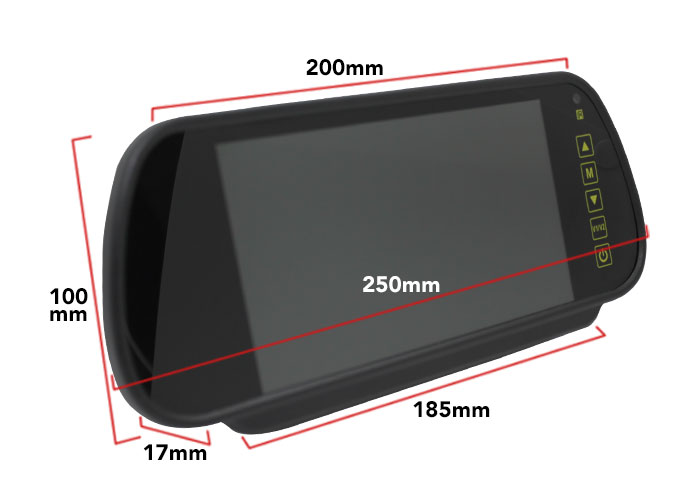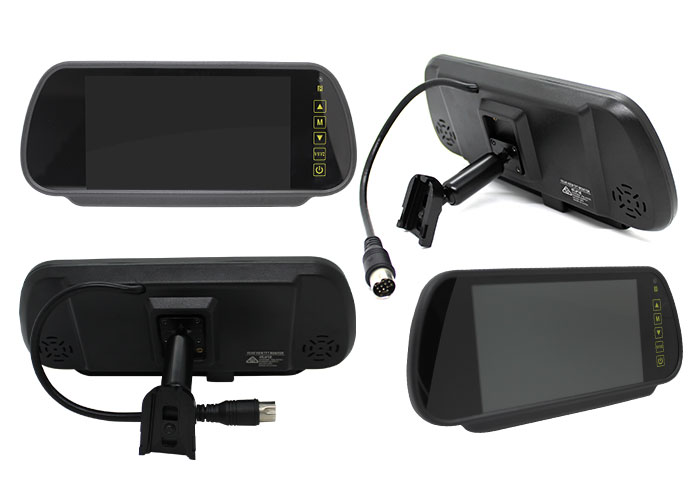 7" Rearview Mirror Monitor 12V 24V Reversing CCD Camera Truck Caravan

This 7" Rearview mirror monitor for reversing camera that has 3 Video inputs which allows you to connect up to 3 cameras. This monitor has resolution degree of 800 x 3 (RGB) x 480. Monitor can be connected to 4PIN reversing camera.

Rearview mirror monitor will serve as your rearview mirror, you can view the back of your car clearly just like before. It has an anti-reflective clear vision. This is suitable for use with Trucks, Caravans, Cars and more.

7" LCD monitor

Anti-reflective clear vision rear view mirror
Automatically shows rear view when reversing
Rearview image can also be shown on screen at all times
Resolution degree 800 x 3 (RGB) x 480
Rearview mirror monitor will serve as your rearview mirror, you can view the back of your car clearly just like before

3 Video Inputs

Can be connected up to 3 reversing cameras

Suitable for use with Trucks, Caravans, Cars and more
Adjustable Mounting Bracket

The mounting bracket at the back, you can adjust the height
It comes with T-slot that allows your rearview to fit on on your windscreen nicely
Screen size: 7" LCD monitor (LED digital panel)
Resolution degree: 800 X 3 (RGB) X480
Contrast: 500:1
System: PAL/NTSC
Power supply: 10VDC to 32VDC
Power: About 5W
Working temperature: +0°C-+60°C
Storage temperature: -20°C-+70°C
Dot pitch:0.192 ( H) X 0.1805 (V )
Viewing angle U:50/D:60 L/R:70
Video: Three-way video inputs
Anti-reflective rearview mirror
Shock resistant
20G force for vibration an 100G for shock
Respond time: 30ms
Picture display format: 4:3/16:9
Five languages OSD menu: Chinese, English, Russian, German and French
The display with two video frequency input Automatic/manual switcher
Front panel controls with on-screen menu
Operation temperature:- 30 ℃ ~+70 ℃
1. 1x 7" LCD Rearview Mirror Monitor
2. 1x Power Cord
3. Screws
4. 1x T-Slot
5. Bracket
6. 1x User Manual