Elinz Dash Cam Dual Camera Reversing Recorder Car DVR Video 170° FHD 1296P 4" LCD 32GB
Anti-shake~High Quality Novatek~WDR~12MP-6G Lens
(SKU: DCDUALV2-32GB-CBLPARK)
WAS From AUD $135.00
NOW AUD $112.00
Sale Ends in
00:00 am, 21 January 2021
In Stock
Notify me when back in stock

Dash Cam Dual Camera Reversing Recorder Car DVR Video 170° FHD 1296P 4.0 LCD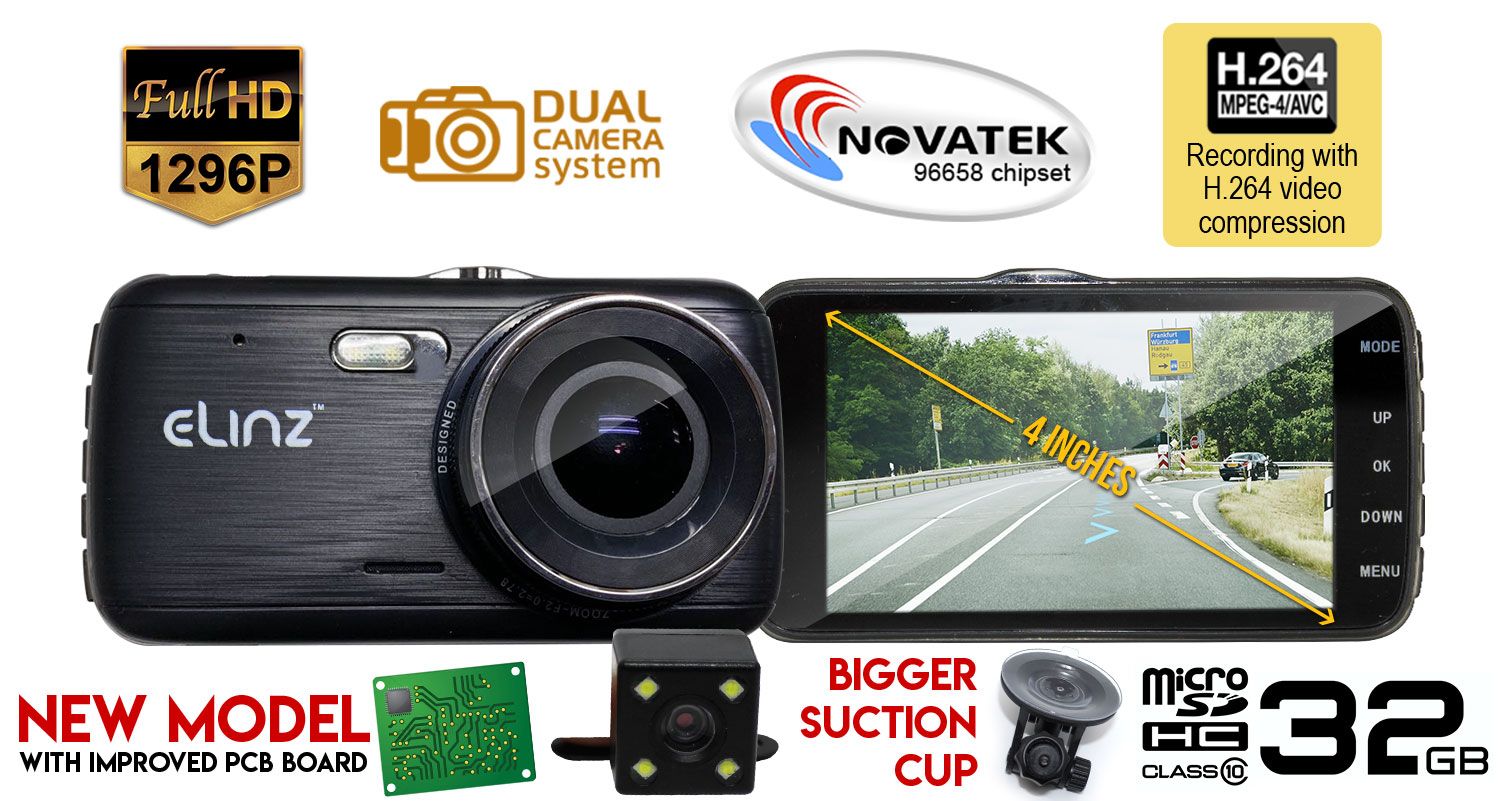 SKU: DCDUALV2-32GB-CBLPARK
From the company that provides top quality and market leading dash cameras comes one of the most highly anticipated dash cams today. Using high performance Novatek chip, this dash cam has the capability to produce full HD videos with 1296p resolution and dynamic seamless images. Utilising state of the art technology, this camera also impressively doubles up as a reversing camera with four types of display mode.

If you're looking for superb quality and excellent value for your money, look no further because this impressive device also has built-in G sensor that automatically activates video lock during an accident to protect your videos. It also has night vision, allowing you to capture clear and sharp videos even at night.
Key Features
---
LCD Size
Wide Angle View

Front: 170 degree wide angle (6 fisheye lens)
Back: 120 degree

Video resolution : 1920x1296 HD 1296P high resolution that can display video clearly.
Automatic Recording

When engine is switched on, the recorder automatically starts to open the recording function.
When engine is switched off, the recorder automatically saves the contents of the recorder and shut down. Recorded video segment is stored in the TF card.
When the memory is full, the recorder will cover the earlier recorded image.

Loop Recording

Support Gap-Less Loop Recording
Full 1296P High Definition video (Loop) recording you don't need to worry on limited storage.

Gravity Sensor

Automatically activate video lock to protect evidence video.

Motion Detection

When the lens senses a moving object, the state of the machine will change into camera and will start recording.

Night Vision

Support night vision which gives you a clear video even at night

Support TF card: (SD Card not included)

You can use a High Speed Memory card, Class 10 to save important videos to protect it from being overwritten.

Battery: Built-in battery

3.7V 200mAh high rate polymer battery

Audio: Built-in Microphone /Speaker
Rear View Function

In any state if there is reverse, reverse image is displayed on screen

Emergency Locking Function
Protect the current video from being covered or overwrite.
Camera Switching Function
Suction Cup mount

Keeping it intact & in place as you drive, making it safe easy to operate.

Anti-shake technology with the newest and best technology to effectively avoid image blurring caused by moving objects.
Chipset : Novatek 96658

(BEST CHIPSET) 1296P 30fps, MOV format, H.264 compression, support WDR(HDR). Adopt 55nm processing technology, the chipset integrates cutting-edge technologies, including 4x FHD video decoding technology, intelligence power performance scaling system, HD multi-screen display processing, High speed and efficiency system architecture.

Image Processing : WDR (Wide Dynamic Range)

Adopt internationally advanced double (long & short) exposure techniques, reformat video images to be optimal. Images is commonly overexposed in the strong sunshine, and hardly to be taken in the dim light conditions, WDR capability gets the issue resolved.

Connect to PC: Insert TF card case with a USB cable to connect computers , you can watch or copy videos to your computer.
---
Item Description
---
Size: 109.9×62.2×11.87mm
Weight: 58g
Front camera: 1296P/720P/480P@30FPS 12MP
Back camera: 720*480@30fps 5MP
Video Format: MOV
Video Code:H.264
Power Frequency:50-60 Hz
USB port :Micro USB2.0
Power Supply Port:5V /1.5A
TV output: NTSC/PAL
TF card: Support up to 32GB
Video voice: On/Off
Languages: English, Chinese, western, Portuguese, German, Italian, simplified, traditional, Russian, Japanese
System Requirement: Windows XP/7/8 SP3/Vista and Mac10.2 or above
Operating temperature: -10 C ~ 60 C
Storage temperature: -10 C ~ 70 C
Power Supply: Vehicle mounted power 5V/1.5A
---
New Model
---

---
Chipset
---

---
4 Types of Display Mode
---

---
Wide Dynamic Range
---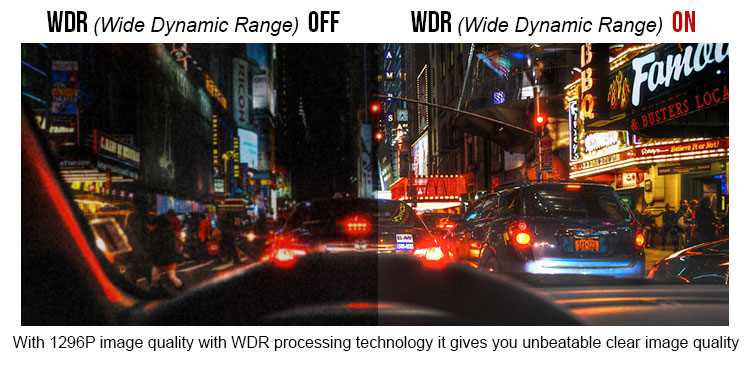 ---
Video
---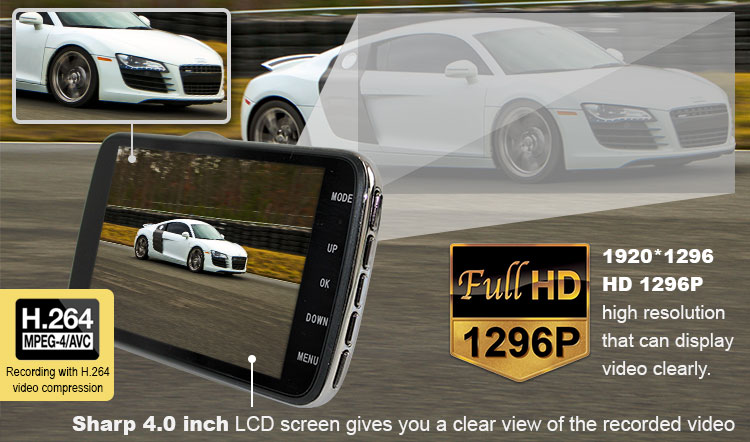 ---
6G Camera Lens
---

---
Night Vision
---

---
G-Sensor
---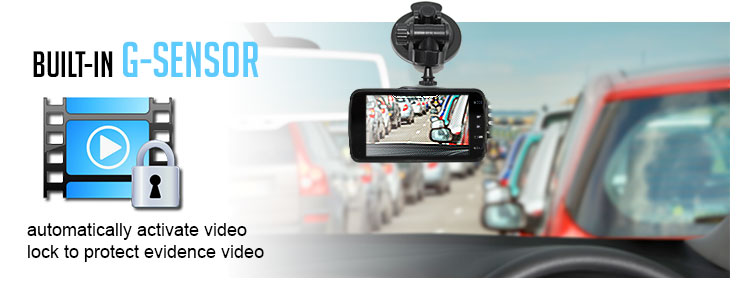 ---
Parking Mode Sensor and Motion Detection
---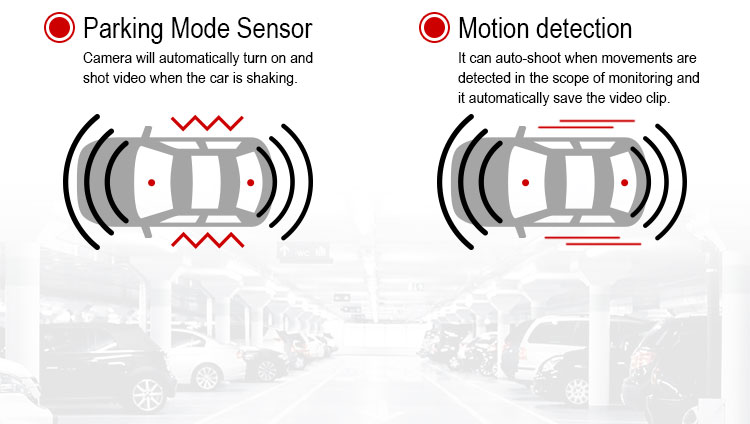 ---
Wide Angle View
---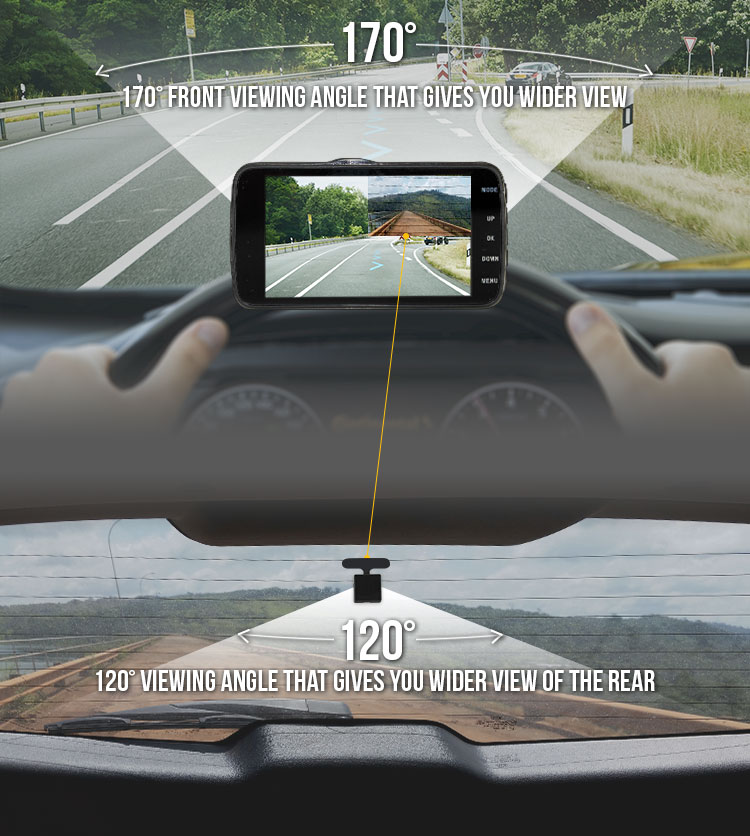 ---
Windshield Mount
---

---
Functionality and Advantages
---


---
Parts
---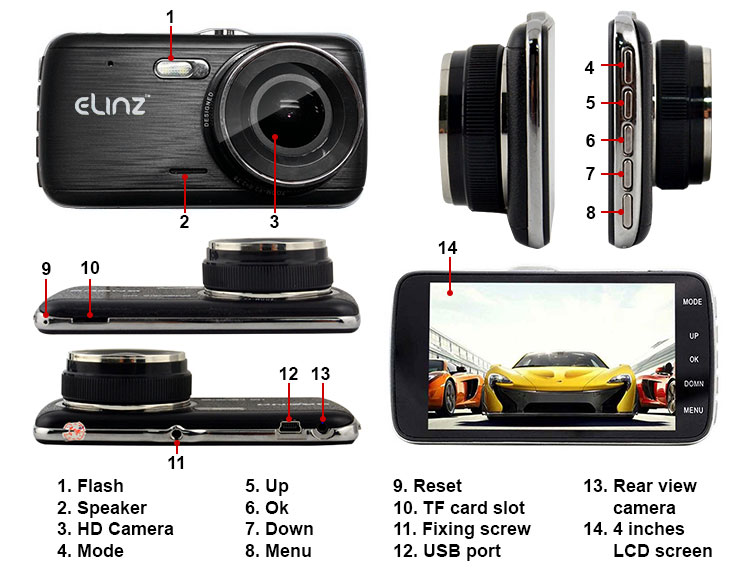 ---
Dimensions
---

---
Dash Cam Installation Step by Step Instructions
---
Connect one end of the car charger to your USB port on the car DVR.
Connect the other end to your cigarette lighter, start your car engine, start the DVR automatically.
Fix the chuck bracket onto somewhere near your rearview mirror to avoid line of sight.
Plug the USB pin into the USB port on the DVR. Lay down charger lead along wire direction.
Wiring till the top right corner of car door, slightly separate side plate to get the lead hidden. It works in all vehicles.
Going to the edge of door, slightly push adhesive tape aside to hide the lead.
Arriving at the base, measure the approximate location/length of charger plug and cigarette lighter, keep all the rest of lead here.
Plug car charger into cigarette lighter. Recording gets started.
---
Disclaimer
---

---
What's included
---

1x Car DVR Recorder Dash Cam.
1x 32GB SD Card.
1x 60MM Bigger Windshield Mount
1x Reverse Camera
1x 6M Video Cable
1x USB Cable
1x Cigarette Charger
User Manual
---
Testimonials
---
What People are Saying About our Dash Cameras?
---

Frequently Asked Questions
No FAQs Available
---
Troubleshooting Guides
A. Not charging issues
​Checked cigarette lighter plug supplied/ try a different 1 if available.
Verify power supply if working fine.
Checked physical connection of power cable to unit make sure secured.
Call or email Customer support if all TS fails.
​B. Unit keeps resetting time and date
If unit does not come with hardwire kit, make sure initial charge of 2-4hrs has been done without use.
If units Time and date resets after ignition has been turned OFF, pleaase purchase hard wired kit and do direct connection.
Make sure when initial setup is done, Set time and date then save.
Call or email Customer support if all TS fails.
​C. Unit keeps shutting down Keeps turning recording OFF
Make sure unti is plugged in to power source when in use.
Make sure G sensor is turned OFF while using when driving.
If still behaving the same, perform factory reset.
Call or email Customer support if all TS fails.
​D. Night vision isnt clear
Be sure lamp settings is ON
If still doing same things, Reset unit to factory defaults then set the lamp to be On once more
Call or email customer support if all TS fails.
E. Screen seems to have a lot of scratches
It could be the protective film. Please remove 1st
If scratches are still visible after removing protective film, inform customer support.
*Product on the video may differ from the actual product. Video is displayed to show the importance and use of the product.
Average Customer Rating For Elinz Dash Cam Dual Camera Reversing Recorder Car DVR Video 170° FHD 1296P 4" LCD 32GB:

Click here to write a product review!
Dash Cam Dual Camera Reversing Recorder Car DVR Vi
easy to install, image alright.

Rating:

Excellent product
The item arrived on time and was easy to install. Apart from some interference on the rear camera due to the ground connection it works very well. Removing the ground connection after taking to a Elinz representative on Chat resolved the issue entirely. As I said an excellent product and excellent customer service. Thank you.

Rating:

---
---
We Also Recommend...
---
Others Also Bought...
---
More From This Category...