4PIN Heavy Duty 12/ 24V CCD IR Colour Reverse Reversing Camera Rearview 90 angle
Come w/5m,10m or 20m cable=Can be turned on at all times
(SKU: RV90DEG)
20M 4PIN Cable Reversing Camera

(SKU: RV90DEG20M)

AUD $75.00

In stock

10M 4PIN Cable Reversing Camera

(SKU: RV90DEG10M)

AUD $70.00

In stock

5M 4PIN Cable Reversing Camera

(SKU: RV90DEG5M)

AUD $65.00

In stock

Brand New Heavy Duty Night Vision IR 4 PIN CCD 12V/24V 90° Angle View Reversing Camera
for Trucks/ Caravans/ Cars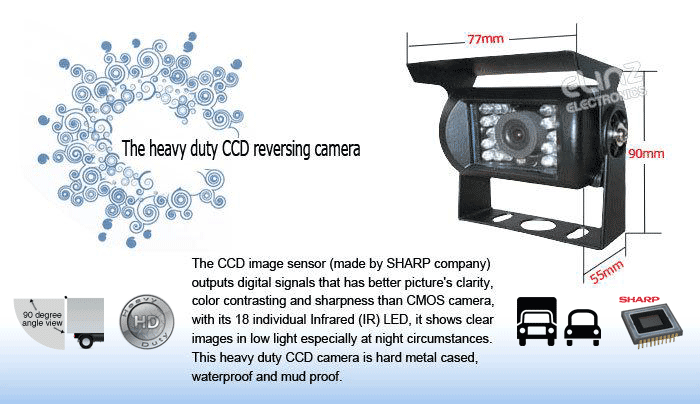 90 degree Wide angle viewing helps avoid accidents & injuries
Colour infrared night vision waterproof CCD reverse camera
Suitable for use with trucks/ caravans/ cars etc. Thanks to this heavy duty CCD crystal clear 12/24-volt applicable reverse camera
Clear view day or night
Advanced 4 PIN cable. Allowing the monitor to power up the camera no need to connect another power cable to camera*
*Please note that this camera can only be used with a monitor with 4PIN connector.
7" Monitor Reverse Camera Kit is also available separately from our store if interested please click here.
NOTE: This reversing camera is compatible to PAL monitor only most monitors currently in the market will auto switch between PAL and NTSC mode please check to see whether your monitor can take PAL reversing camera.

CCD image sensor from Sharp
The reversing cameras feature a CCD image sensor from the Sharp company for better picture clarity, colour contrast, and sharpness. They also have night vision as each camera comes 18 individual infrared LED to enable users to see clear images, even at night or in low light conditions.

Tough and heavy-duty camera
This camera is built and designed to last. In addition, each camera comes in a hard metal case. Because it is waterproof and mud proof, it can withstand abuse and be exposed to the elements for an extended period of time. The reversing camera is shock resistant, too, so it can withstand strong vibrations without affecting picture quality.

90-degree viewing angle
This new line of reversing camera features a 90-degree viewing angle so it does not produce fish-eye view. When you look at the images being displayed on the monitor, it is as if you're looking at the images being reflected on your vehicle's rear view mirror.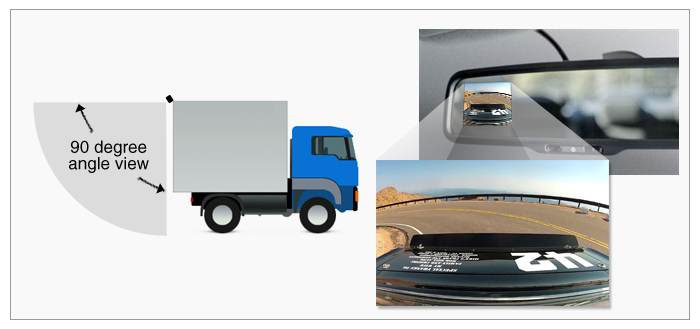 Suitable for all types of vehicles
Whether you own a truck, bus, caravan, campervan, 4WD, or a simple four-door sedan, this product is compatible with your vehicle. It can be fitted to both 12V and 24V motor vehicles.
Automatically switches on
This camera comes with a 4PIN cable that enables the monitor to power up the device by itself. In addition, the camera will stay switched on for as long as your vehicle is running. However, to enjoy this special feature, make sure that you will connect the camera to a monitor with a 4PIN connector.

According to a recent US study, reversing cameras help reduce the risk of collisions and driveway accidents by up to 90%. This clearly underscores the importance of installing such a device in your vehicle. So be sure to check out Elinz Electronics' new rear view cameras so you can avoid accidents or potential damages to your vehicle.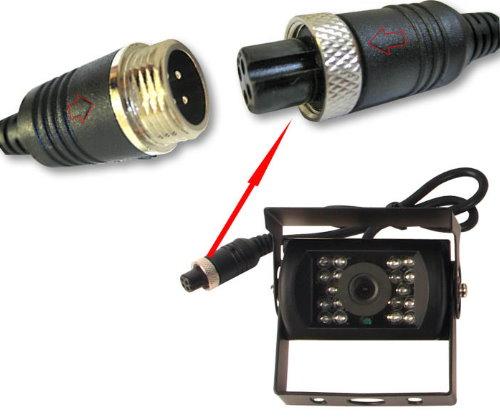 7" Monitor Reverse Camera Kit is also available separately from our store if interested please click here.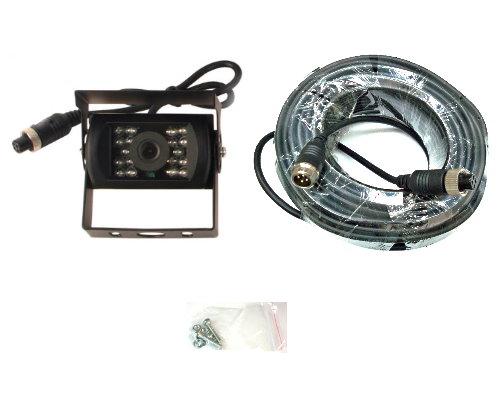 Heavy duty 4PIN CCD 12v/24v reverse camera 1x
4PIN cable 1x
Screws 2x
1. Does the unit include a monitor?
No. This unit only includes a heavy duty 4PIN CCD 12v/24v reverse camera, one 4PIN cable, and 2 screws. If you want to buy one with a monitor included, kindly take a look at our camera kits.

2. Do I have to connect the camera to a power source?
No, you don't have to. When connected to a monitor with a 4PIN connector, the camera will switch on automatically when the monitor comes to life.

3. Can the camera be used in trucks?
Yes. The unit is suitable for both 12v and 24v vehicles so it can be used in all types of vehicles, big and small.

Be The First To Review This Product!
Help other Elinz Electronics Pty Ltd users shop smarter by writing reviews for products you have purchased.
---
Others Also Bought...
---
More From This Category...