Elinz 10" Rearview Mirror Dual 1080P Camera Touch Screen Car Dash Cam Reversing Recorder Hardwire Kit 32GB
SKU: DCREARV2-32GB-CBLPARK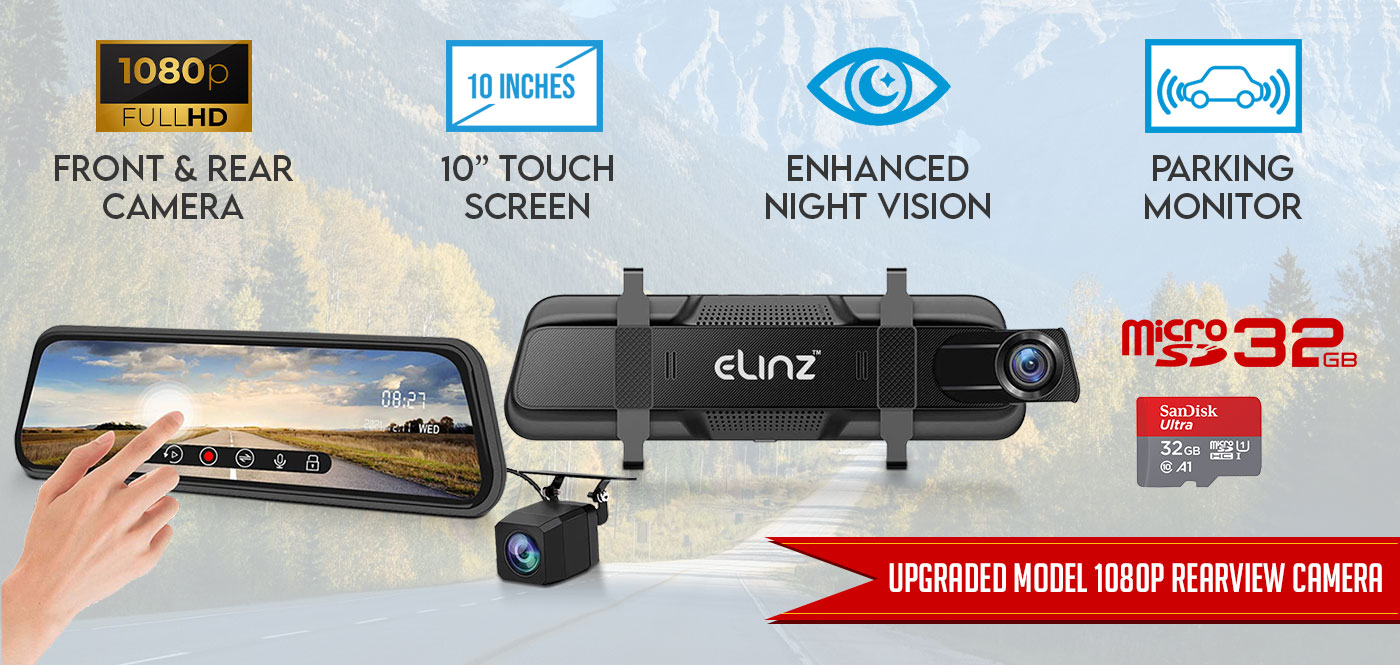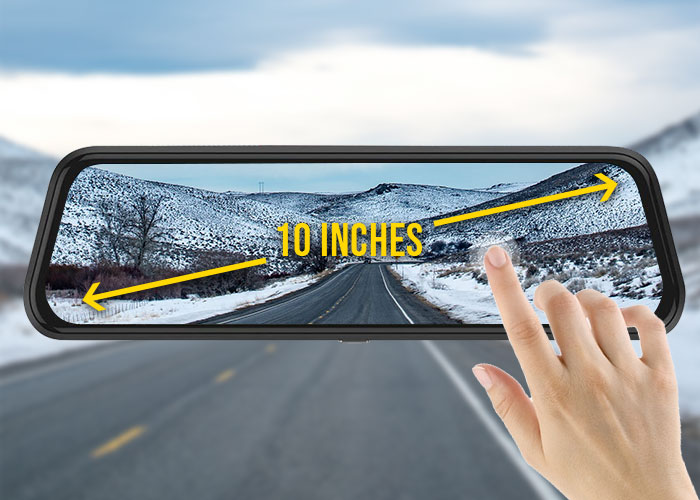 10 inch IPS Massive Touch Screen
Easily navigate the user interface with its touchscreen and be able to view traffic information in sharp, vivid and stunning detail.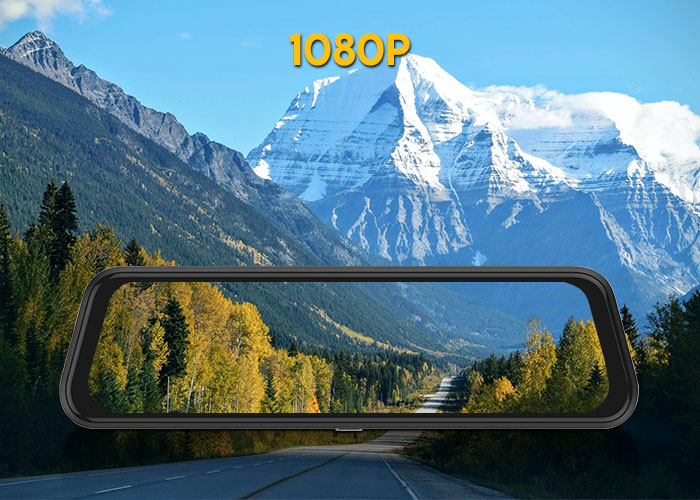 See details clearly in front of you such as license plates with its 1080P front camera.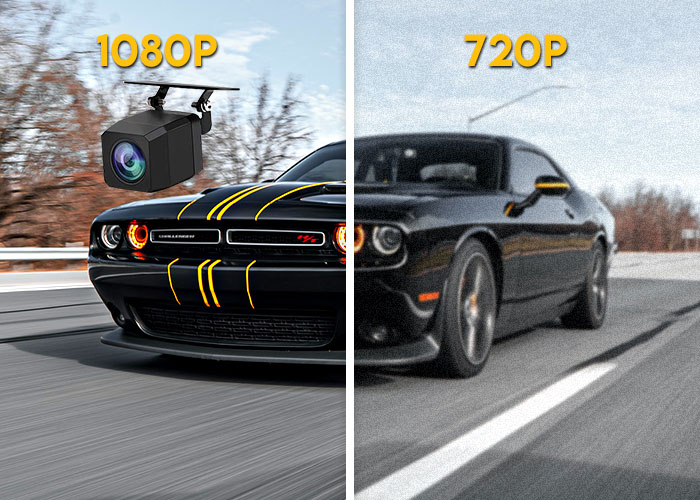 With its upgraded 1080P Rear camera, be able to capture readable license plates.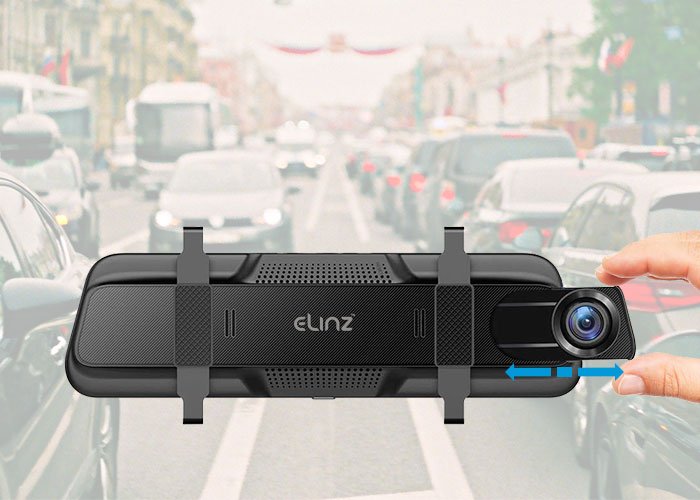 You can just easily pull it to move your camera.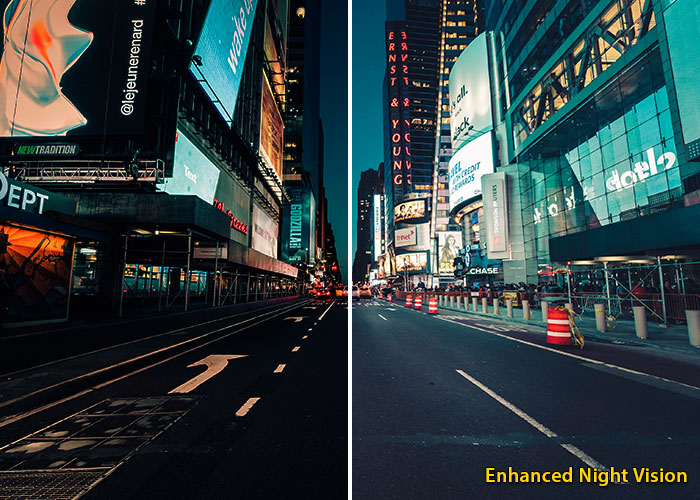 Get clearer footage and image at night with its Starlight night vision imaging sensor and F2.0 aperture.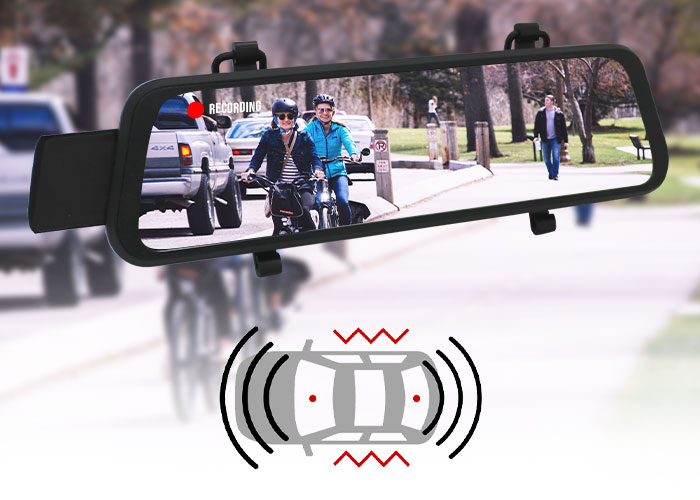 Records automatically when car is shaking while parked and engine is turned off.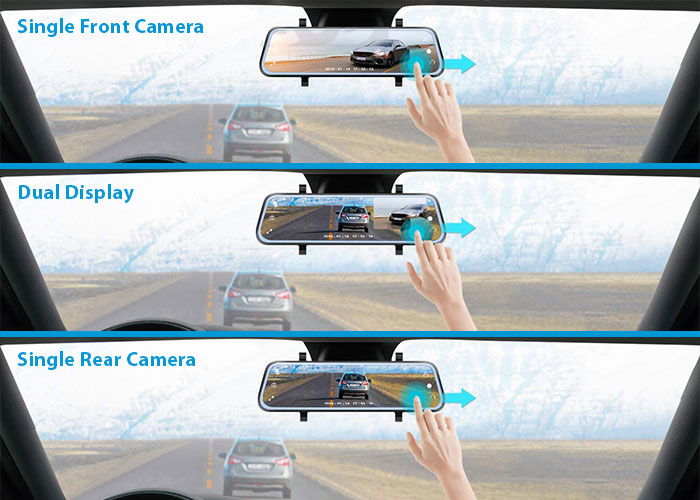 Allows single front, dual and single rear camera display.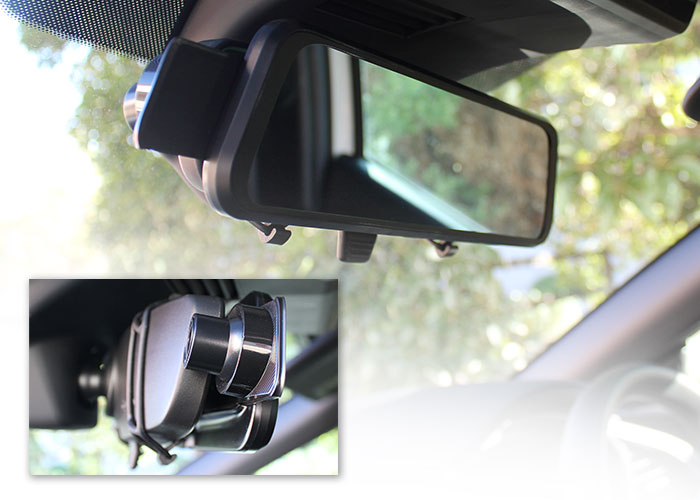 Easily attach dash cam to rearview mirror with rubber straps.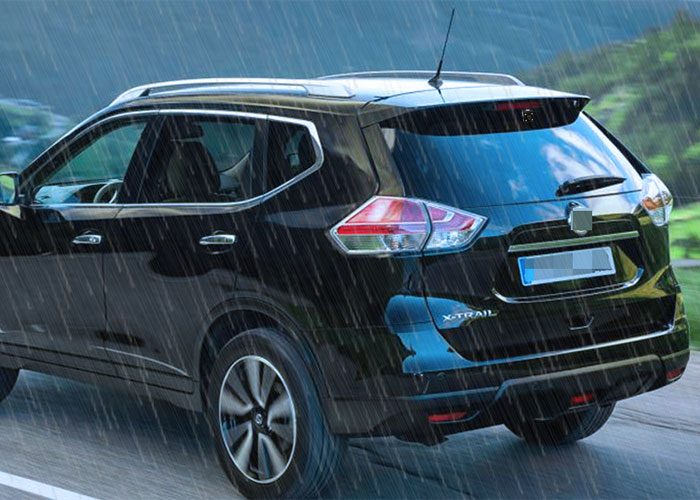 IP66 Waterproof Rear Camera
Never worry about water inside the camera.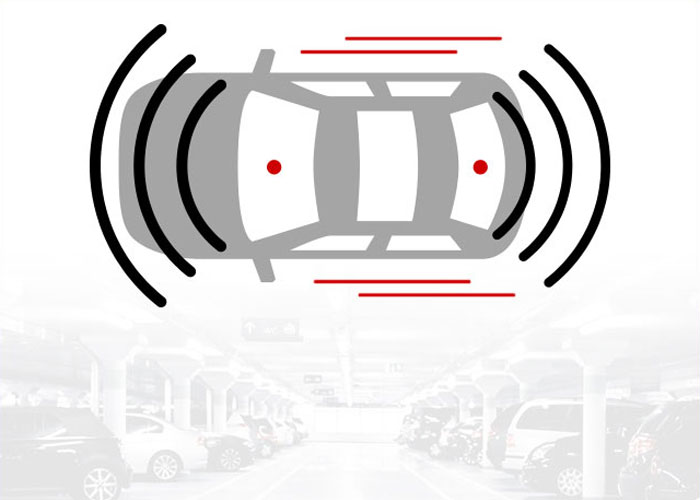 Automatically records and saves when movement is detected.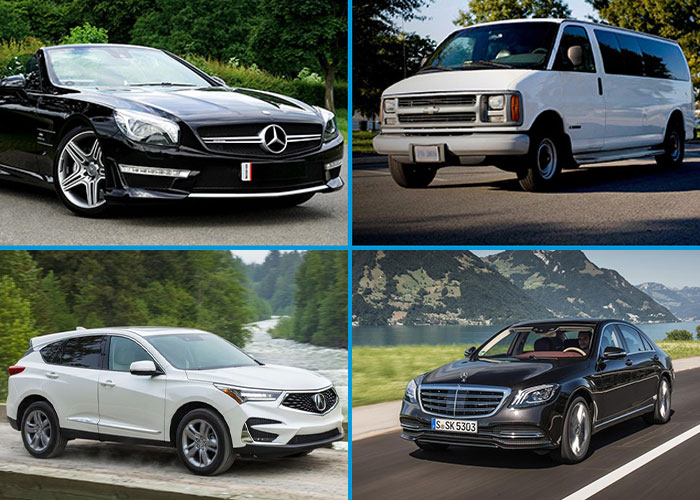 Compatible with 12V and 24V
Comes with hardwire kit cable charger with fuse kit compatible to 12V and 24V vehicles.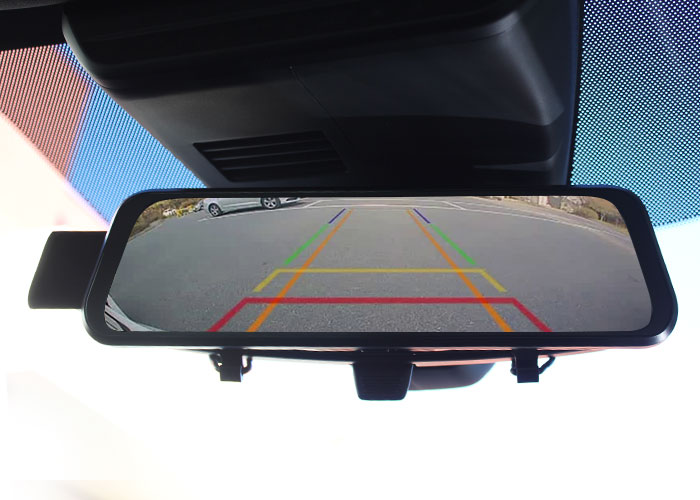 Rear view camera will switch to full screen with line assist when vehicle is in reverse.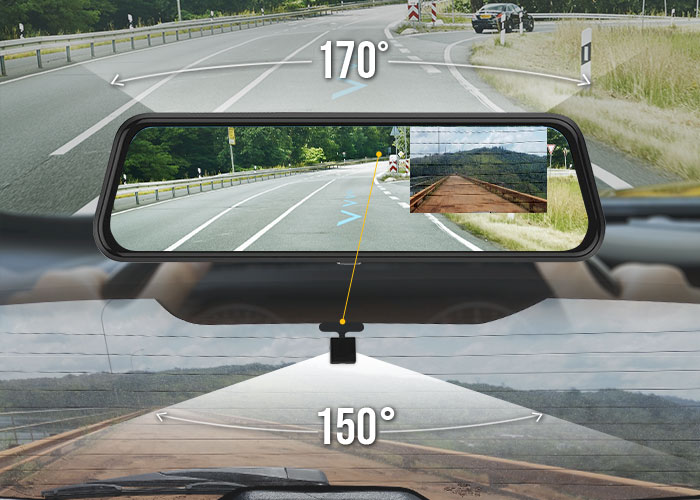 Front 170° & Back 150° View Angle
Reduced blind spot with adjustable 170° viewing angle front camera. Rear camera has 150° wide view angle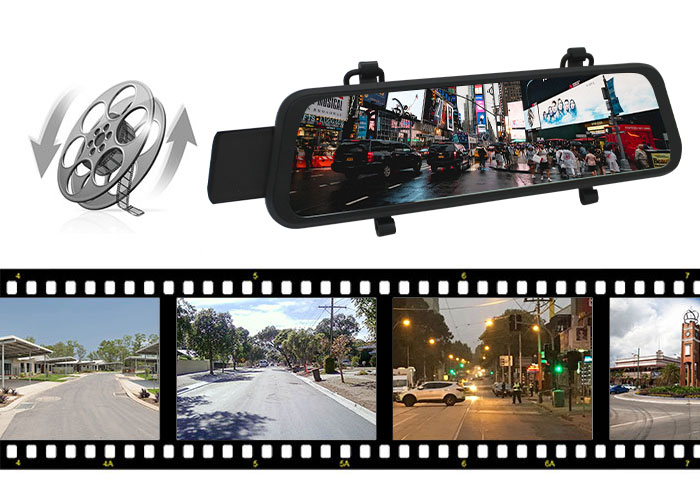 Support Gap-Less Loop recording so you don't need to worry on limited storage.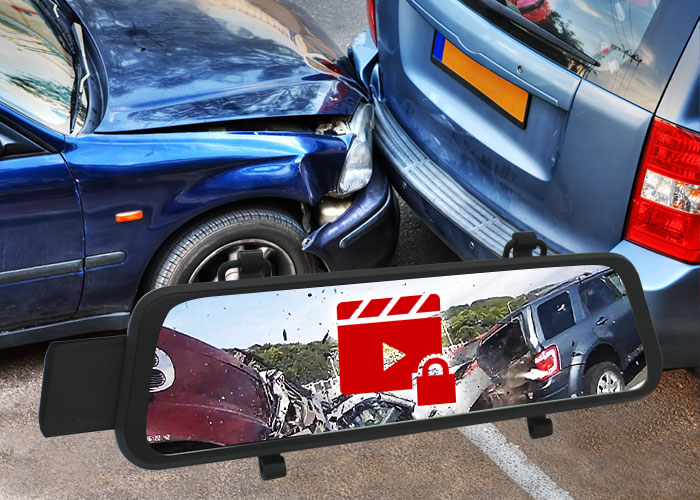 When collision is detected, it automatically locks video footage to protect the data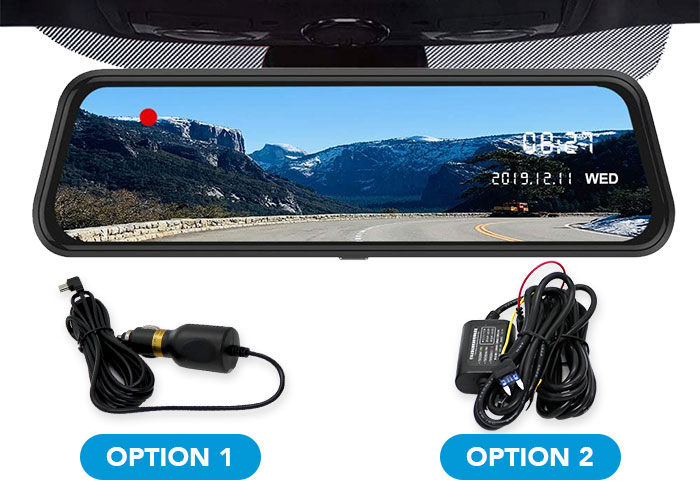 2 Ways to Power up Dash Cam
Using car cigarette cable OR hardwire kit cable charger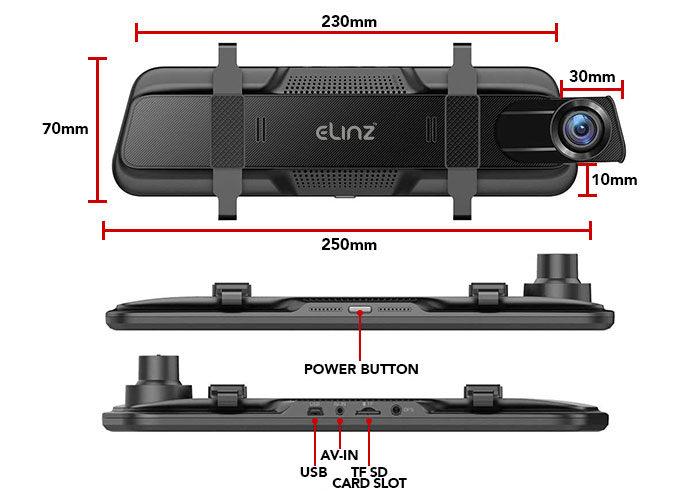 Product Labels and Dimensions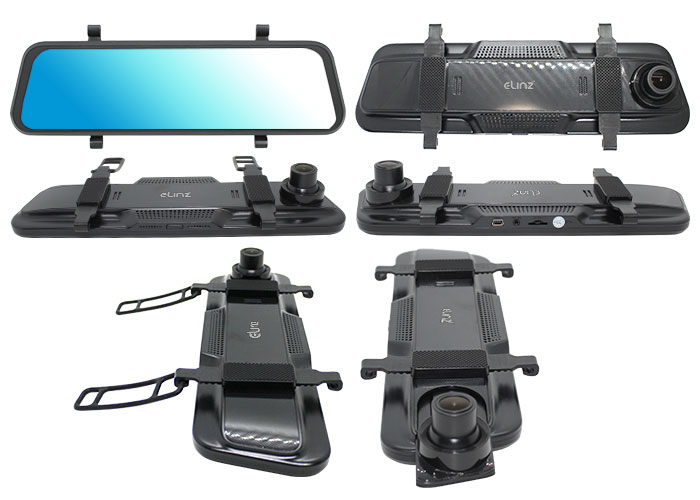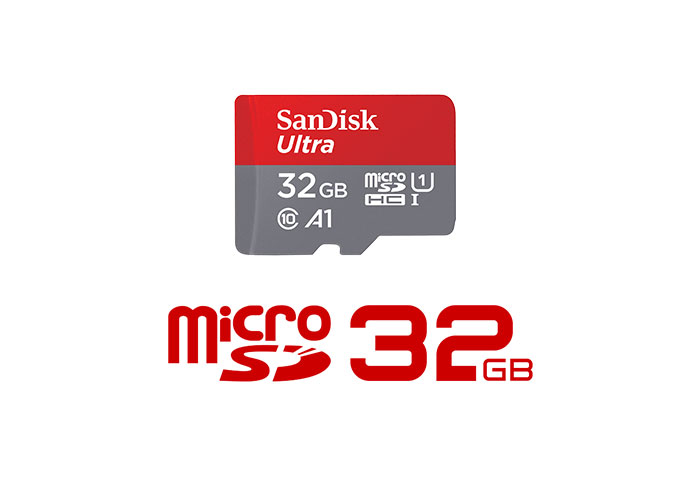 Includes shockproof and durable Class 10 32GB Micro SD Card.
This 10" rearview mirror monitor dash cam has massive touch screen where you can easily operate or navigate by swiping your fingers. It can deliver sharp high-quality videos and images. With dual recording of 1080P front and rear camera resolution. With starlight imaging sensor, it can help you see clear details even plate numbers in front or behind you.

Both the front and rear cameras adopt F2.0 aperture. This mirror dash cam is easy to install, just easily attach dash cam to rearview mirror with rubber straps. Front 170ŒÁ & Back 150ŒÁ view angle with flexible front lens, can adjust to any direction, backup camera can shooting the car's rear without blind area.

It has built-in G-sensor that automatically activate video lock to protect evidence video. There are three display modes, The first one is full-screen display of the front camera's recording mode, and the second mode is Dual Display of front and rear camera recording and the third mode is full-screen display of the rear camera's recording mode. With IP66 waterproof standard, never worry about water inside the camera.

There's more to discover on this Dash cam, so get yours today.

10 inch Massive Touch Screen

With 10 inch media rearview mirror it allows you to see full view for more traffic information. All operations can be easily navigated by swiping your fingers with touchscreen and it works as a normal rear view mirror after screen saver is on.

1080P Front Camera

Enjoy 1080P Front camera Resolution with startlight night vision sensor that helps you see clearly more details including license plates of vehicles in front of you, day and night.

1080P Rear Camera

Comes with Full HD rear view camera to capture clear and readable License plates of vehicles behind you in very crisp 1080P video.

Enhanced Night Vision

Both the front and rear cameras use Starlight Night Vision imagaging sensor with F2.0 aperture, so you can get clearer footage and image than other dashcams at night.

Parking Monitor

Automatically turn on record when the car is shaking when parked and the engine is not running.

3 Display Modes

There are three display modes, The first one is full-screen display of the front camera's recording mode, and the second mode is Dual Display of front and rear camera recording and the third mode is full-screen display of the rear camera's recording mode.

Easy to Install

This mirror dash cam is easy to install, no need to remove the factory rearview mirror in your car, just easily attach dash cam to rearview mirror with rubber straps.

IP66 Waterproof Rear Camera

With IP66 waterproof standard, never worry about water inside the camera.

Motion Detection

It can auto-shoot when movements are detected in the scope of monitoring and will automatically save the video clip.

Compatible with 12V and 24V

Comes with hardwire kit cable charger with fuse kit for battery drain protection for your 12V and 24V vehicles.

Automatic Backup Assist

Rear view camera will switch to the full screen with line assist when the vehicle is in reverse.

Loop Recording

Support Gap-Less Loop Recording so you don't need to worry on limited storage.

Built-in G-Sensor

With G-Sensor, it will automatically record and lock videos everytime it detects a sudden collision during driving or when the car is hit when parked.

Class 10 32GB Micro SD Card

With Class 10 32GB micro SD card. Please format it on the camera before use.

2 Ways to Power up Dash Cam

Option 1: Using Car Cigarette Charger

Simply plug-in the car charger to car cigarette charger socket

Option 2: Using Hardwire Kit Cable Charger

Make full use of your camera's parking mode by getting permanent power from your car battery.
Protected against battery drain
Support continuous video recording when the vehicle is parked
Standard Mini USB adapter to connect to your dash cam
Brand: Elinz
Model: Rearview Mirror Dual Channel Recorder
Screen Size: 10" HD IPS Touch Screen
Chipset: General Plus GP6248
Image Sensor: Starlight Night Vision F37 f2.0 aperture
Video Resolution: 1920*1080P + 1920*1080P
Frame Rate: 30FPS
Viewing Angle: 170 degrees + 150 degrees
Video Format: PAL/NTSC
Languages: Multi-language
File Format: AVI
Channel: 2CH
Backup Assist: Automatic
Auto Switch On: Support
Loop Recording: Support
Motion Detection: Support
Parking Monitor: Support
G-Sensor: Support
Rear Camera Rating: IP66 Waterproof
Display Modes: Front/Dual/ Rear Camera Display
Night Vision: Support
Microphone: Support
Storage capacity: Support up to 64GB MicroSD Card
Date and Time: Support
Current Frequency: 50HZ/60HZ
Operating voltage: 12~24V 2A
Power interface: Mini USB DC5V -2.0A
Battery Built-in: 450mAh
1. 1x 10" Rearview Mirror Dash Camera
2. 1x Hardwire Kit Cable Charger
3. 1x 1080p Rear Camera
4. 1x 32GB SD Card
5. Car Charger
6. Rubber strap
7. User Manual