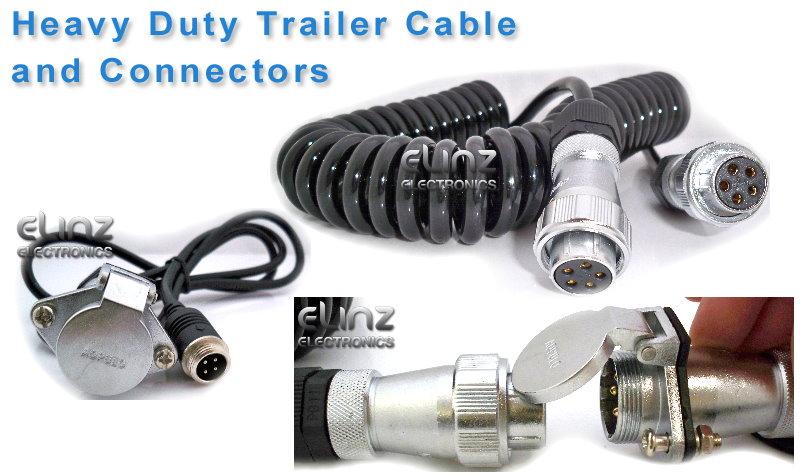 SKU: CBLTRAILER
This cable has audio transmission capabilities.
---
Key Features
---
5 PIN AP-TP20 metal connector with male and female connector
Waterproof function
4 PIN metal connector for CCD Camera
Length selectable
With elasticity length from 2 000mm to 4 000mm
Very tight connection durable and reliable
Connecting and disconnecting when hitching your caravan is easy with this heavy duty permanent fitting connector
Cast alloy connector can be mounted adjacent on same bracket
Suitable for truck trailer semi trailer or caravan applications
---
Item Description
---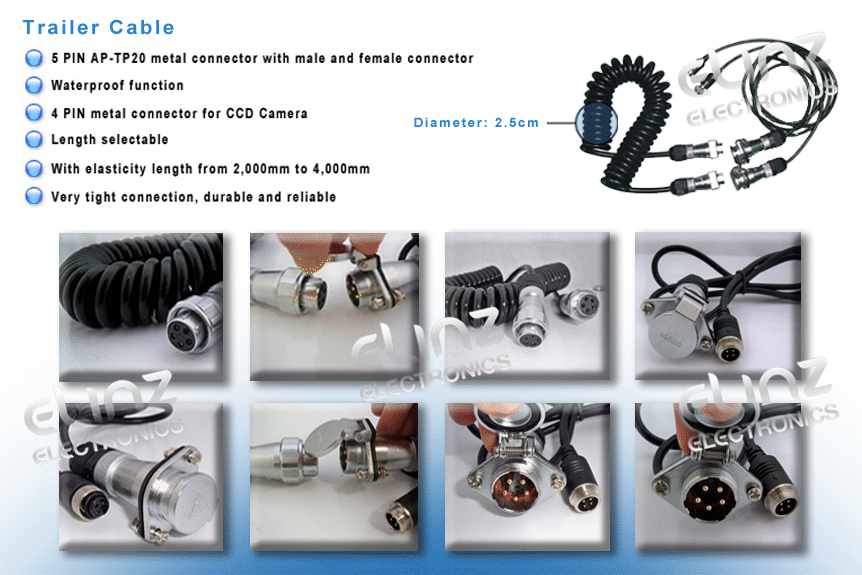 ---
Graphical Illustration
---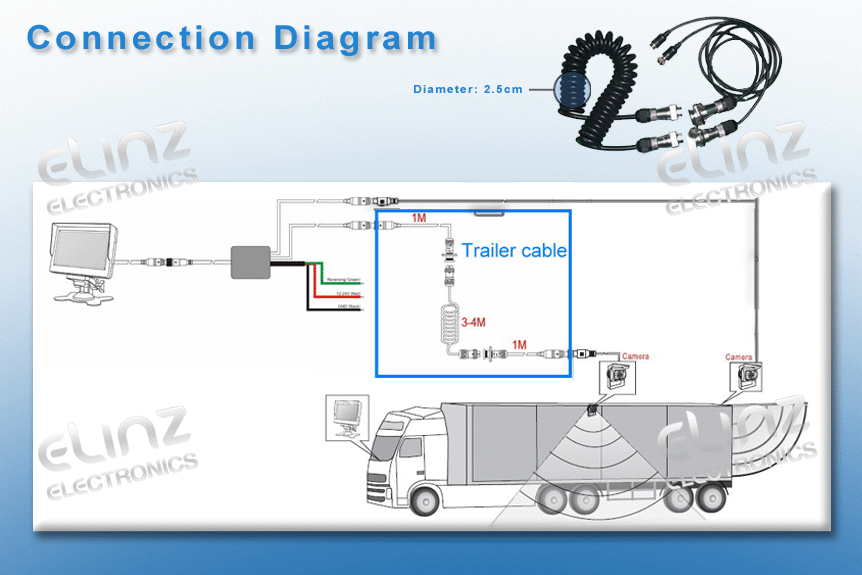 ---
Screenshots
---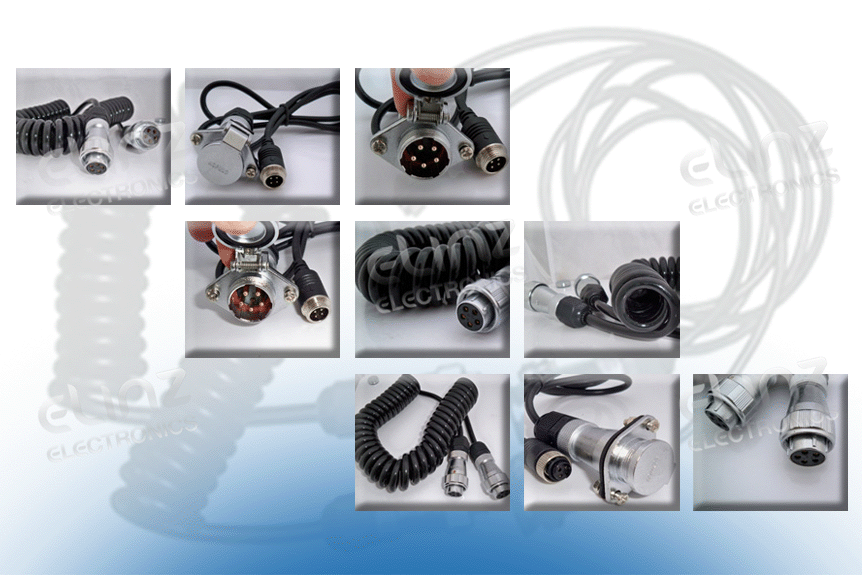 ---
What's Included
---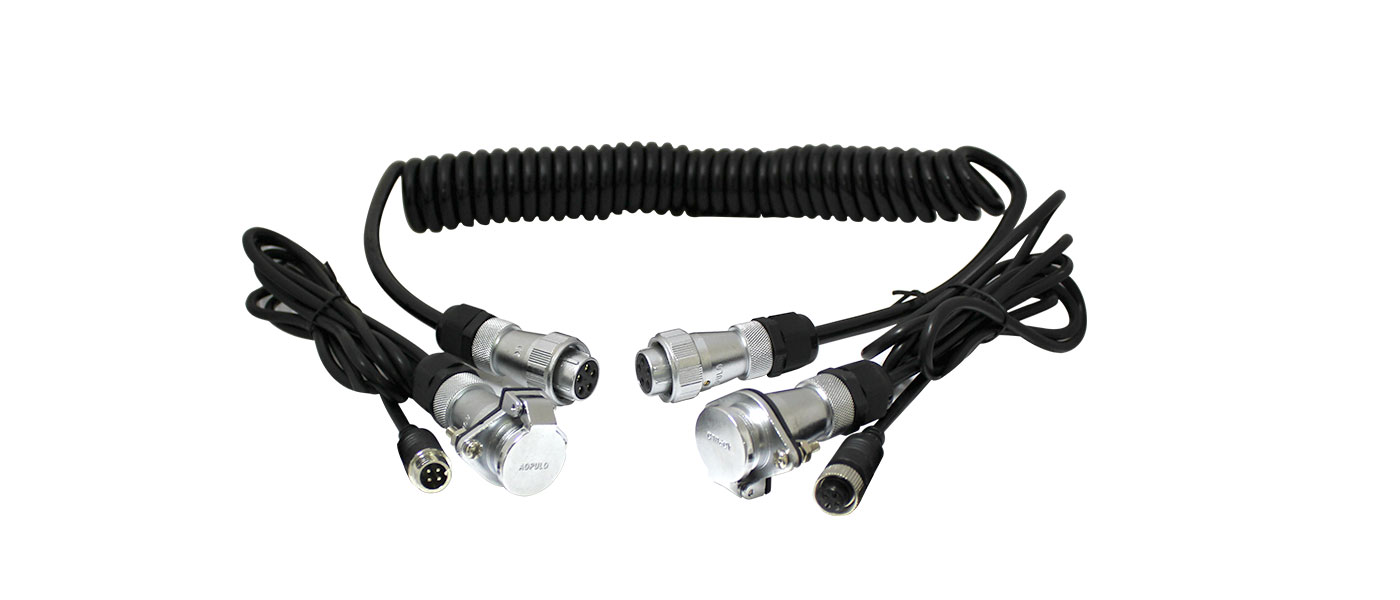 1x Suzy cable
1x 5PIN to 4PIN male connector
1x 5PIN to 4PIN female connector
Frequently Asked Questions
No FAQs Available
---
Troubleshooting Guides
No Troubleshooting Guides Available
Average Customer Rating For Elinz Heavy Duty Trailer Cable Coil and 4PIN Connectors 1 AV Input:

Click here to write a product review!
Heavy duty trailer cable
This cable really IS heavy duty. Easy to fit and looks like it should last a long time.

Rating:

My Experience with Elinz Electronics
This product works perfectly, which is exactly what I was after, and exactly the service I expected from Elinz Electronics, they supplied the product at short notice and I received it in short time, so I'm very pleased with product and service and would recommend them anytime. Regards Bluey

Rating:

Woza
All good quick deliver

Rating:

---
---
We Also Recommend...
---
Others Also Bought...
---
More From This Category...