Truck Parking Sensor Guarantees Truck Drivers Safety
Author: Jethro S.
---
Safety on the road is what every driver's, especially a truck driver's major concern when driving. That is why reversing cameras, dash cams and GPS are invented. If you are a truck driver, you surely know all these devices as necessities for your car. But do you know that there's one more driving essential you need to install in your huge vehicle? A truck parking sensor guarantees you safety and protection while on the road, and most especially when parking. This device provides the convenience of detecting the alarm distance. It is designed with LED display along with a buzzer comprising three different colours: yellow, green and red, showing the distance of o-2.5 metres between the obstacles.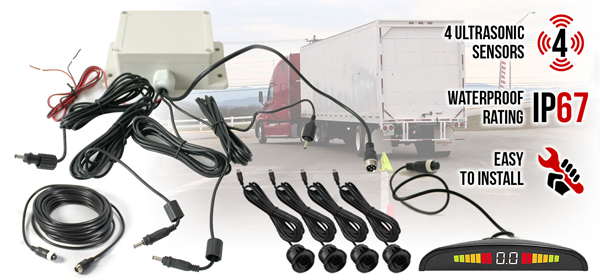 What to consider when looking for a truck parking sensor
When you're looking for a parking reversing system, it is important that you know the specifications and features you should consider. They need not be expensive but they should be of best quality. When buying a kit, check if the following are indicated:
• 4 Ultrasonic Sensors – This easy-to-install device features double CPU and advanced chipset for enhanced coverage and detection.
• LED Display with Buzzer – This specification guarantees you safe driving. You are alerted when you are about to enter the danger zone. The 3 colours, green (1.3-2.5 metres), yellow (0.4-1.2 metres) and red (0.1-0.4 metres) indicate the degree of danger your truck is about to enter.
• The sensor device works on 12V to 24V vehicles.
• Excellent quality materials – The product should ensure durability and longer lifespan.
• Increases and improves safety – This is essential especially for truck drivers, the pedestrians, and family members.
• Range Distance Alarm – from 0-2.5 metres, you'll be alerted if your truck is about to enter the danger zone.
• Waterproof 1P67 – This parking sensor kit can stand any weather especially the heavy downpour. You can still rely on its efficiency even if it is raining hard while you are driving or parking your truck.
• Applies for all – Whatever kind of large vehicle you have—a truck, trailer, bus, or any other big car, this sensor device is a perfect must-have.
• 10M 4PIN AV Cable – This is perfectly designed for trailers and trucks as it has a long cable. It can even use additional 10-metre cable for longer trucks.
See? You need not much of the money to be sure about the parking sensor you're buying for your car. All you need is your trusted online retail store of electronic devices and other gadgets. Be sure to check all the aforementioned specs and features to guarantee that the product is worth spending for.