Cool Advantages of an Inverter Welder
Author: Jethro S. Date Posted:3 August 2017
---
Do you have a specific do it yourself project in mind that involves welding? Are you looking for a good tool to invest in? If so, definitely check Maxlee's Inverter Welder Welding Machine Portable Stick MMA DC ARC 200A AMP iGBT product. Here's a rundown of all the cool features of this product.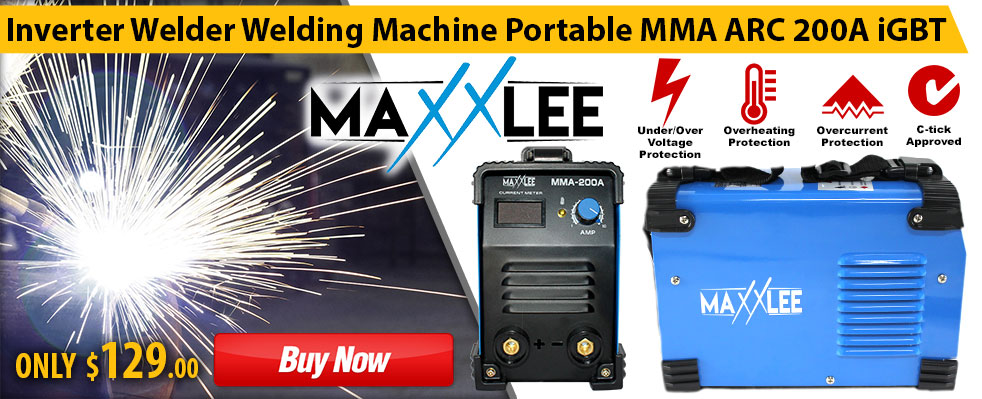 The Awesome Features of this Inverter Welder
No. 1: It has an integrated Insulate Gate Bipolar Transistor or IGBT technology. This is a top-notch hybrid of a low saturated bipolar transistor with the efficient switching speed of a MOSFET. This means that the device is able to gather enough current without the use of a gate current drive. The welding machine offers an energy effective device that won't consume heaps of electricity just to effectively function and could switch as fast as possible.
No. 2: The device is installed with a protective circuit. This is an awesome protective measure that definitely prevents the device from overheating, taking in excessive electrical currents, or experiencing over/under voltage. This particular product is equipped with a current management system that is effective and powerful enough to regulate the amount voltage that could cause over exhaustion for the product. It really shows how much protective layers it provides for the consumer.
No. 3: Light weight and portable. If you think about conventional welding machines it is common that the image of those bulky and heavy devices immediately comes to mind. However, this 200a inverter welding machine is actually designed to be compact and easy to store. It comes in a specially designed carry on box that protects the device from damage while offering a good tidying solution after use.
No. 4: It passed the Australian C-Tick Compliance. This means that the product is recognised by the Australian Media and Communications Authority (AMCA), which is a Federal government agency. This compliance marking signifies that the device has successfully reached the EMC requirements of the agency. It also illustrates the quality of this product among its competitors.
No. 5: Fan Cooled. This is in relation to the overheating management of the device, because it comes with a fan cooler that alleviates the amount of heat build-up that is common when utilising the welding machine. This ensures the quality of the performance and the durability of the device, which adds to the longevity of the product. If you want a long lasting welding device then this is definitely your safest bet.
This ARC inverter welder is a powerful to have if you are really fond of metalworking and DIY projects. It is a portable and energy efficient device that could last you a really long time. Get yours today.
---