10000mAh Power Bank Slim Portable USB Battery Charger iPhone Mobile iPad
2 Output Ports~Power Indicator~Polymer Battery
(SKU: BCPBSLM10)
10000mAh Power Bank Slim BLUE

(SKU: BCPBSLM10-BU)

AUD $27.99

In stock

10000mAh Power Bank Slim WHITE

(SKU: BCPBSLM10-WHT)

AUD $27.99

sold out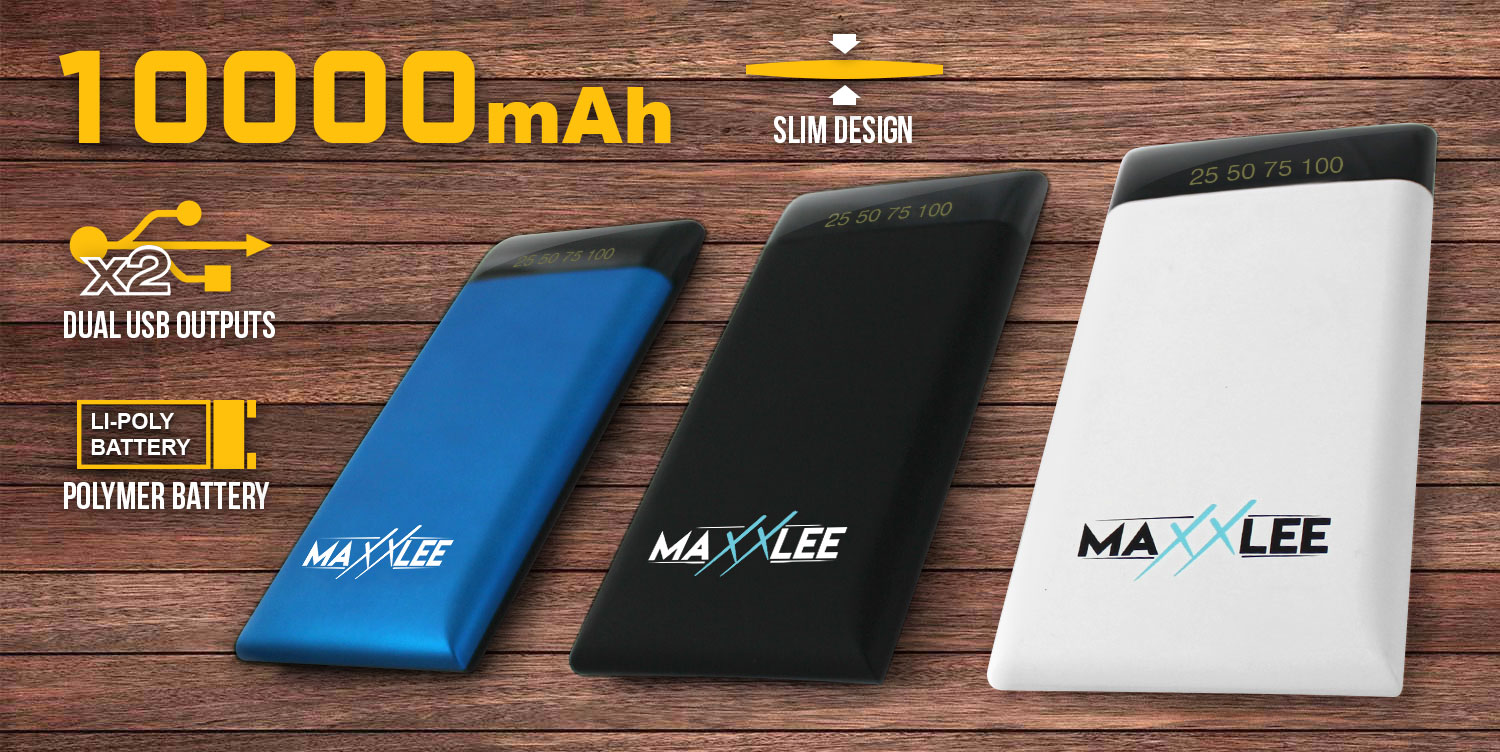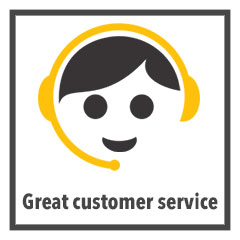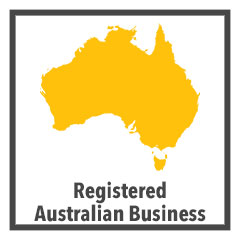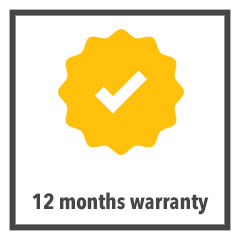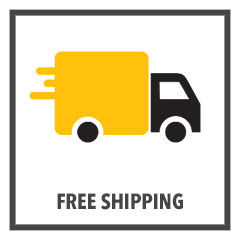 10000mAh Power Bank Slim Portable USB Battery Charger iPhone Mobile iPad
Product Details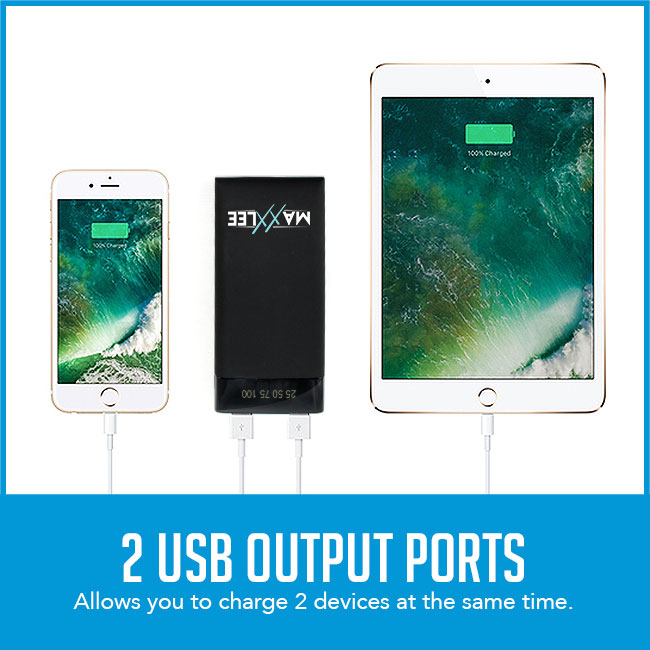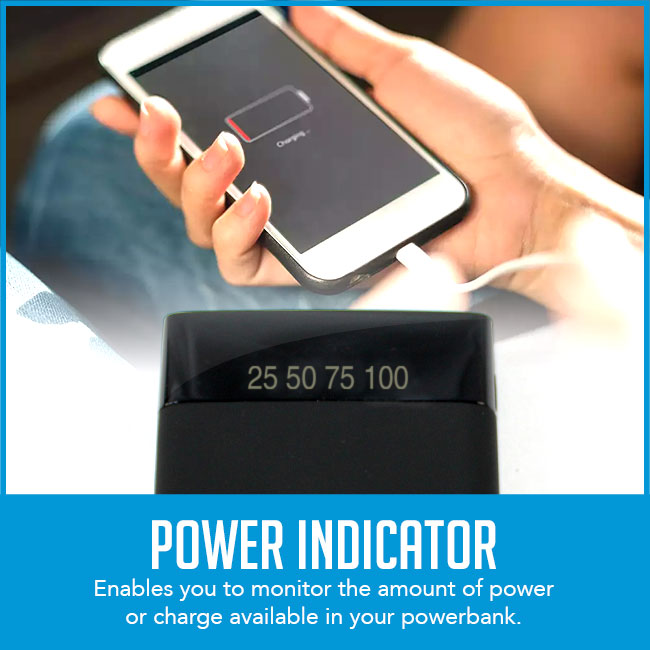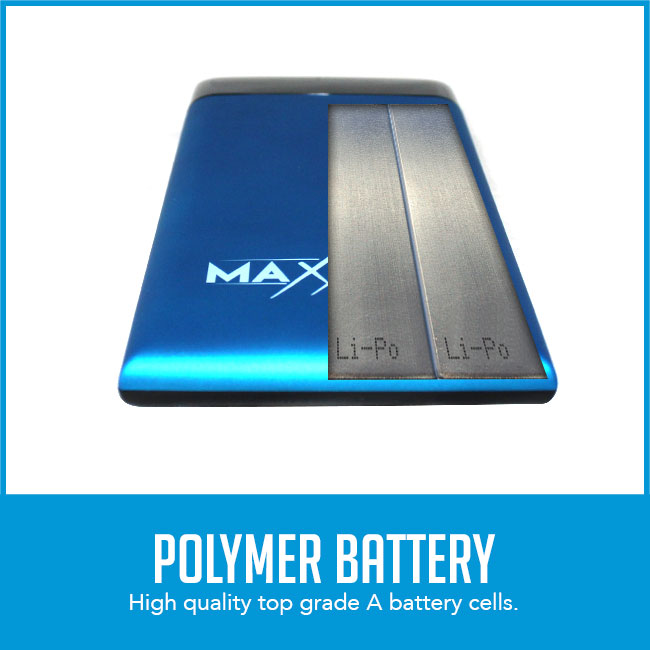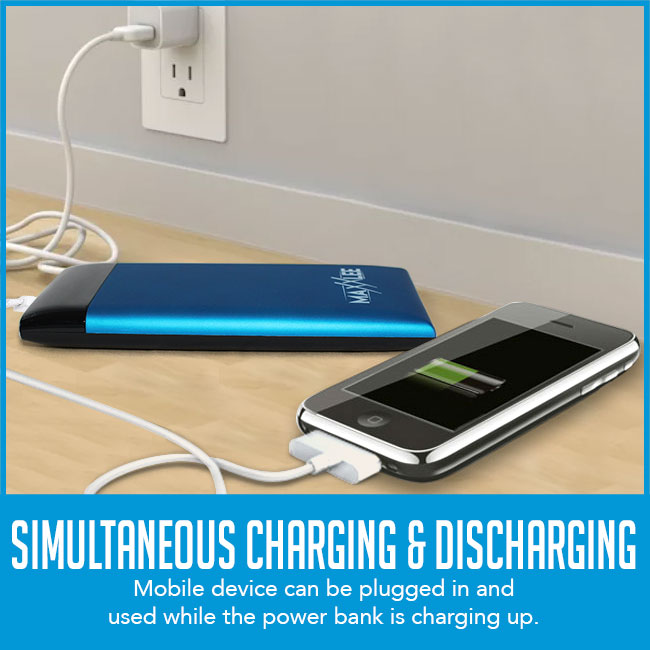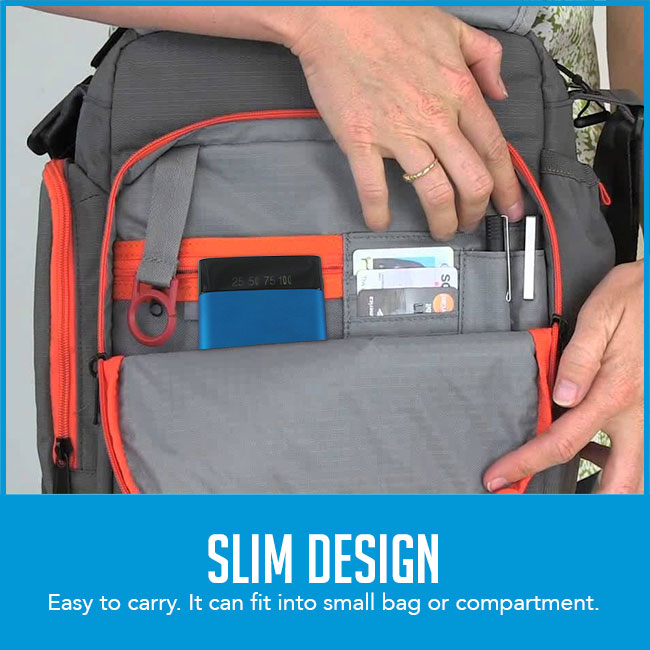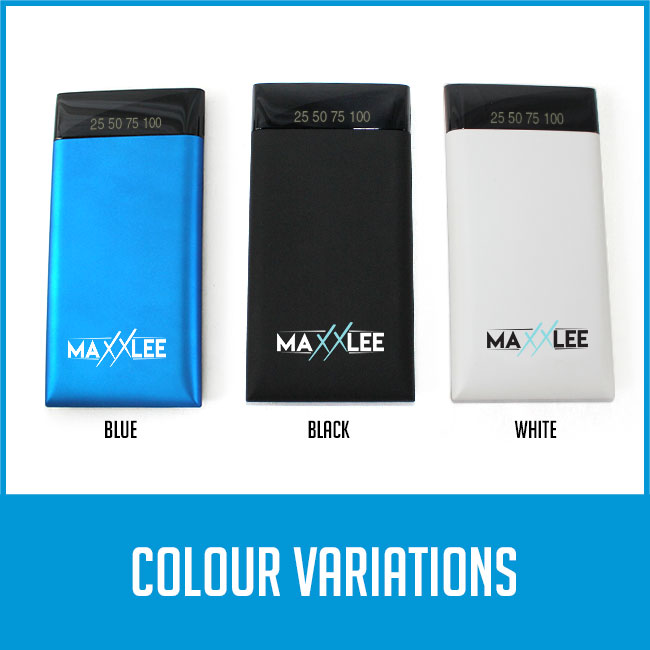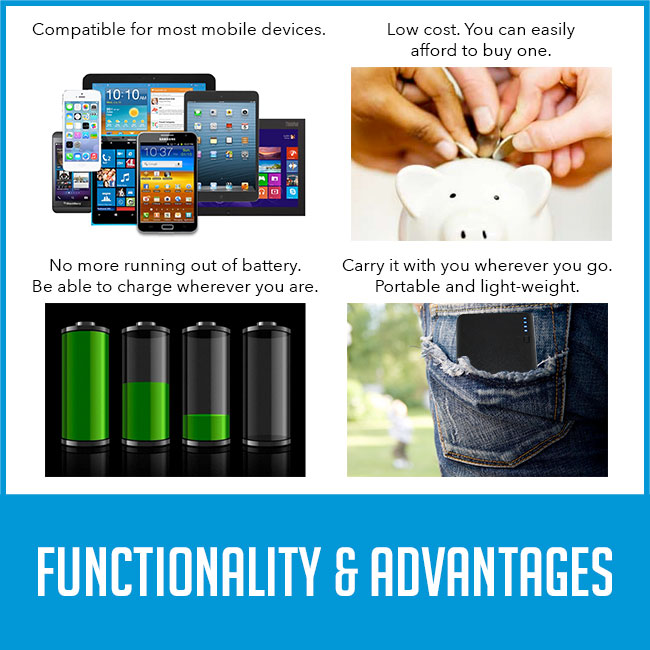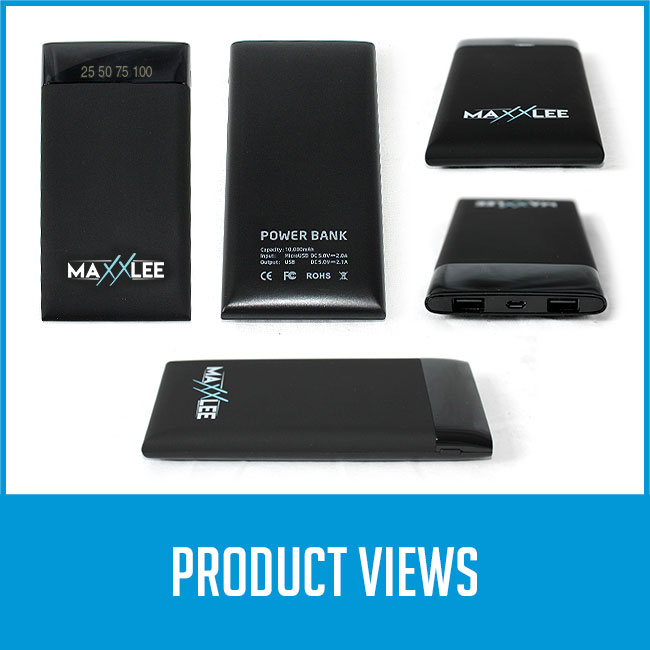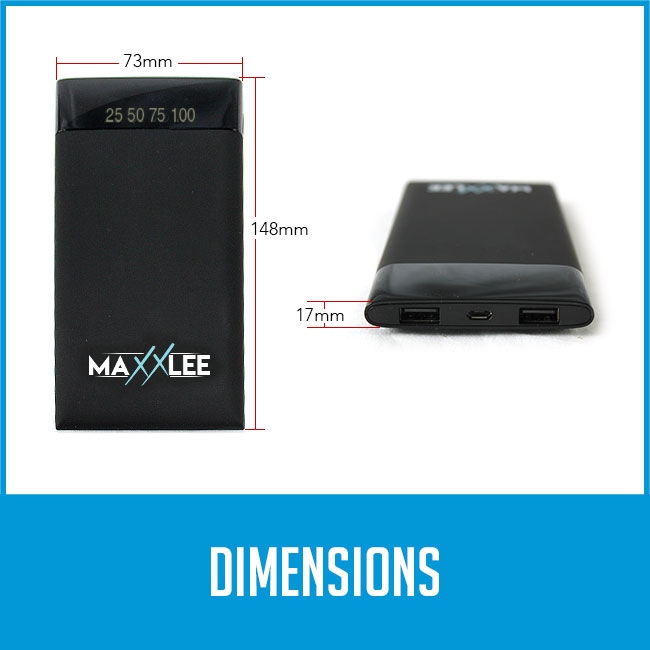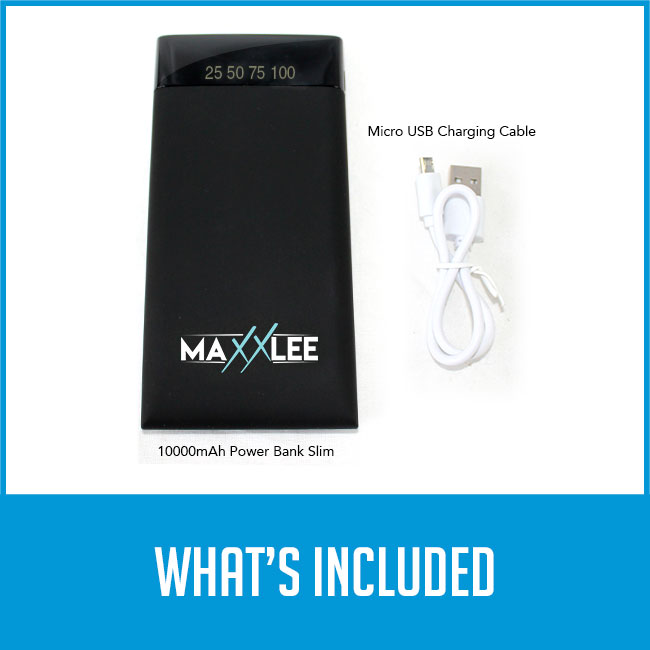 More Information
Our new Maxxlee 10000mAh Power Bank is proven to provide you with efficient charge for your devices. Based on our years of experience in providing quality products, this power bank will provide you with all the necessities a power bank should have. It has 2 USB ports that allow you to charge two devices simultaneously and has a unique slim design making it easier to carry around.

Featured in this 10000mAh power bank is a short circuit protection, overvoltage protection, over current protection, overcharge and over-discharge protections. These features will ensure that you will be able to charge your devices safely and effectively, which makes this power bank safer to use than its competitors in the market.
Product Highlights
Nine Layers of Circuit Protection
Temperature resistance

Heat-sensitive and temperature control mechanisms ensure Li-ion batteries operate within a safe range.

Short-circuit protection

The motherboard and battery are automatically protected if short circuit occurs.

Reset Mechanism

Power button can be used to reset the power bank in unstable environment.

Input Overvoltage Protection

VP circuit prevents voltage surges from damaging the device.

Automatic Charger Protection

Detect when the charger is inserted incorrectly and automatically stop charging.

Protection from Output Overcurrent

Monitors output current and shuts off when current exceeds the maximum limit to protect the device.

Output Overvoltage Protection

Monitors output voltage and shuts off when voltage exceeds the maximum limit to protect the device.

Protection from Overcharge and Over-discharge

Japanese technology is adopted to prevent overcharging and over-discharging from damaging the Li-ion batteries.
PTC Protective Circuits for the Cell
Imported battery cells are equipped with PTC to effectively control current and provide protection when temperature and current exceed the maximum limit.

Optimized charging/discharging efficiency
Up to 93% Conversion rate
World-class chips are not only safer, but also improved charging conversion rate and stabilize discharging voltage with advance resistance-capacitance sensors to optimize efficiency and durability
Slim design

Easy to carry , can fit into bag and small compartment easily

High Quality battery cells inside

Top Grade A battery cells. Safety is the First priority for battery products.

Applications

It can use for digital devices like MP3/4/5, PSP, GPS, Game console, DV, Camera, MID, SmartPhone.
Suitable for : Nokia DC2.0, Mini USB, Micro USB(For Android Cellphone, Nokia, Samsung, HTC etc.)
Apple series (For Iphone, iPad etc.), Nokia, PSP(For PSP game console), Samsung, LG(For LG Series Cellphone), USB Cable.
Item Description
Charging time : 7 hours
Battery: polymer battery
Capacity: 10000mAh
Color Option : black, white, blue
Power Efficiency: 90%
Input: 5V-2A
Outputs : 2x USB outputs, 5V-2.1A
Size: 148*73*17mm
Weight: 200g
Battery Safety: The power bank is with safety mechanism, including over temperature protection (OTP), short circuit protection (SCP), over voltage protection (OVP), over current protection (OCP), over charge protection (OCP) and over discharge protection (ODP)
Compatibility

Compatible with all 5V USB-charged devices, including iPhone, iPad, iPod, Samsung smart phone, Android smart phone, cell phone, PSP, MID, MP3, MP4, GPS and other hand-held devices
Warning: Power bank with abnormally low price are using used battery cell or used IC which will lead to explosion, short life and mobile phone easy to burn out. Please be cautious on other sellers who mislabeled their battery capacity.
Charging chart
To check Power bank Real capacity and to determine how many times the power bank can charge your device, we have included a reference table for your convenience. Please refer to table below.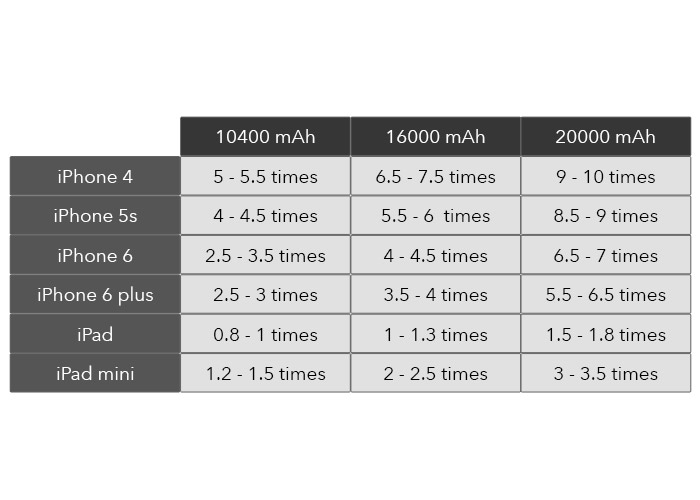 Frequently Asked Questions
No FAQs Available
---
Troubleshooting Guides
No Troubleshooting Guides Available
Be The First To Review This Product!
Help other Elinz Electronics Pty Ltd users shop smarter by writing reviews for products you have purchased.
---
We Also Recommend...
---
Others Also Bought...
---
More From This Category...