How To Hardwire: An Infographic Guide
Author: John D Date Posted:4 February 2020
---
Hardwiring is often overlooked, as some people might find it a little bit confusing. Not to worry- it's a little less complex than most people think of. In fact, here's a quick infographic guide from us, neatly breaking it down in just 5 simple steps.
If you're reading this and you're not quite sure what "hardwire" means, it's a method to connect your car gadgets like a dash cam, reverse camera/backup camera, or any other car gear that you have that supports a hardwiring kit. It provides the gadget with a continuous source of power.
There's not much equipment needed, either! Just grab yourself some pliers and your car manual (optional: gloves), and you should be good to go.
If you have both, follow the steps as seen below: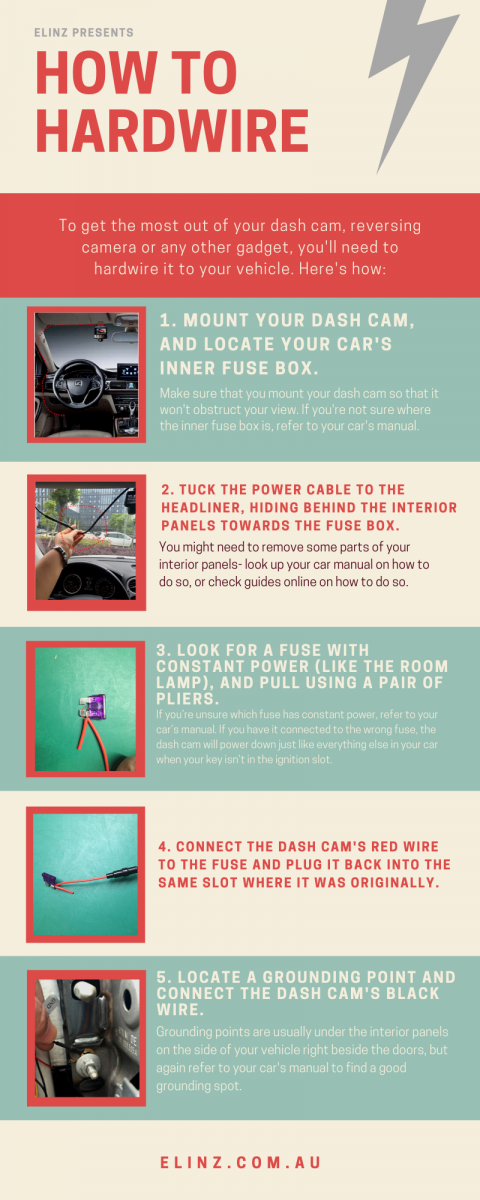 There you have it- you should have your dash cam or reverse camera hardwired in no time. If you make any mistakes or if your gadget isn't powering up, no worries. Just retrace your steps and go through it again, and make sure to always check your car's manual for reference.
Oh, and we have a longer version of this guide up on the website, complete with FAQ's that might be relevant to your interest- click here to learn more.
Looking for dash cams that are perfect for hardwiring? Visit us today at our dash cam listings and get yourself one. Dash cams make roads safer and provides an additional layer of security and insurance for your vehicle so if you don't have one yet, now would be a great time to do so.
On the topic of safety, reverse cameras are also extremely beneficial and can be hardwired all the same with this guide. With cars having massive blind spots of at least 1.8m, it's imperative that most cars have reversing camera gears. Manufacturers have been integrating it with newly released vehicles, and if you'd like to incorporate it, get yours here.
Good luck and have a lovely time hardwiring your gear!
---