Roof Mount DVD Player and the Likes to Prepare for the Easter Week
Author: Jethro S. Date Posted:9 April 2019
---
Preparing for the Easter week? This season is certainly special for all families here and many parts of the world. If you are one of the many, now is the perfect time to prepare for this yearly celebrated holiday. As you travel that long Easter trip, it's best if your car is equipped with all the must-haves to keep all your riders entertained as they wait to get to your destination. One of the travel essentials to have is the roof mount DVD player. This device will surely keep everyone inside the car, especially the kids, busy while you concentrate on your driving.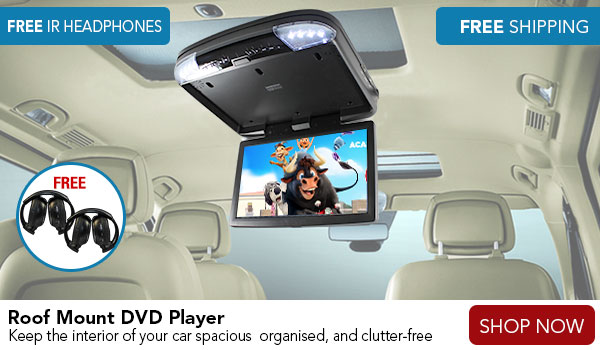 Roof Mount DVD Player and More
This makes a perfect addition to your vehicle be it a camper, 4X4, car or van. It offers you hours and hours of entertainment while on your long trip minus taking up all the space on your dashboard. The Roof mount player can keep your car's interior organised, clutter-free and spacious. You can choose from the different sizes and models of this type of DVD player available in the market today. This entertainment gadget for your car may come as a flip down monitor DVD player too.
This is another reason why a car roof mount DVD player is considered the most space-saving car DVD player you can have. Even if it does not consume too much space in your vehicle, you can guarantee total entertainment and convenience for your whole family and everyone with you on your road trip. You may opt for the one that's 10-inches big that's made with crystal TFT LCD. This feature will enable you to play more video formats such as DVD/AVI/DIVX/MPG/MPEG/DAT/FLV/RMVB/VOB/MP4/MOV etc.
Additionally, this electronic car product is a product kids will love. It will let them play games, watch children's movies and listen to their favourite songs. The flip down monitor comes with a built-in DVD player, a built-in USB/SD port, HDMI input, built-in FM transmitter, and a built-in IR transmitter. You can certainly find this product more enjoyable and exciting while on the road. With a DVD player inside the car, there is no room for boredom.
Indeed, Easter is a season to look forward to, especially for parents who are so busy at work and this is their only chance to spend leisure time with their family. Browse through this page and see which car DVD player suits your entertainment needs and preferences while on a long road trip.
---