Cosmoblaze LED Light Bars that are Worthy to Have
Author: Jethro S. Date Posted:6 March 2019
---
Off-road vehicles can be quite challenging to manage. But if you install LED light bars in them, you will realise that having a truck, 4X4, heavy equipment or even boat is not hard at all! These driving lights are worthy of buying because they are longer-lasting than any other kind of light similar vehicles have. Yes, the LED light bar has up to 50,000 hours, so it is more cost-efficient as there's no need for a replacement right away. If you don't have this-this lighting product for your vehicle yet, you should get a set now because, with this product, you can be sure of excellent quality since it is among Australia's most dependable and cost-oriented premium LED lights. Not all light bars made of LED bulbs have bright illumination of flood and spot combination, so this one's a good pick because of the unique features mentioned.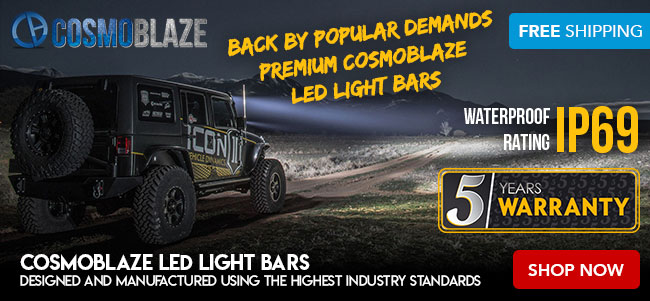 Why you should have the LED light bars
Indeed, this product is worthy of having as it features a CREE LED Light Bar, a US-brand known for its durability. Below are some of the reasons why a LED light bar for any off-road vehicle is a perfect must-have:
1. This vehicle lighting features a combination of 10-degree spot beam and a 36-degree flood beam. Meaning, the combined beam provide a denser and farther-reaching brightness.
2. Specifically, the Cosmoblaze LED light bar is designed waterproof. And since it can stand even the torrential downpour, the lighting product will allow you to save more money as you can use it for a long time. Moreover, its ultra-low amp induces stabilizer for a maximum lifespan.
3. Durability is guaranteed because this energy-efficient light bar is made of 6063 extruded aluminum housing and Cast Alloy Leg Mount.
4. You don't need any expertise to put this lighting product in your vehicle. It is easy to install as it comes with an easy-to-follow instruction along with the wiring loom harness and mounting brackets.
5. Aside from the torrential downpour these light bars can stand any temperature too, be it low or high. It also functions well regardless of the condition of the humidity, UV, sand, salt fog and dust.
6. As earlier mentioned, this product is guaranteed reliable; it is CE & Rohs-certified.
If you drive your big vehicle for frequent road trips, or if you regularly join the 4x4 competitions, you shouldn't miss installing the LED light bar set. Browse through this page for more product details and to purchase online.
---