Ease Boredom during Long Road Trips with a Car Roof Mount DVD Player
Author: Jethro S.
---
If you travel a lot with your family, you surely experience difficulty during long road trips when the kids start to feel bored. They begin by asking you how long it will take to get to your destination. "Are we there yet?" This may be their question every so often until you finally reach your place to go to. This can be destructive, right? And when you are destructed, your driving is certainly affected. What you definitely need is a car roof mount DVD player. You can ensure a peaceful, worry-free and safe travel if you have this device in your car.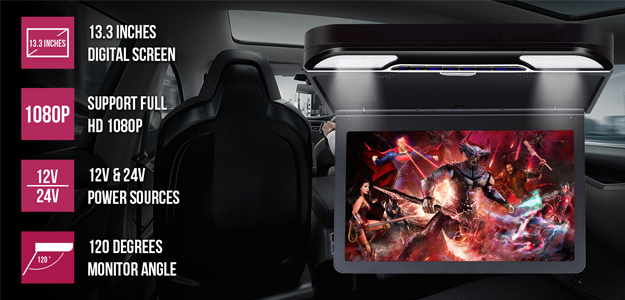 Car Roof Mount DVD Player, A Perfect Must-Have
The roof mount DVD player is a perfect must-have if your family loves to go places. This is a feature-filled car gadget that will make your every trip worthwhile. The following features and specs give you enough reasons to buy the DVD player for your car.
• Full HD IPS Digital Screen- this has a 13.3-inch monitor with a 1920x1080 resolution. You can flip it down for more convenient viewing.
• Full High Definiti9n screen – The HD feature guarantees you crystal clear images and videos on the screen.
• 120-Degree Angle- This feature allows you to open the monitor wide up to 120 degrees for a maximum viewing position.
• 32 Bits Games Support- if the kids don't want to watch movies anymore, they can play games as this car gadget has that feature.
• Different Media Options- No need to worry about the form of media you are playing with this car gadget. This car DVD player can work with a USB, SD Card, AUX IN, AV out and HDMI INPUT.
• Different Sound Out Choices- If you want more choices for the sound out, you are mak8ng the right choice with this DVD player. It has built-in speakers, a built-in FM transmitter, and a built-in IR Transmitter.
• Power Sources- You may choose between 12V and 24V power sources.
• Built-in LED Lights- The 6 LED Lights available on both sides ensures energy efficiency and durability of this product.
• A Region-free DVD Player- This player guarantees compatibility with most CDs and DVDs you can f8nd in the market today.
This product is undoubtedly worth spending. You can even find one that is offered with 2 pairs of headphones for free. Having this roof mount DVD player for your car is the best solution for your bored family, particularly children during long road trips. Visit your most trusted online retail gadget store now and check the features and specs for a guaranteed convenient driving.