4K Ultra HD Dual Dash Cam 3" OLED Touch Screen WiFi Reversing Camera GPS Sony Supercapacitor
SKU: DCMAX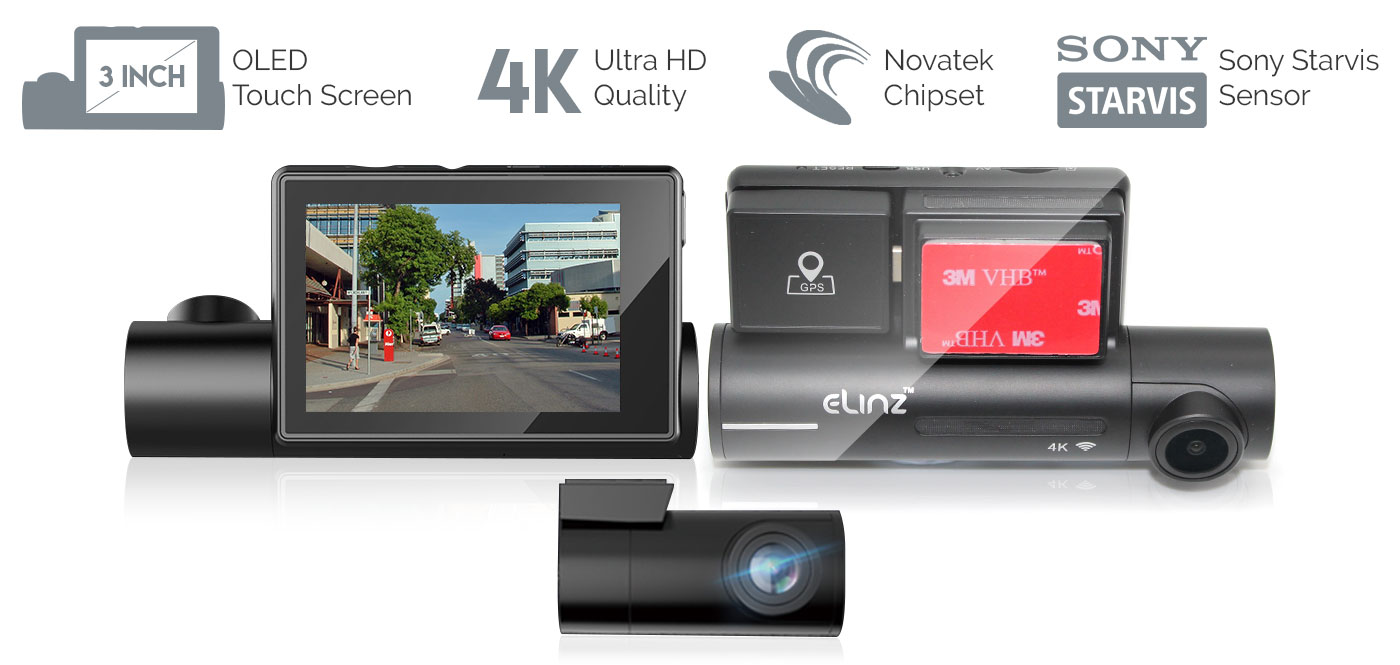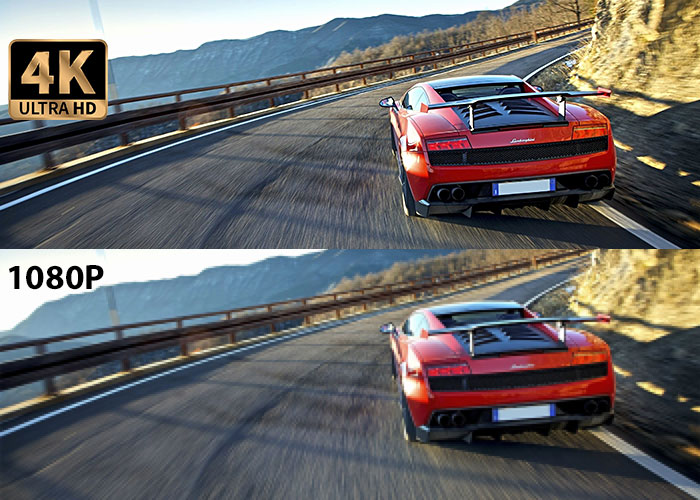 Capture extremely sharp video quality with its 4k resolution in single cam recording.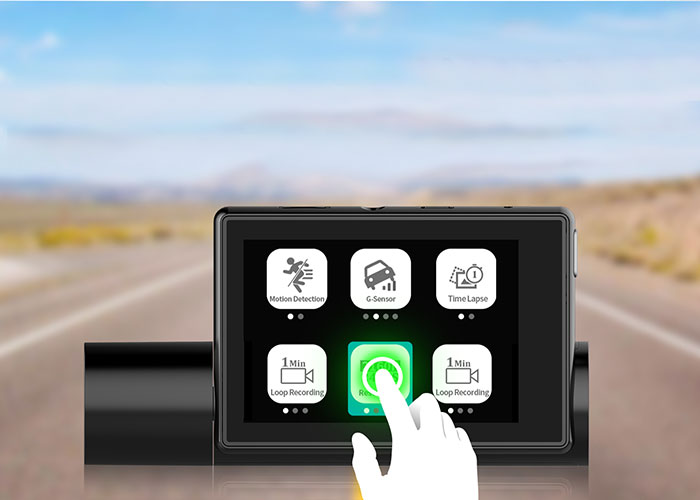 Easily navigate the user interface with its clear display touch screen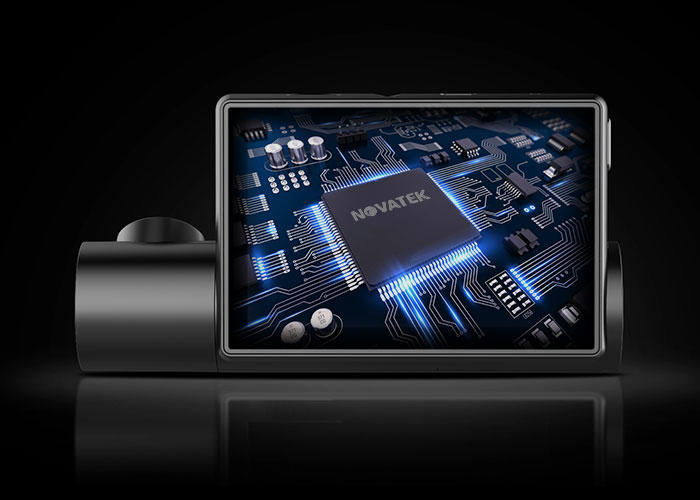 High Quality Novatek Chipset NTK96660
Integrates cutting-edge technology to provide excellent overall performance
Be able to capture clearer footage and images even in low light condition, allowing to record clearly at night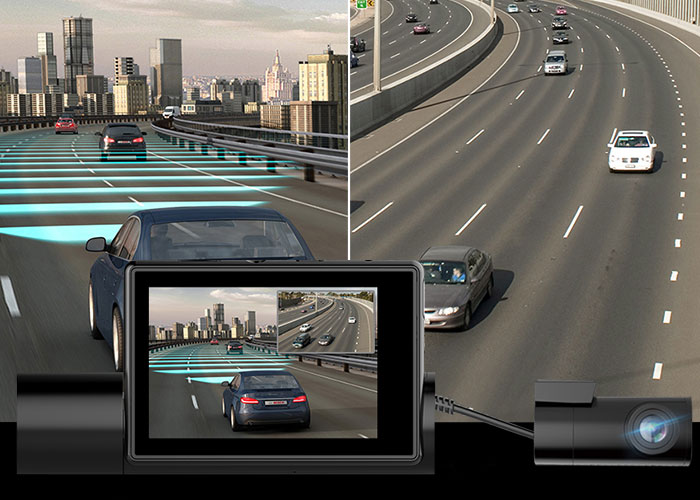 Dual Channel 1080P Recording
Front and rear camera can capture FHD 1080P@30FPS simultaneously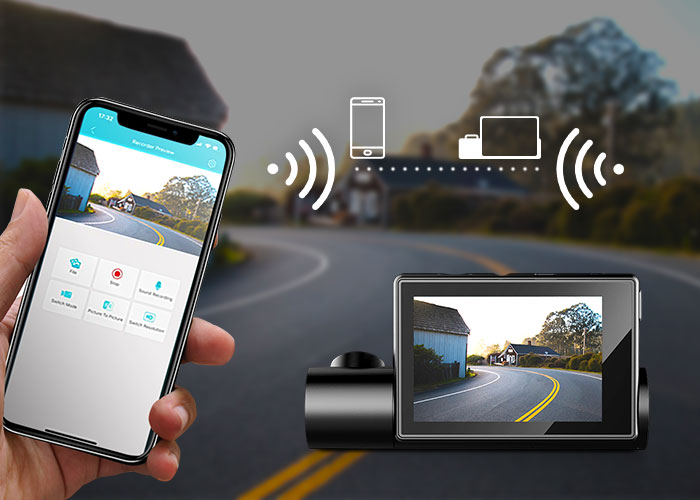 Download and share recorded videos to your smartphone using KACAM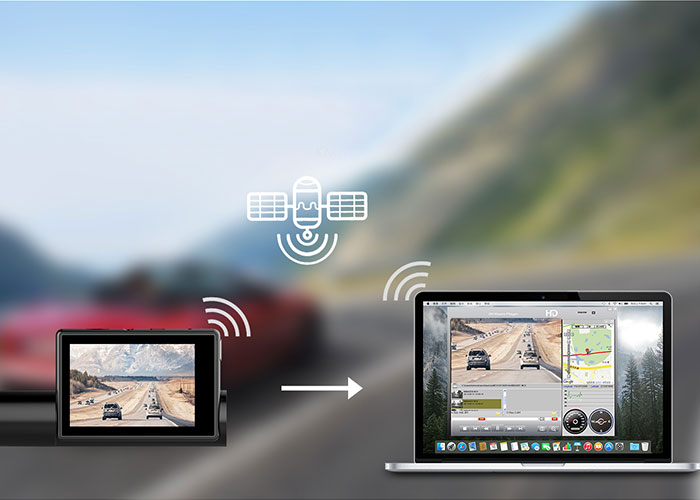 Record and view driving track, route, speed and location on google maps using Car DV Player for MAC OS X and Windows PC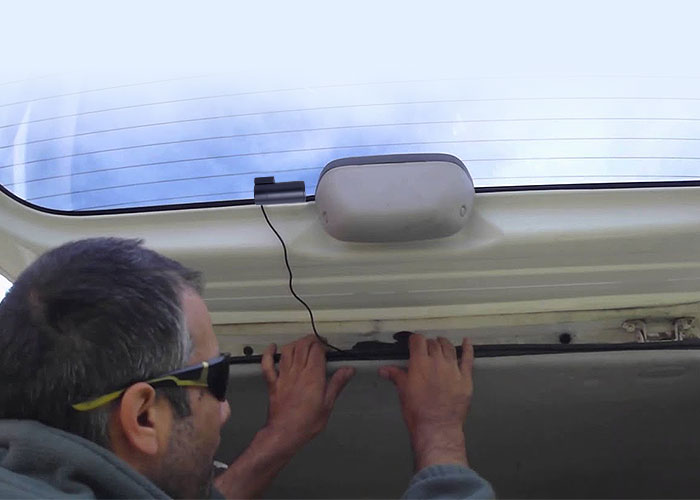 Easy To Install 1080P Rear Camera
Easily and securely install with 3M adhesive pads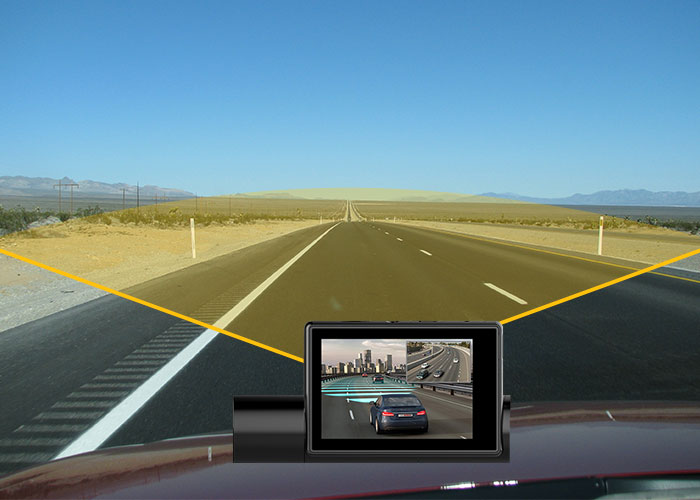 140 degree Wide Angle View
Be able to capture 6 lanes of traffic and reduce blind spots to drive safely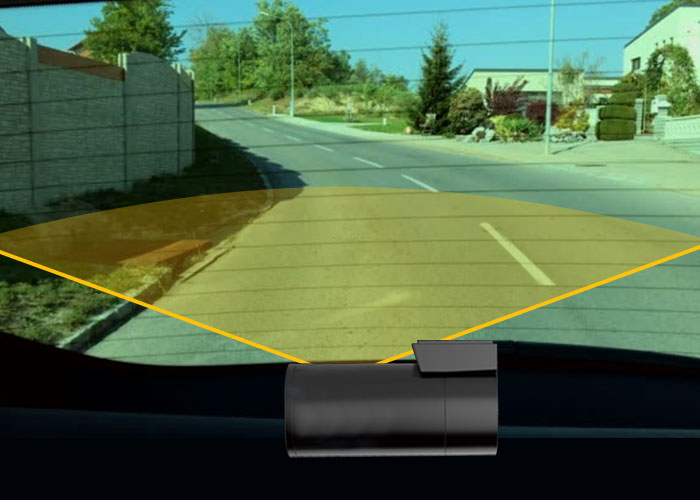 Avoid backup collision with 140 degree wide angle camera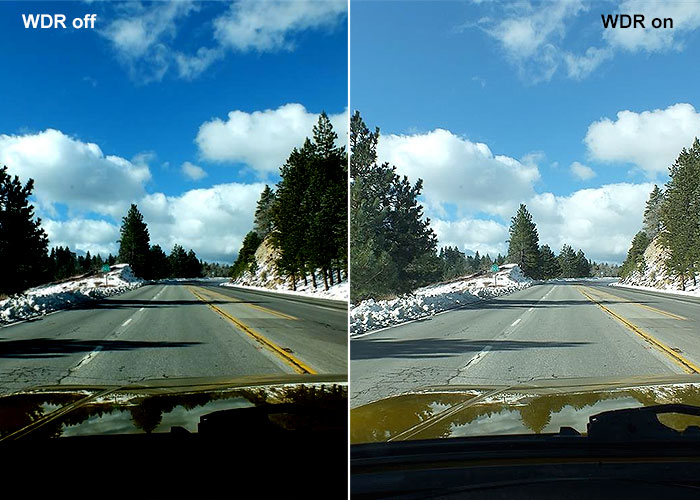 Alows camera to perform optimally in any lighting condition by adjusting exposure to create balanced image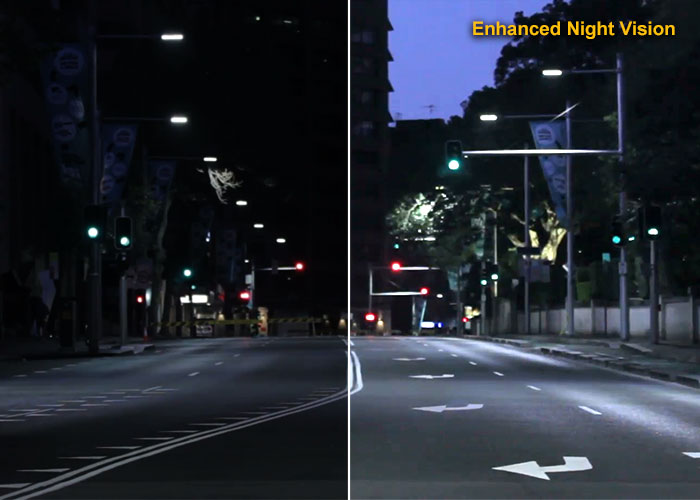 Clearly capture smaller details like neon lights, street signs and license plate at night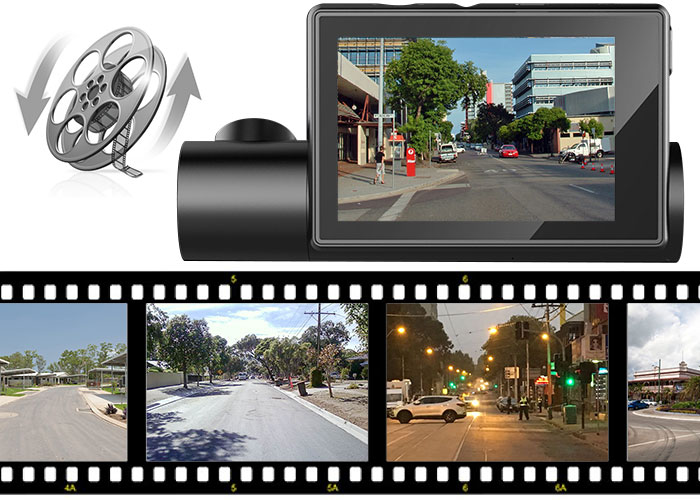 Overwrites storage when memory card is full to allow recording of newer footages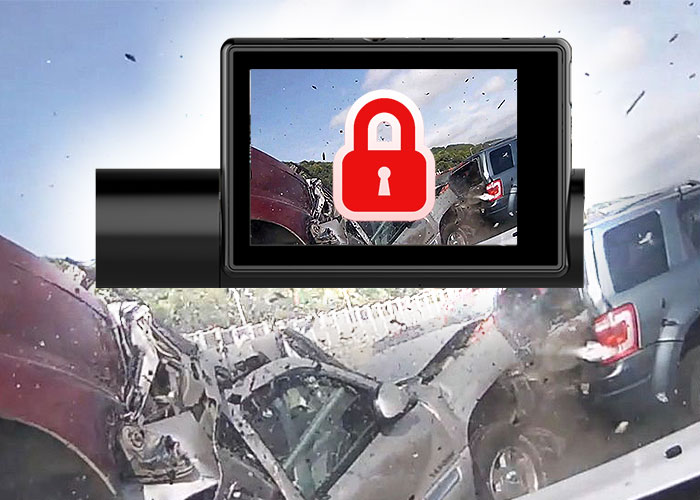 When collision is detected, locks the recording clips to secure data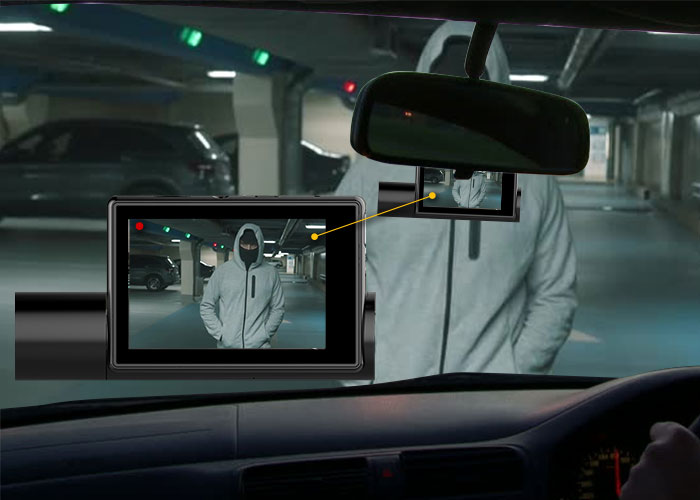 Starts recording when movement is detected or things come closer to your car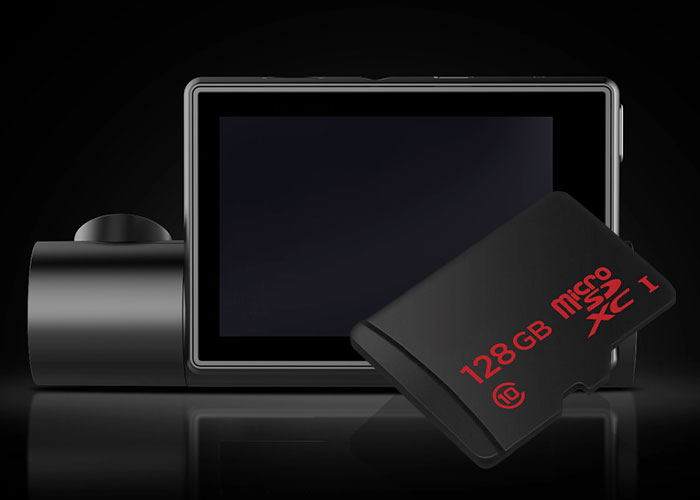 Support micro SD card up to 128GB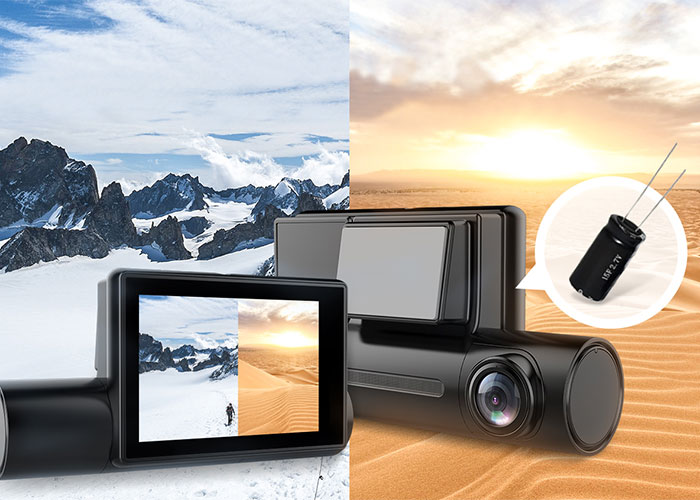 Heat resistant and will not overheat and explode when exposed to extreme temperature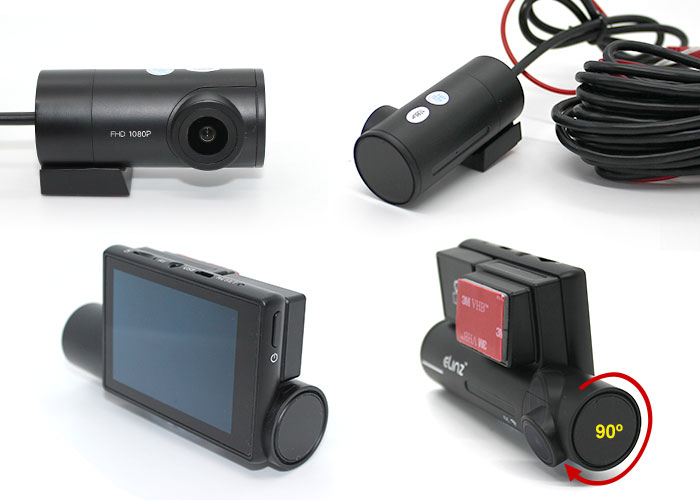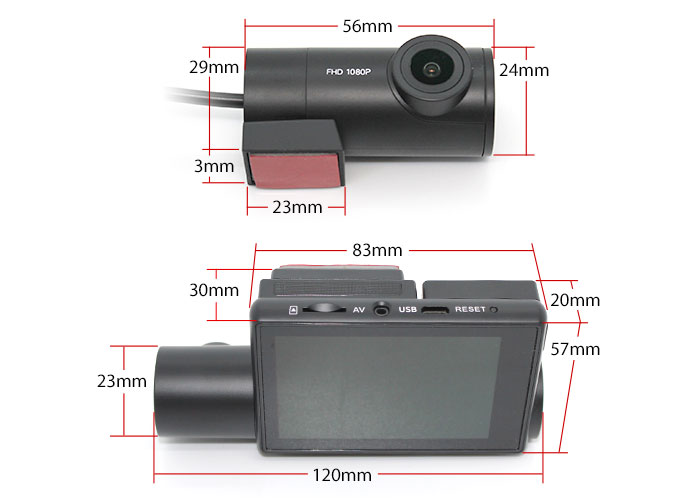 First dash cam in the market that uses OLED touch screen that brings much more clear display effect, way better than normal LCD/LED screen. With this car camera you can capture 4K ultra HD video resolution in single cam recording that provides extremely sharp video quality to help you better read street signs, license plate etc.

Dash cam has Dual Sony Starvis Sensor for Both front and rear use that helps to capture comparatively clearer footage and images from recording even in low light condition.

Plus it has a Wifi and built-in GPS. 140 degree wide angle can capture 6 lanes of traffic and no more blind spots.

Dash cam uses supercapacitor which is more reliable and heat resistant than those with a built-in battery. They don't pose the risk of overheating and exploding. If you are going to use your dash cam in extreme temperature, always go for one that is capacitor based.

Get this car dash cam now and get a safer and more convenient driving.

4K ULTRA HD Recording

This DCMAX front camera can record up to 4K resolution videos in single cam recording. With ultra hd video resolution that provides extremely sharp video quality to help you better read street signs, license plate etc.
Recording quality is so good that you will notice much more clarity and quality difference than all other car dash cams.

3" OLED Touch Screen

The OLED screen brings much more clear display effect, way better than normal LCD/LED screen.
You can easily set up and navigate the system by touch screen.

High Quality Novatek Chipset

Novatek NTK96660 is a high quality chipset integrates cutting-edge technology to provide excellent overall performance.
A stable dash camera that can deliver high definition video compression, smooth imaging, intelligent power performance scaling system, High speed and efficiency system architecture

Dual Sony Starvis Sensor

Both front and rear use a Sony STARVIS sensor that helps to capture comparatively clearer footage and images from recording even in low light condition. Which means the videos recorded have enhanced night time clarity

Dual Channel 1080P Recording

Dual-channel 1080p recording means both front and rear camera can capture at FHD 1080P+1080P at 30fps simultaneously

WiFi

View and manage dash cam recordings instantly on your iOS and android devices. By using KACAM you can download your recorded 4k videos directly to your smart phone and easily share it on social media with friends and family. It is also useful in reporting incidents and for emergency situations

Built-in GPS

With Built-in GPS you can accurately record your driving track. You can view your driving route, speed, longitude and latitude and location on google maps using our Car DV Player available for Mac OS X and Windows PC

Easy To Install 1080P Rear Camera

You can easily install the rear camera securely to your rear windscreen in seconds with the 3M adhesive pads. With 3M adhesive pads to securely fasten the dash cameras to your car windshield and rear window in seconds. No Drilling required and you just need to plug the rear cam in "AV IN" port

140° Rear Camera

Safer reversing, parking and backing up with the rear camera that has 140° wide angle

140 degree Wide Angle View

140 degree wide angle can capture 6 lanes of traffic, no more blind spots, more safer than other dashcam

Wide Dynamic Range(WDR)

With WDR processing technology it allows the camera to perform optimally in any lighting situation by adjusting the exposure to create a balanced image

Enhanced Night Vision

With the latest WDR technology, F1.8 6 layer glass lens and Sony Starvis Sensor you can clearly capture smaller details like neon light, street sign, licence plate that not normally seen at night

Seamless Loop Recording

Loop Recording will overwrite the oldest footage with the newest one upon filling a card to capacity. This provides efficient storage management while the crash video will NOT be overwritten

G-Sensor

When the built-in G-Sensor detects a collision, Built-in G-sensor locks the recording clips to ensure data protection when collision gets sensed

Motion Detection

The dash cam will automatically start to record when movement are detected or things come closer to your car

Larger Storage Capacity

Support micro SD card up to 128GB

Supercapacitor

A more reliable and heat resistant than those with a built-in battery. They don't pose the risk of overheating and exploding
If you are going to use your dash cam in extreme temperature, always go for one that is capacitor based
Screen: 3.0" OLED Touch Screen
Lens: 140 Degree ultra wide angle
Chipset: Novatek NTK96660
Imaging Sensor: Sony Starvis
Photo Resolution: VGA/1.3M/2MHD/3M/5M/8M/10M/12M
Video Resolution
Single Cam: 4K at 24FPS, 1440P at 30FPS, 1296P at 30FPS, 1080P at 60FPS
Dual Cam: 1080P at 30FPS + 1080P at 30FPS
Video Codec: H.264, MP4
Aperture: F/1.8
Language: English/Simplified Chinese etc.
Color: Black
Loop Recording: Support
G-sensor: Support
Auto turn on/off: Support
Vehicle power on/off: Support
Motion detection: Support
Year/Month/Day/Hour/Minute: Support
Photo Format: JPG
Memory card: TF card, Class 10 or above, Max support 128GB
MIC: Support
Speaker: Support
GPS: Support
Power Interface 5V 2.5A
Power: Super capacitor
Working temperature -10 degrees Celsius to 60 degrees Celsius
1. 1x 4K Dash Camera
2. 1x 1080p Rear Camera (6 Meters)
3. 1x Cable
4. 1x Car Charger (3.5 Meters)
5. 1x Adhesive
6. 1x User Manual
7. 2x Electrostatic Stickers