20000mAh Power Bank Portable USB External Battery Charger iPhone Mobile iPad
SKU: BCPB20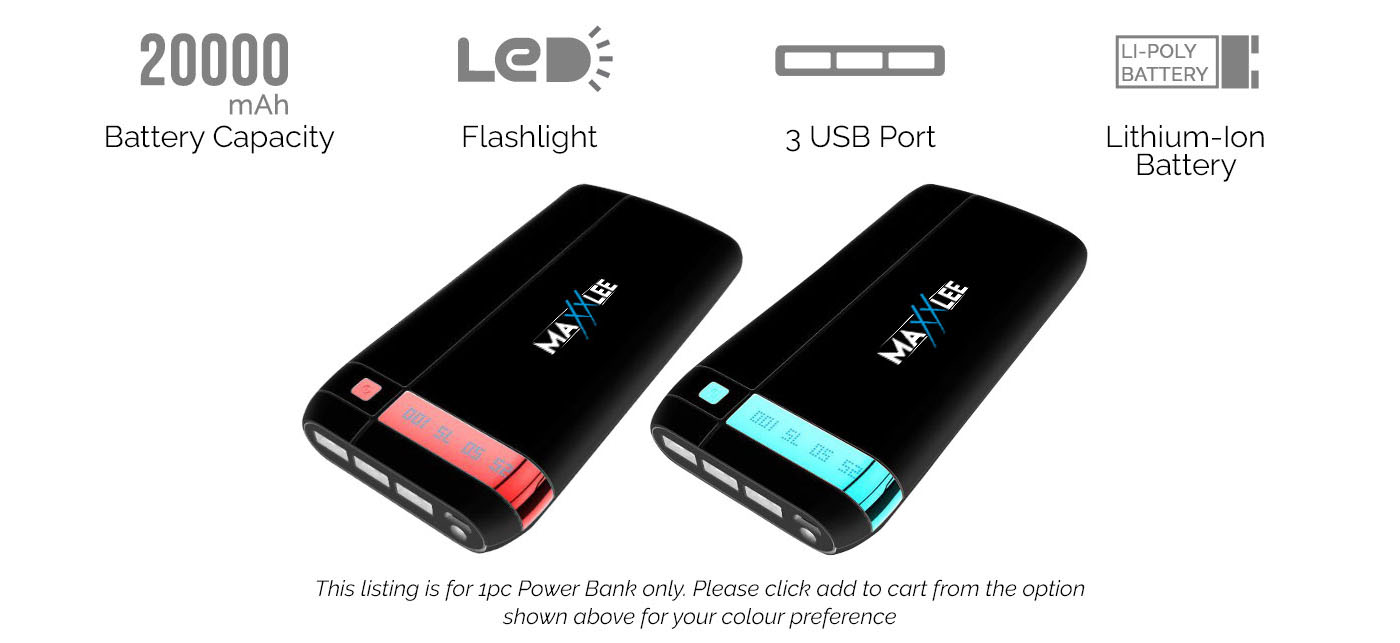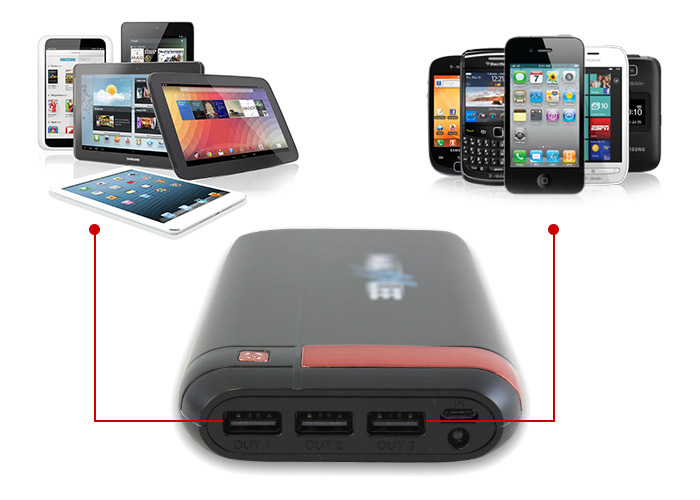 Convenient to use as you can charge up to 3 devices at the same time
It supports 2.5A fast charging that can save up to 50% charging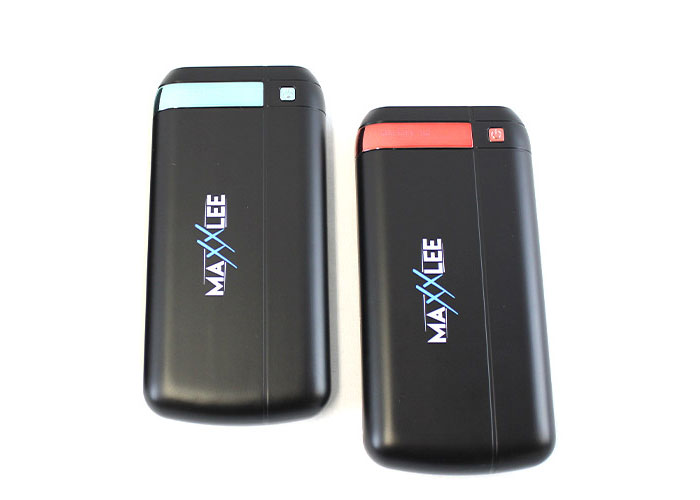 Green, Blue, Red
** This listing is for 1 pc. power bank only. Please click add to cart from the option shown above for your color preference.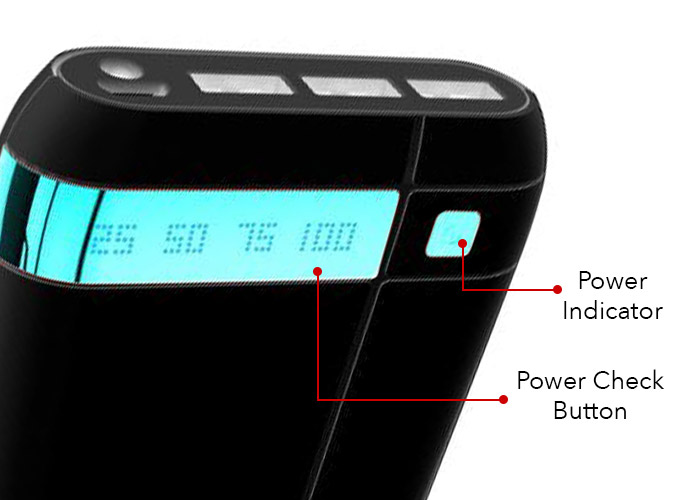 Enables you to monitor the amount of power or charge available in your powerbank.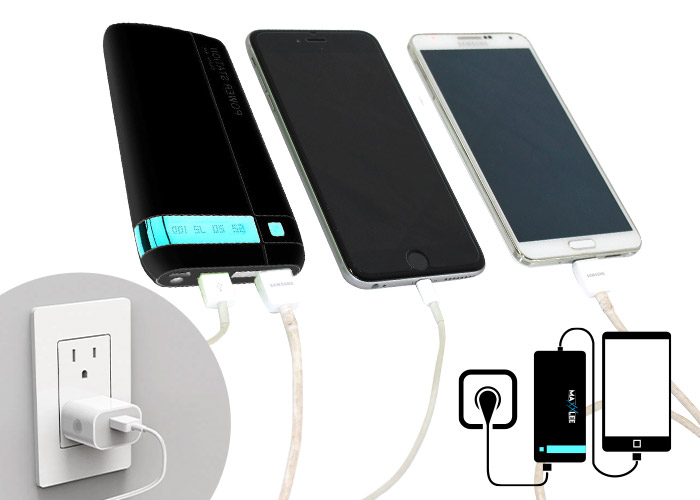 Simultaneous Charging and Discharging
Mobile device can be plugged in and used while the power bank is charging up
** iPhone and Samsung charging cables are not included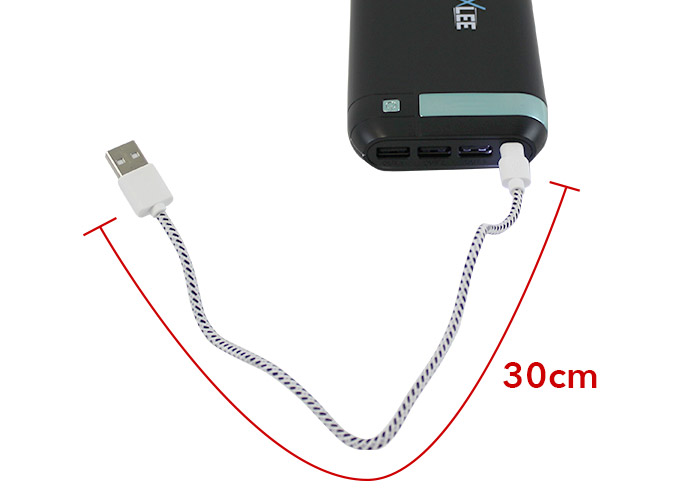 Snake cable for Faster Charging
It can be used to charge Android Smartphones as well, and for iPhone you would need to get a converter, or you can just use your iPhone cable.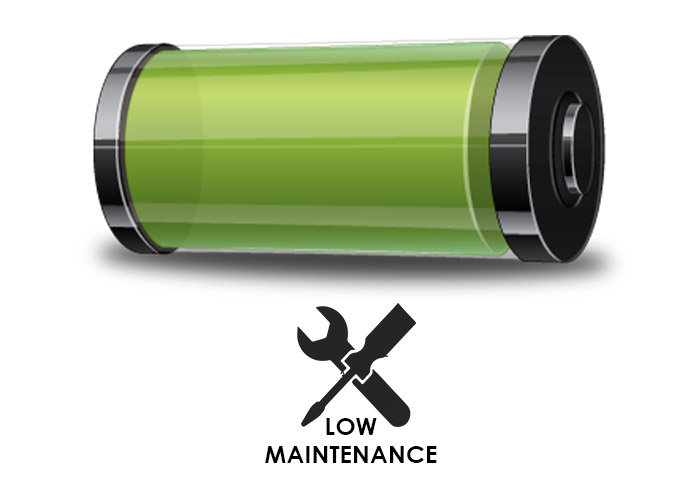 Lithium-ion is a low maintenance battery with much greater energy density.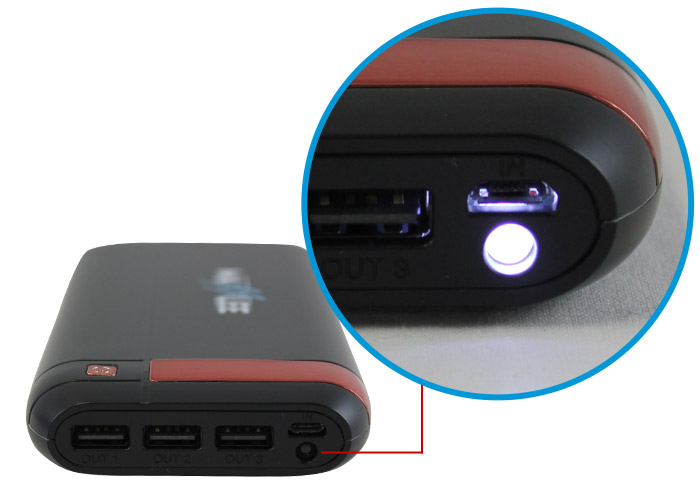 It has a LED flashlight for emergency purpose and use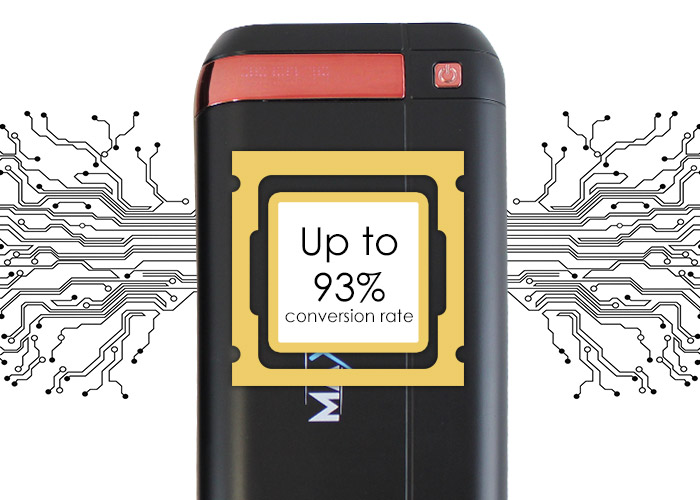 Optimized Charging/Discharging Efficiency
Up to 93% Conversion rate.
World-class chips are not only safer, but also improved charging conversion rate and stabilize discharging voltage with advanced resistance-capacitance sensors to optimize efficiency and durability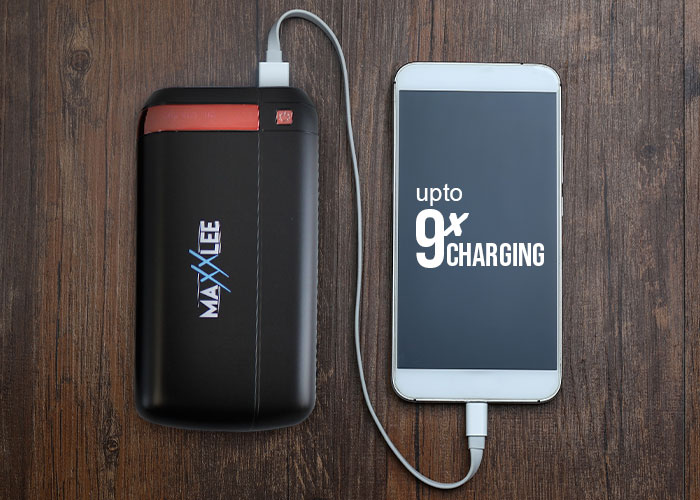 Can charge iPhone 6 up to 9 times with this large capacity Powerbank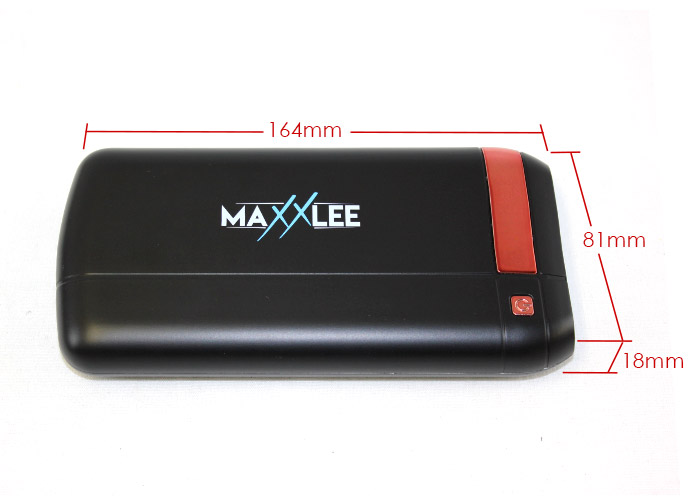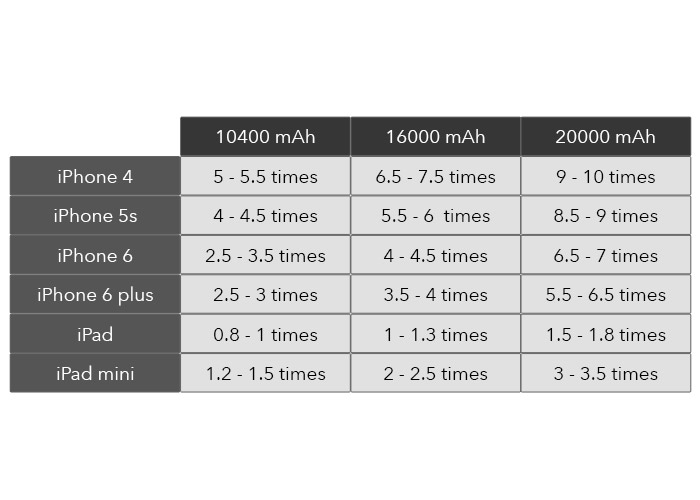 To check Power bank Real capacity and to determine how many times the power bank can charge your device, we have included a reference table for your convenience. Please refer to the table above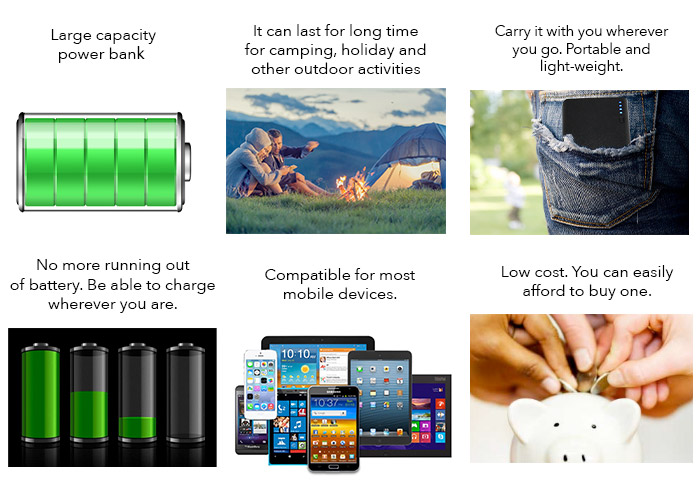 Functionality and Advantages
New Maxxlee 20000mAh power bank is proven to provide efficient charging for multiple devices. It's equipped with 3 USB ports and is compatible with a PSP, mp3, game consoles, smart phones, and any other electronic device that relies on USB charging. It's mainly suitable for IOS, android and various digital devices making it an effective portable charger for your devices. It has 3 different color variations in which you can choose from allowing it to adapt to your personal preference.

This product features simultaneous charging and discharging capabilities that allow you to charge hand held devices while being charged. It's also equipped with various safety features which ensure that you will be able to charge your device without any worries of it overcharging or short circuiting.

Nine Layers of Circuit Protection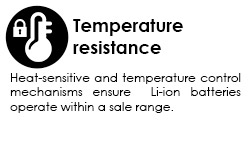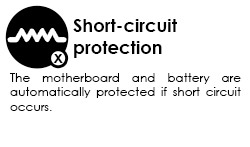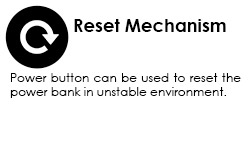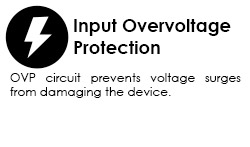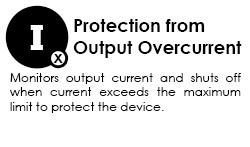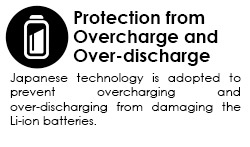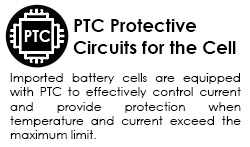 Battery Type and Capacity

Lithium-ion Battery
Full Capacity High Power 20000mAh that is ultra-long lasting

Material

Power bank is made with ABS making it durable, fashionable and for good grip in your hands
Ecofriendly material that is anti-scratch, anti-skid and heat resistant

Optimized charging/discharging efficiency

93% high efficiency conversion rate
With a high conversion rate it provides safety and stable discharge voltage.
Better than any other mobile power charger with high precision resistance capacity.

Certifications

CE/ ROHS/ FCC/ MSDS
Certified safe to use and fast the industry standards

Colour Variations
LED Light

LED light for emergency purpose and use

Battery Charge

It takes 10 hours to fully charge power bank
Intelligent Charge/Discharge control chips

Charging Cable

30cm high quality snake charging cable with fast charging speed
Fast charge safety technology
Charge Output: 5V/2.5A x 3 USB outputs, Supports 2.5A fast charging
Charge Input: 5V/2A
Dimension: 164*81*18mm
Weight: 378g
Recharge Cycles: 500+times
Operating Temperature: -10°C ~ 40°C
Storage Temperature: -20°C ~ 50°C
1. 1x 20, 000 mAh Power Bank
2. 1x USB Cable