2.0 Action Sports Camera Wifi 4K/30FPS UHD Touch Screen Dual 16MP Remote Control
Waterproof~Sony IMX179~2x Batteries+Charger~Anti shake
(SKU: ACTCAM602T)
Notify me when back in stock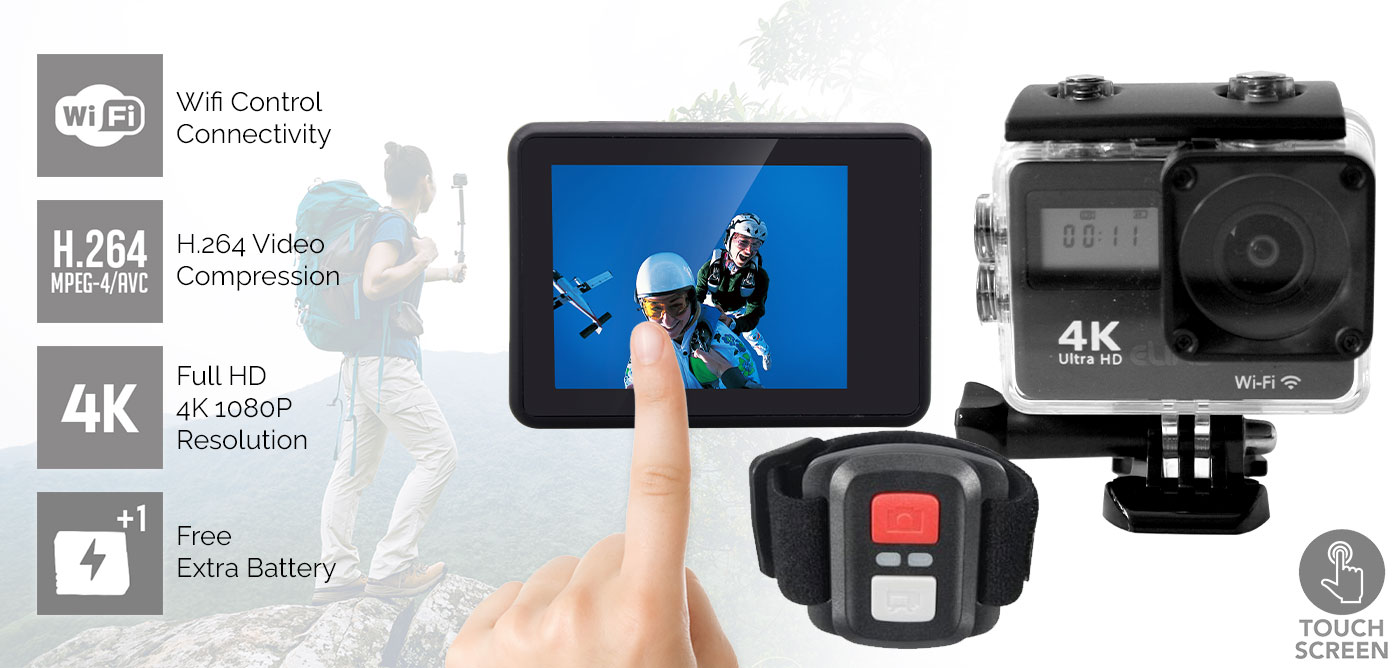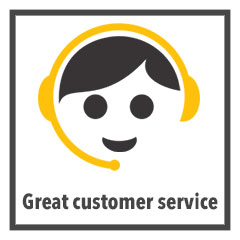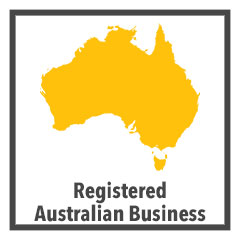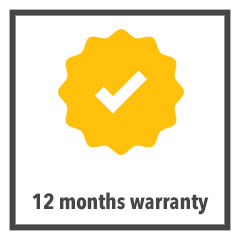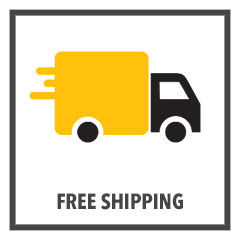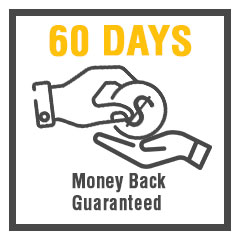 2.0 Action Sports Camera Wifi 4K/30FPS UHD Touch Screen Dual 16MP Remote Control
SKU: ACTCAM602T
Product Details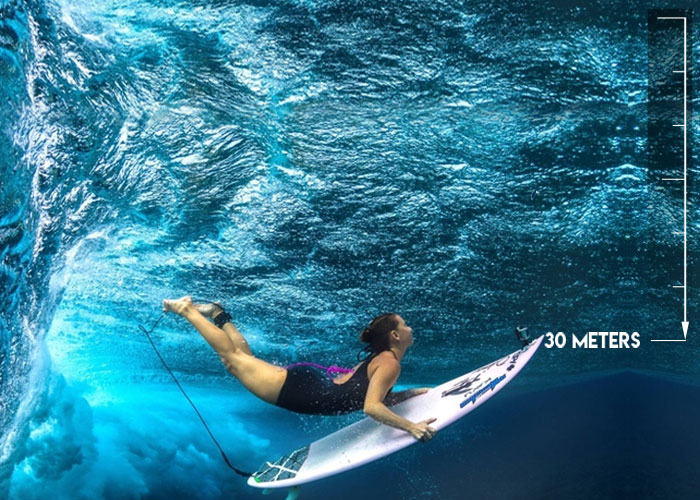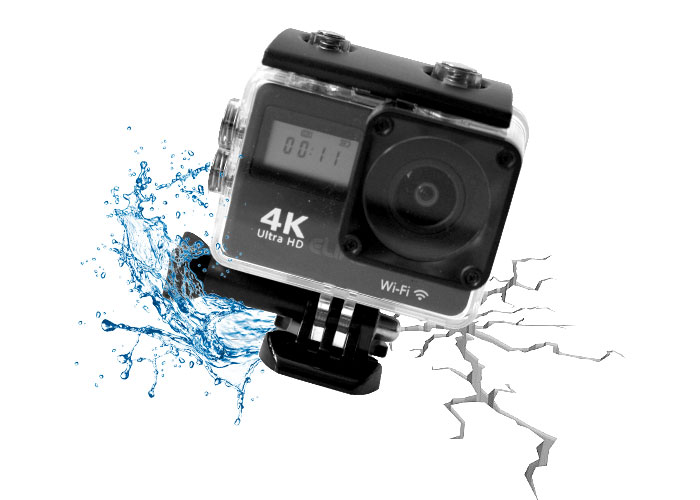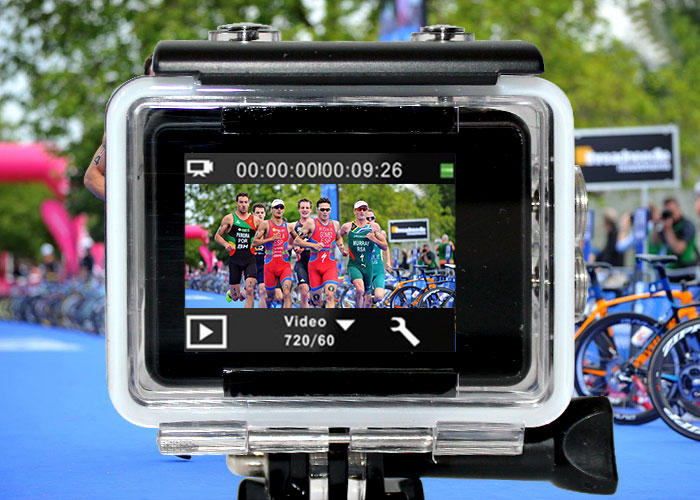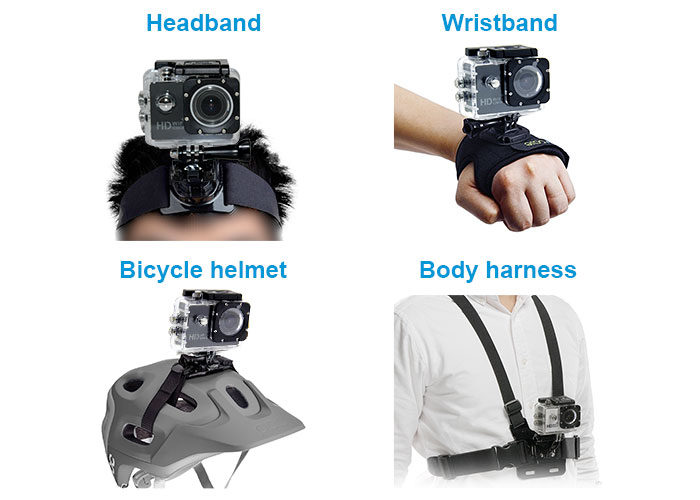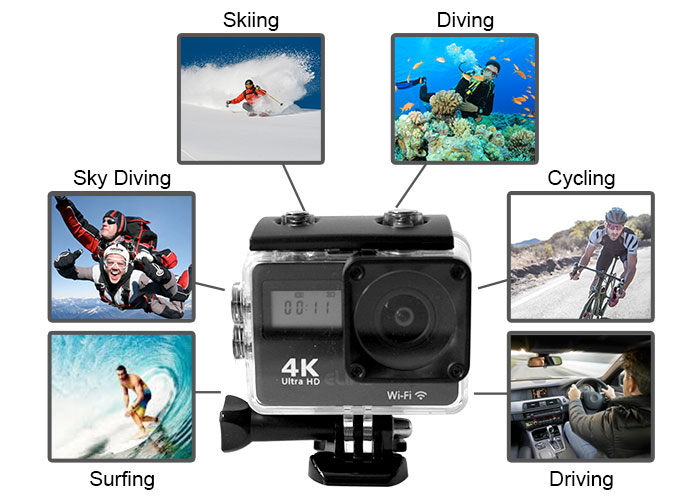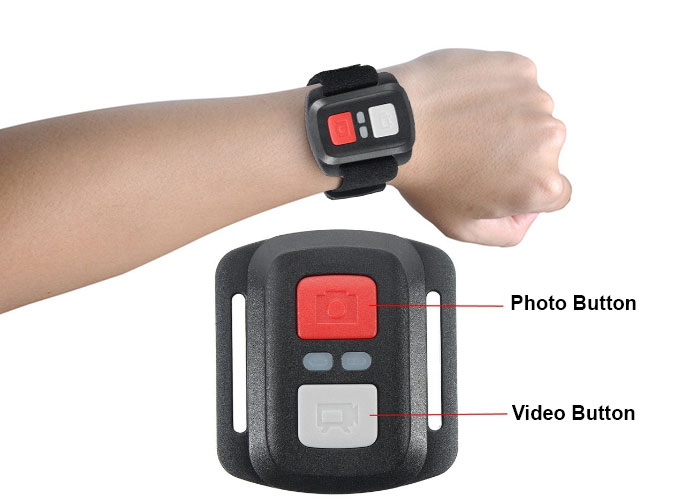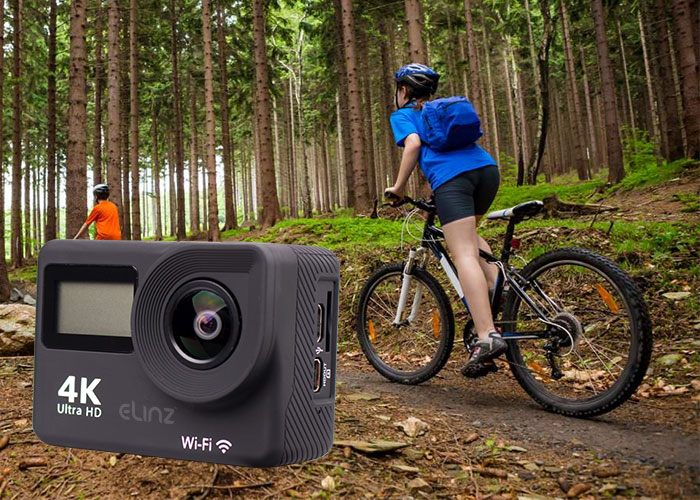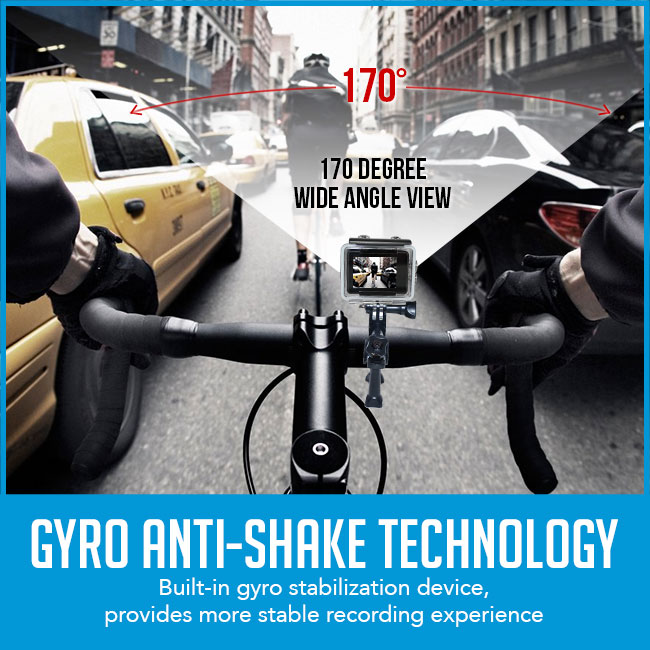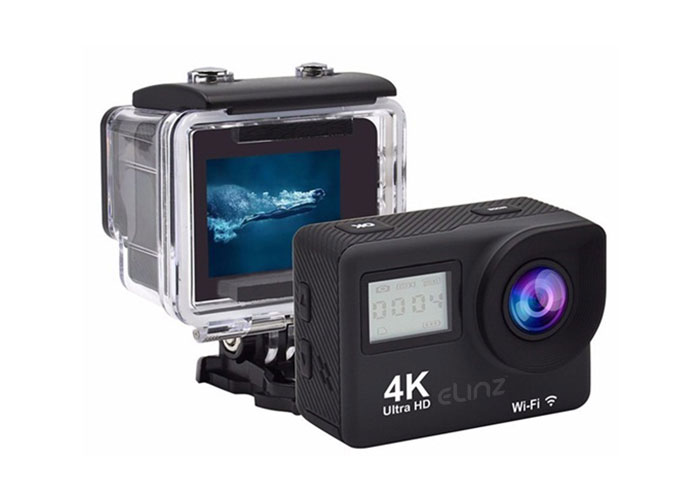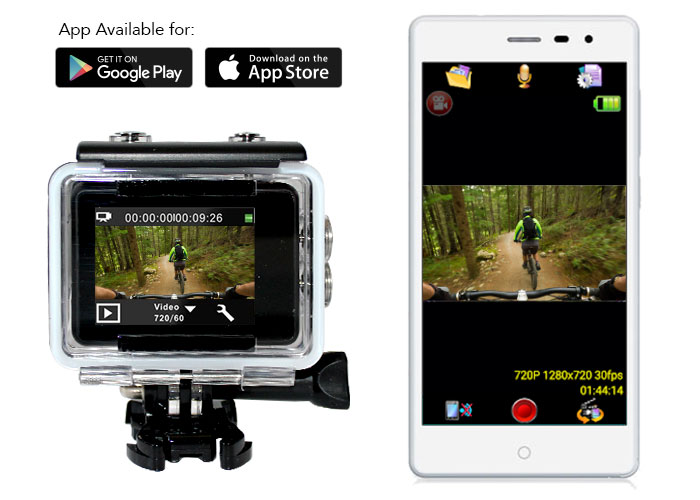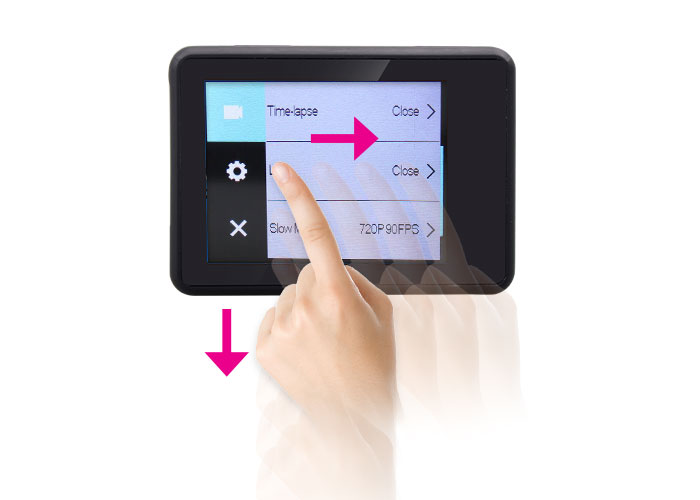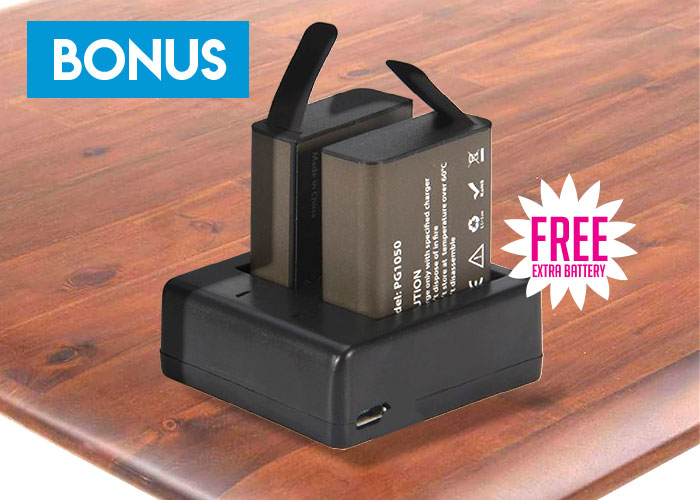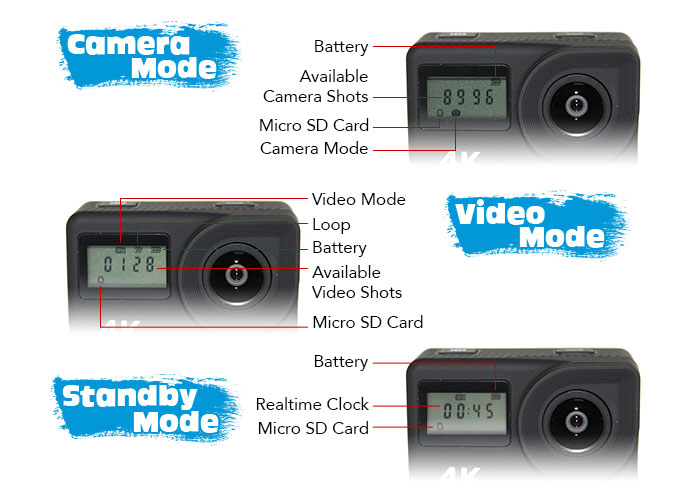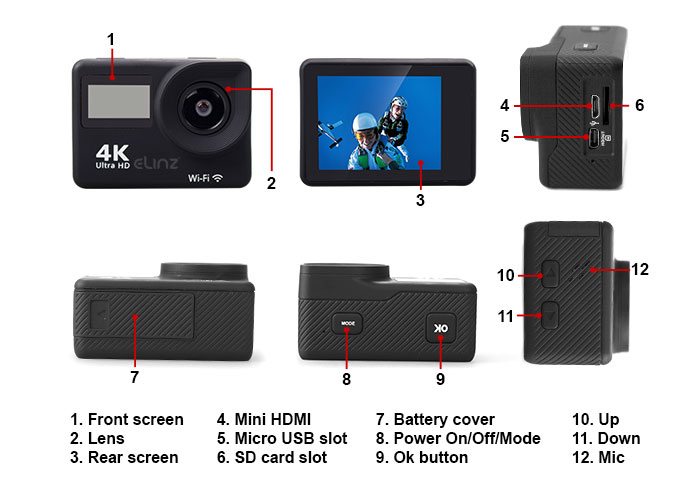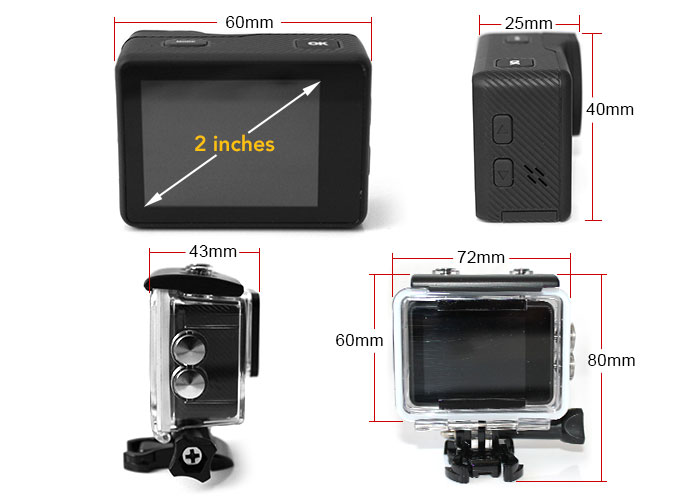 More Information
Hikers, adventurers, swimmers and all out goers this amasing camera will surely be a great companion. Elinz introduces an ultra-high definition action camera that you can use on swimming up to 30m deep with 2.0 inch touch screen and built-in MIC. With an excellent remote control of 10-15m distance and you can easily connect to your mobile devices using Wifi up to 10m.

This Sports Action Camera has a wide viewing angle of 170° and with 1050mAh li-ion battery. It comes with 2 rechargeable batteries that can last around 100mins per battery for 1080P recording.

It is a Great and exciting way to enjoy and capture moments to treasure.
Product Highlights
Dual Screen LCD Type

2.0 Inch LCD touch screen
0.96 inch front screen displaying time, battery percentage, camera mode

Wide Angle View

170 degree wide angle lens
It provides an ultra-wide view unavailable on any camcorder.

Waterproof level

30 meters underwater, Waterproof case
With clear polycarbonate housing (with glass lens), you can use Action Camera in, around, and under water. The waterproof case is rated shockproof and waterproof.
The Dive Housing can go even deeper.

Built-in Microphone
Battery Capacity

Rechargeable battery li-ion battery(1050mAH)
Battery can last for around 100mins per battery for 1080p recording (longer battery compared to other sellers)
Comes with 2 Rechargeable 1050mAh Lithium-ion Batteries and battery charger

Support TF card

It supports TF card up to 64GB that allows you to save more videos ( SD card sold separately)

Video Resolution

Video Resolution: H.264 Compressed Format 4K@30FPS 2.7k@30FPS 1080P@60FPS 720P@120FPS

Output

You may connect using USB/HDMI, WiFi Function

Image

Effective Pixels: 16M/14M12M/8M/5M/2M

Wifi Connectivity

You can connect to WIFI up to 10m
Instantly Download the videos to your Smartphone or Ipad via wifi
Realtime showing of the video from action camera to your Smartphone or ipad at the same time
Compatible to IOS and Android Systems

Gyro Anti-shake Technology

Built-in gyro stabilization device, provides more stable recording experience

Remote Control

Control the camera within 10-15m distance
Wireless Control- Live Stream and share instantly

Chipset and Sensor

Allwinner V3 + SONY IMX179 high quality sensor delivers excellent low-light performance, more natural videos and photos
With support for electronic image stabilization, it can work in any HD video mode
Item Description
Screen Size: 2.0 inch touch screen, 0.96 inch
Video Format: MP4
Viewing Angle : 170°
Compressed Format of Videos: H.264
Battery Capacity : 1050mAh
Recording time: 70 Min
Storage Type: Micro SD (Up to 64GB)
Optical Zoom: < 10x
Image Stabilization: Electronic Image Stabilization
USB interface: USB2.0, 5 Pin USB
Playback: Support
Effective Pixels: 16M/14M12M/8M/5M/2M
WIFI Function: Support
Video Recording Mode: Loop recording
Waterproof Depth : 30m
Audio Input: Microphone
Memory card: TF (max 64GB)
Remote controller : 2.4G
Operating System (OS): Windowsxp/VistaorAbove/Win7/Mac os
Languages: English/French/German/Spanish/Italian/Portuguese/Simplied Chinese/Japanese/Traditional Chinese/ Russian
Media Type: HDD / Flash Memory/VR
Chipset and Sensor All Winner, Sony 179 sensor
Battery Charge Specs

Support 3.7v li-ion battery 900mah/1050ma/1150ma/1200ma

Input: AC100-250V 50-60HZ
Output: DC5.0V-1A
What's Included
1x Action Camera
1x Waterproof Case
AC Charger
Cleaning Cloth
Remote Control
Power Adapter
Switch Support 4
Base 1
3M Stickers
Bandage
Back Cover
USB Cable
Switch Support 1
Switch Support 2
Switch Support 3
2x 1050mAH rechargeable li-ion battery
Bike mount
Camera Bag
Base 2
Wire Cable
User Manual
Helmet Base
Cable Tie
Frequently Asked Questions
No FAQs Available
---
Troubleshooting Guides
A. Unit not charging battery
Turn off device when charging.
Use the original AC adapter that came with your device.
Make sure the AC adapter is plugged into a wall outlet.
Make sure the battery is correctly inserted into the camera or camcorder.
The charge light indicator will not light up in case the battery is already fully charged
If you have another battery of the same model, try with the other battery to see if the problem remains.
Unplug and then re-plug the AC adapter and battery.
Call or email Customer support if all TS fails.
​B. Recording stops random
If unit does not come with hardwire kit, make sure initial charge of 2-4hrs has been done without use.
If units Time and date resets after ignition has been turned OFF, pleaase purchase hard wired kit and do direct connection.
Make sure when initial setup is done, Set time and date then save.
Call or email Customer support if all TS fails.
​C. Unit can't connect to wifi
Check wifi connection.
Make sure sd card is inserted.
Check if you have the app downloaded.
Make sure mobile's wifi is on.
The camera can only be connected to one mobile or app at a time
Check if the camera and mobile are within 10 meter distance
Too many wifi connections around you will cause interference
Turn the wifi hotspot from your mobile off and on.
Reboot the camera and restart the app then try again.
Call or email Customer support if all TS fails.
​D. Unit cant connect to APP.
Make sure you have the updated app.
Too many wifi connections around you will cause interference
Turn the wifi hotspot from your mobile off and on.
Reboot the camera and restart the app then try again.
Call or email Customer support if all TS fails.
*Product on the video may differ from the actual product. Video is displayed to show the importance and use of the product.
Be The First To Review This Product!
Help other Elinz Electronics Pty Ltd users shop smarter by writing reviews for products you have purchased.
---
Others Also Bought...
---
More From This Category...