2x Raylight LED Flashlight Zoomable Adjustable Rechargeable Torch Lamp 2500Lm Light
IP65~CREE XM-L T6 LED~5 Light Modes~Lifespan 100000 hrs
(SKU: RLF23x2)
AUD $47.00
Sold Out - Backorder Available
Notify me when back in stock

2x Raylight LED Zoomable Adjustable Rechargeable Flashlight Torch Lamp 2500Lm Light

---
2x Raylight LED Zoomable Adjustable Rechargeable Flashlight Torch Lamp 2500Lm Light
Raylight has a max distance that can achieve 500m and good light source for about 2500Lm above in different light modes (high, middle, low, strobe and SOS). It has a Waterproof grade of IP65 suitable for adventurious people.

Rest assure that the Raylight is protected against electrical damage caused by overcharging or output overloading. This is suitable for hiking, camping, adventuring, searching, protection.
---
Key Features
---
Brand quality assurance
Strong built,Shockproof and Waterproof design
Greater Efficiency
Reliable light source as it provides brighter light compared to ordinary flashlights
Secure and stable
LEDs are almost impervious to shock, last 100,000 hours and extend the usable battery life by 10 times.
Portable and exquisite
Light weight and can be carried out anywhere you go.
Better Battery Consumption
It have a long lifespan for about 100000+
Charging
It can be charged using either the car charger or wall charger.
Total time to fully charge a dead battery is approx. 3 hours.
Maximum Distance
It can achieve a maximum distance of 500m
LED Indicator
LED indicator will show red light when charging and turn to green when fully charged.
Convenient to Carry
Flashlight has non-slip texture design that you can easily hold or grip into.
---
Item Description
---
Bulb: CREE XM-L T6 LED
Max output: 2500 Lumens
Material: 6061 Aluminum Alloy
Lifespan: 100000 hours
Waterproof grade: IP65 (Waterproof)
Battery Life: 3-4 hours
---
---
Brand Quality Assurance
---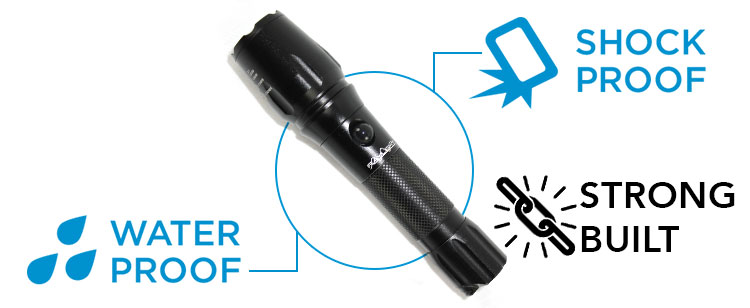 ---
CREE XM-L T6 LED Bulb
---

---
Adjustable Focus and Adjustable Beams
---

---
Zoom in and out Function
---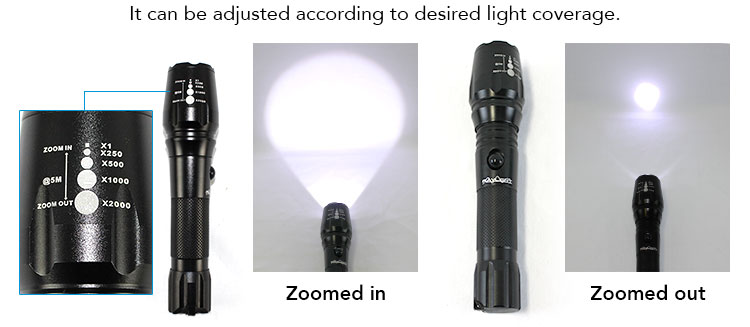 ---
Rechargeable Batteries
---

---
Charging
---

---
Scratch Resistant
---

---
5 Different Light Modes
---

---
Functionality and Advantages
---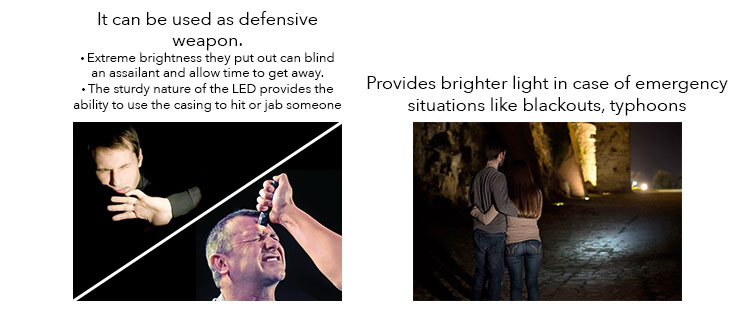 ---
Proper Care and Use
---
Do not put the flashlight together with chemicals to avoid corrosions.
Every 6 months , the threads should be wiped with a clean cloth followed by a thin coating of silicon-based lubricant.
Please use only 18650 rechargeable batteries or AAA battery with the flashlight, improper use of battery that cause damage to the flashlight will void the warranty.
If you're not going to use the flashlight for a long period of time, you have to recharge the battery once every 3 months.
---
Product View
---


---
Dimensions
---

---
What's Included
---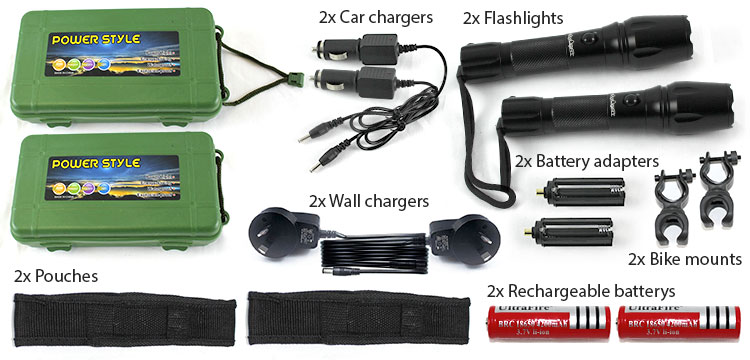 Kit includes:
2x Kit box
2x Flashlights
2x Rechargeable batteries
2x Battery adapters
2x Bike mounts
2x Pouches
2x Car chargers
2x Wall chargers

Average Customer Rating For 2x Raylight LED Flashlight Zoomable Adjustable Rechargeable Torch Lamp 2500Lm Light:

Click here to write a product review!
great torches
These torches are great. Very bright and small enough to carry in their belt mounted case.

Rating:

LED Torch
The flashlights are useful. Got them on time too

Rating:

Led 2500lm rechargeable torches
Wow the torches are great so many different functions on them including stope and sos modes gas safe great products

Rating:

---
---
Others Also Bought...
---
More From This Category...