4x 1M LED Strip Light Bar Rigid Bars Magnet 12V 5630 SMD Car Charger Dimmer
IP67~1YR WTY~120° Beam Angle~72 LEDS~50000hrs life
(SKU: RBCHR1Mx4)
AUD $55.00
Hurry! Only 3 Left!
Notify me when back in stock

4x

1M LED Strip Rigid Light Bars Magnetised 12V 5630 Dimmer Car Charger Camping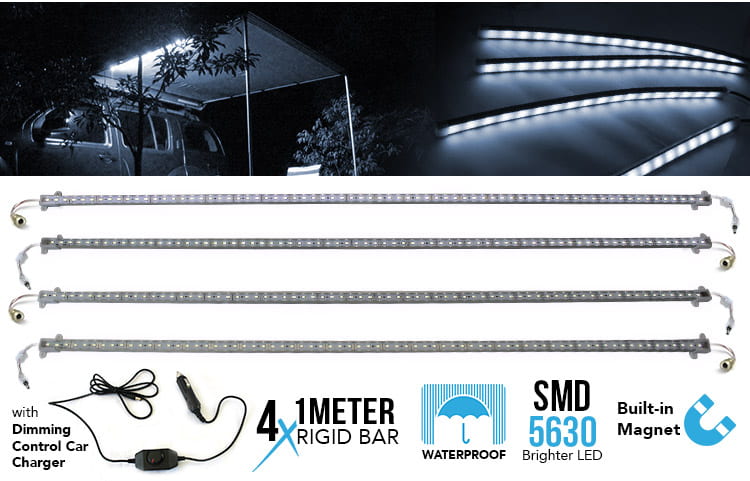 4x 1M LED Strip Rigid Light Bars Magnetised 12V 5630 Dimmer Car Charger Camping

This Rigid Led Strip Light bar is useful for outdoor activities and can be a great source of light. Providing a beam angle of 120 degree and have a life span of up to 50,000 hours. It uses high quality of LED light 5630 SMD with white colour LED stirp. With magnets installed on the LED strips you can easily install it to your tents , gazebos or sheds.

You can easily control the light or dim light using the control on car charger making it convenient to use. Have more fun on your activities and getaway with a good source of light from Rigid Led bar strips of Elinz.
---
Key Features
---
LED Type: 5630 SMD top quality cool white colour LED strip
Beam Angle: 120 degree providing wide area of light
It can be used on different lighting purposes

Suitable for Caravan Lighting
Gazebo Lighting
Tent Lighting
Shed Lighting
4WD's
Ute Canopy's
Shipping Containers
Patio's
Pergola
Garage
Boats

Can be easily installed

Aluminum frame can be easily attached in any applicable part of the tent, awning or caravans.
It can be attached to the rods of awning or tents or in any desired places by using velcro wraps (optional), Installation Chips or Zip-ties (optional) and magnet is also installed inside.
This DIY kit comes with all the necessary cables, quick connectors and mounting hardware so you can install yourself in nearly all applications.

Magnets on LED Strips

Magnets are installed on the LED strip light bars making it very convenient to stick or attached to the poles of the tents, shed gazebos, etc.

Heat Elimination Shelf

Aluminium Profile has a 'shelf' added to it which the LED strip sits directly on. This helps with heat dissipation meaning the LED strip itself stays cooler and lasts longer.
The extra shelf also adds strength.

High Efficiency

LED light bulbs run at an impressive 80% efficiency
Eco-friendly and low power consumption
High Quality LEDs and tough outer shell, they are perfect for all types of camping and outdoor activities.

Durability and Life Span

LED camping lights don't contain any fragile inner components such as filaments or tubes which can be prone to failure making them far more durable than other types of lighting.
Resistant to heat, cold and vibration
Long, enduring lifespan of >=50,000hrs

IP67 Waterproof Grade

High Resistance to Water and Tough Weather Conditions - Not Submersible. The Rigid LED Strip Light inside the aluminium channel is covered with gel for protection.

Built in Dimmer on Car Charger

Easily turn the light on/off/dim by touch dimmer cable, and can be powered on using the car charger
---
Item Description
---
Light source: SMD 5630 LED
Length: 1M x 4pcs
LEDs: 72pcs
Light color: Cool White 6500K
Input voltage: DC 12V
Power: 9W/light
Lumen: 1200 lumen / PC
Beam angle: 120 degree
Lifespan: >=50,000hrs
IP rate: IP67
---
Magnet Installed
---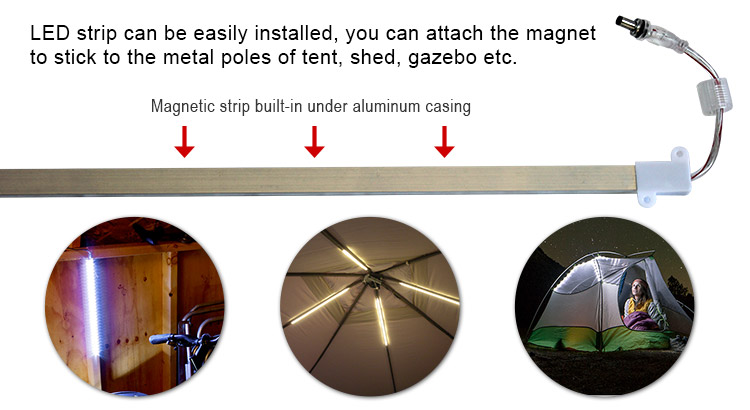 ---
Dimmer Control
---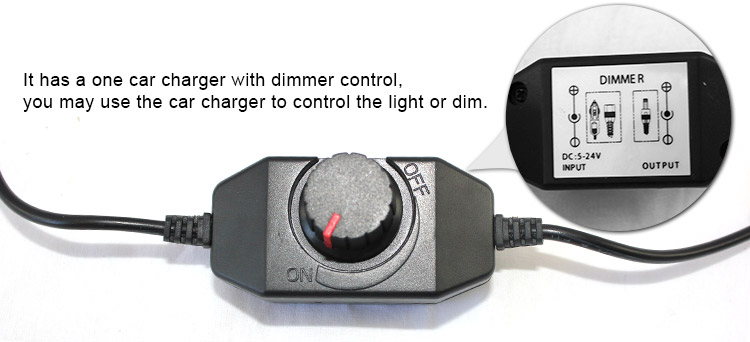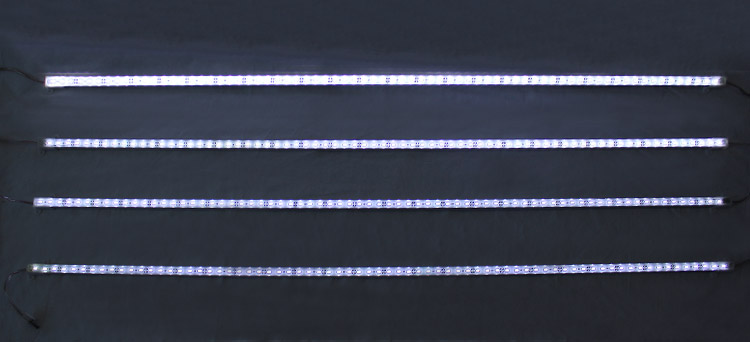 ---
Long Life Span
---

---
IP67 Waterproof Grade
---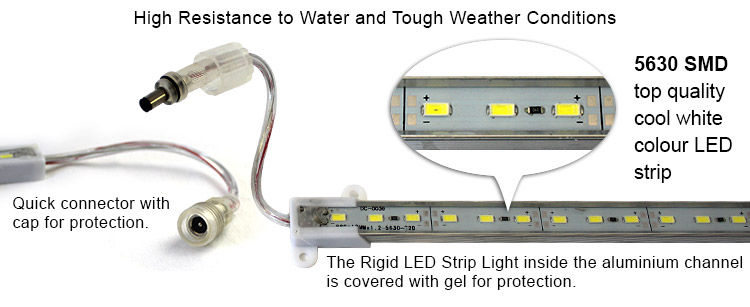 ---
Free Car Charger Adaptor with Alligator Clamp
---

---
Dimensions
---

---
Functionality and Advantages
---


---
What's Included
---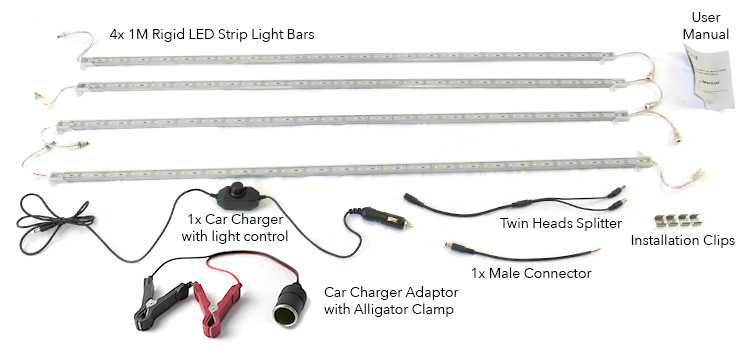 Frequently Asked Questions
No FAQs Available
---
Troubleshooting Guides
No Troubleshooting Guides Available
*Product on the video may differ from the actual product. Video is displayed to show the importance and use of the product.
Average Customer Rating For 4x 1M LED Strip Light Bar Rigid Bars Magnet 12V 5630 SMD Car Charger Dimmer:

Click here to write a product review!
Fast delivery
We got the product on time. Delivery was fast.

Rating:

---
---
We Also Recommend...
---
Others Also Bought...
---
More From This Category...