2x Multi 4 Port USB Car Charger Fast Quick Charge QC3.0 Adapter Socket 5V 9V 12V
CE RoHS~Smart IC~Multi-Protect~IOS~Android~Plastic
(SKU: CHGRFAS-WHTx2)
Notify me when back in stock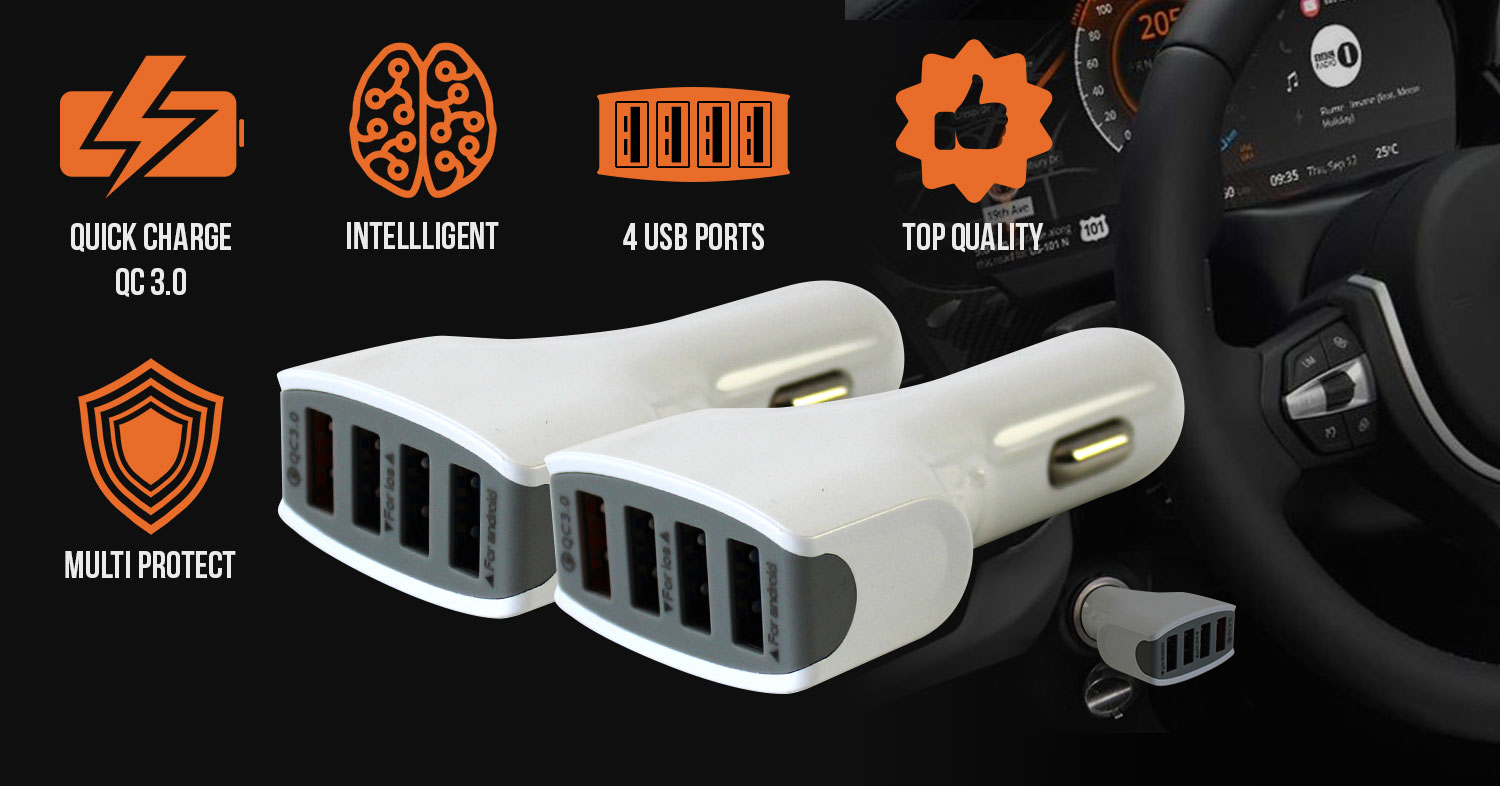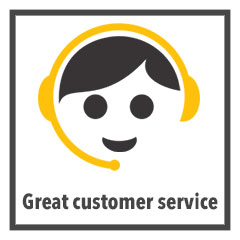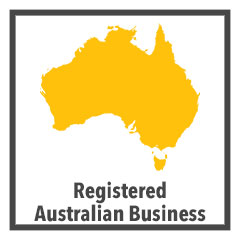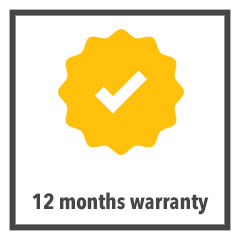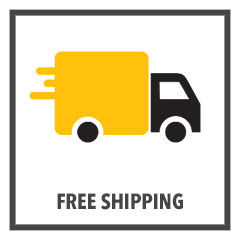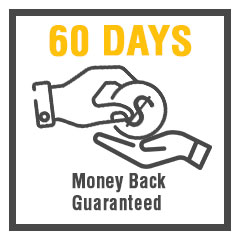 2x Multi 4 Port USB Car Charger Adapter Socket Quick Charge QC 3.0 5V 9V 12V Fast
Product Details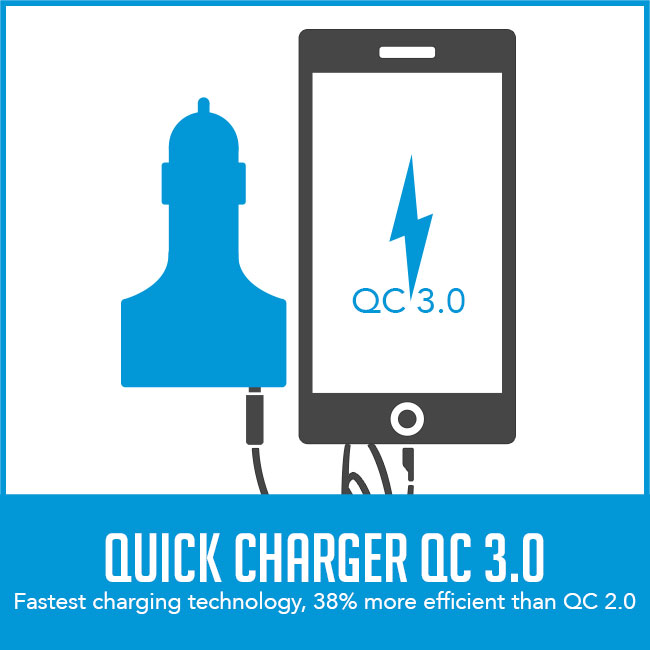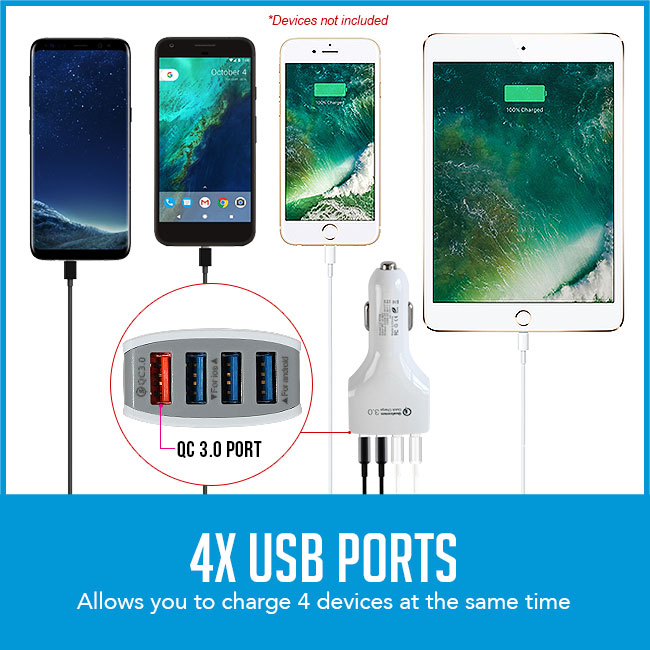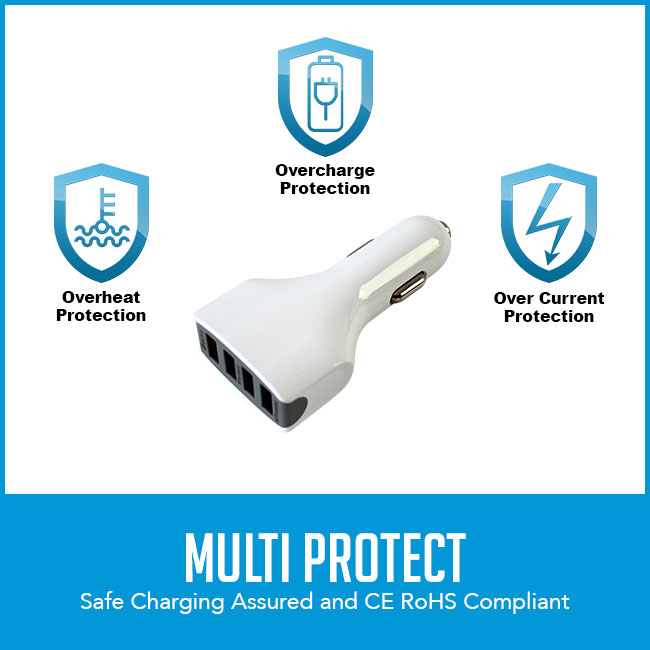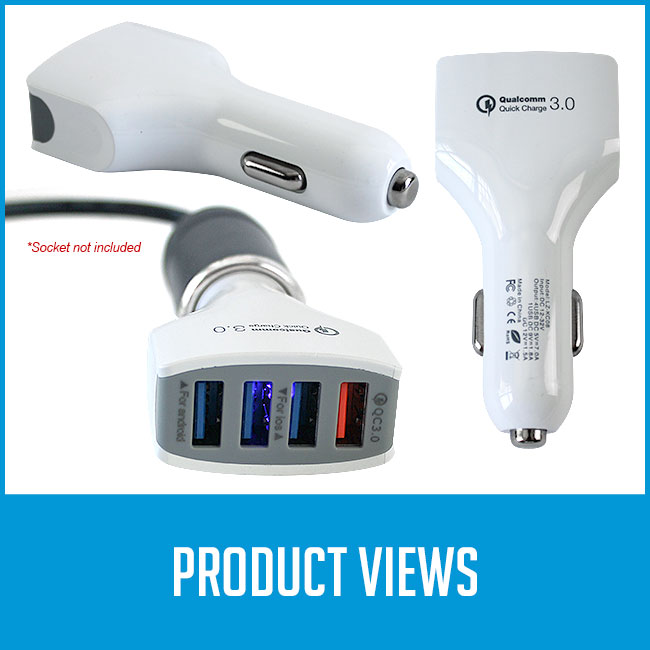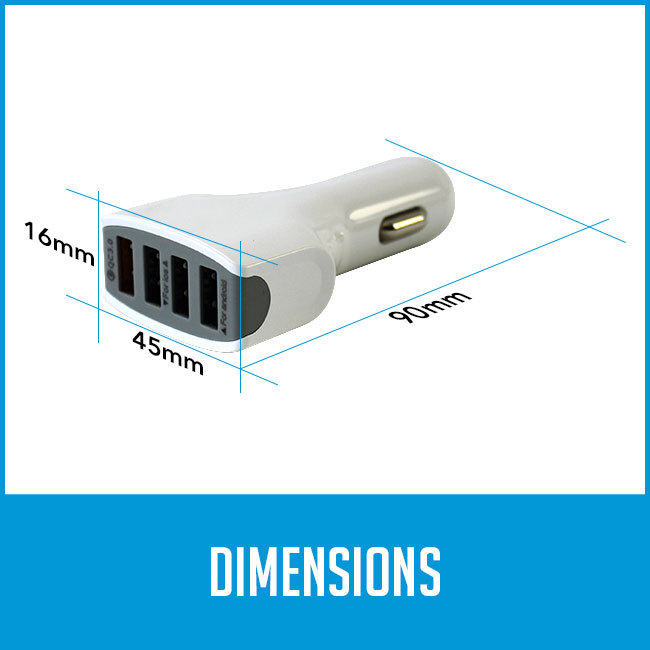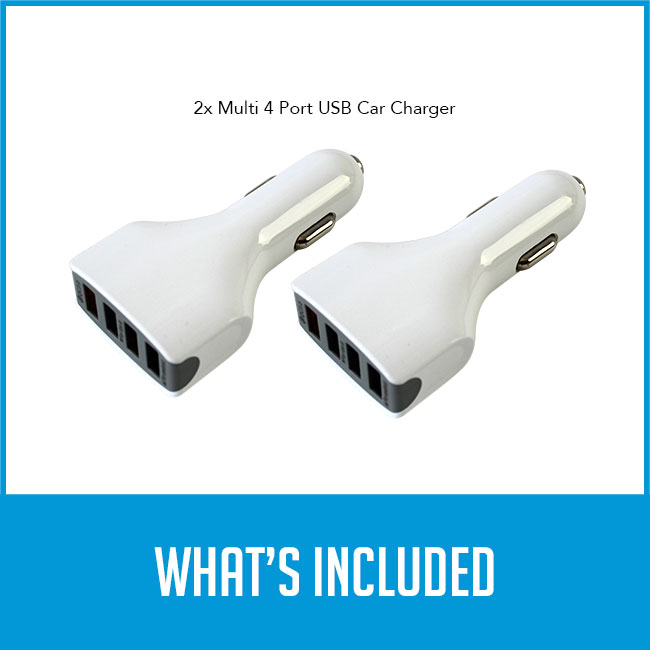 More Information
The new 2x multi-purpose 4 USB port car charger adapter is the perfect solution to charge your mobile devices in car. It allows you to charge up to 4 devices at the same time. With Smart IC technology it can provide the required optimum voltage and current for your device to charger them up precisely. To prolong your mobile device battery life it is integrated with short circuit and over current protection.

This 4 USB port adapter allows you to charge up different mobile devices like tablets, Android , smartphones, GPS and IOS. It comes with 5V 7A;9V 1.8A;12V 1.5A USB outputs.

A small nifty device for travelling that gives you extra sockets to charge the whole family's mobile devices. It is a good companion to bring along for on the go activities.
With this dual package, you can get 2x Multi 4 Port USB Car Charger. You can give one to friend, family member, colleague or keep it as an extra. Availing bundle package allows you to save more.
Product Highlights
Quick Charger QC 3.0

It can charge up devices faster
High Efficiency Fast Charger
The fastest charging technology, 38% more efficient than Quick Charge 2.0.

Four USB port

It has 4 USB ports that allows you to charge 4 devices at the same time
It supports charging of different mobile devices such as tablets, Android , smartphones, GPS and IOS.

USB Output : 5V 7A;9V 1.8A;12V 1.5A

With different USB outputs, you can charger different devices at the same time

Multi-Protect

Safe Charging Assured
Multiple built-in safeguards protect against over-current, overcharging and overheating for safe and fast charging.

CE RoHS Compliant
Quick Charge 3.0 Compatible Devices:

HTC One A9; Samsung Galaxy S7 / S7 Edge;LG G5;Xiaomi 5 and More

Quick Charge 2.0 Compatible Devices:

Samsung Galaxy S6, S6 Edge, Note 4/Edge
Google Nexus 6
Sony Xperia Z4, Z4 Tablet, Z3, Z3 Compact, Z3 Tablet Compact, Z2 Tablet
Motorola Droid Turbo, Moto X 2014
HTC One M9, HTC One (M8), One Remix (Verizon Mini 2), Desire EYE
LG G Flex2, G4, and more
Product Specifications
Material: Plastic
Color: White
Interface: 4*USB
Size: 9.1*4.2*2.4cm
Input Voltage: DC 12V-32V
Output Power: Max. 18W
USB Output: 5V 7A;9V 1.8A;12V 1.5A
Working Temperature: 0-60 Celsius
Be The First To Review This Product!
Help other Elinz Electronics Pty Ltd users shop smarter by writing reviews for products you have purchased.
---
We Also Recommend...
---
Others Also Bought...
---
More From This Category...