7"LCD Monitor HD 4PIN CCD Reversing Camera Digital Wireless Receiver Transmitter
2 Video Input~CCD Image Sensor~90°camera~200m Distance
(SKU: M7SRVS4PIN90-HDWRL-A)
Notify me when back in stock
7" LCD Monitor HD 4PIN CCD Reversing Camera 2.4GHz Digital Wireless Receiver Transmitter
---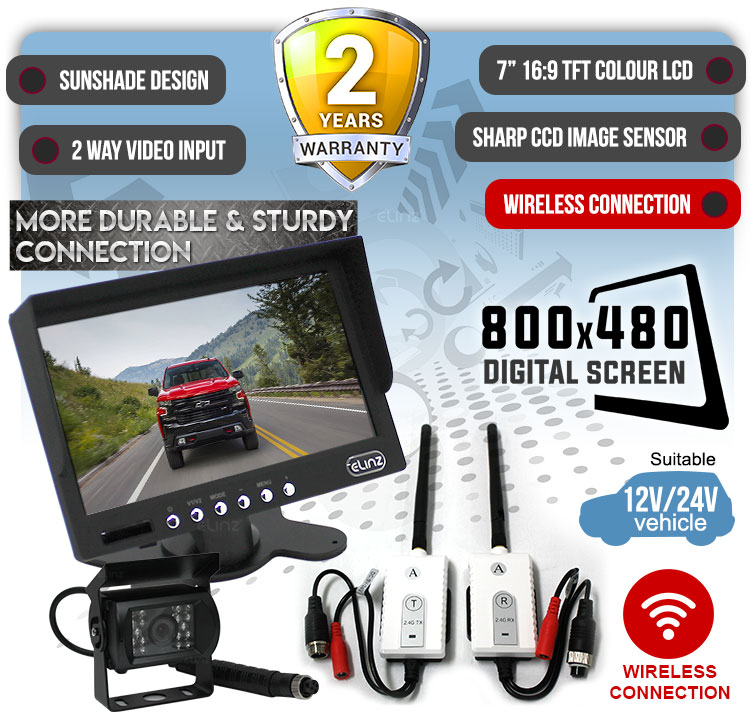 This Reversing Camera Monitor Kit can be used with Trucks/ Caravans/Cars. It has two video inputs, reversing first Connect 2 cameras to the monitor(2nd camera - optional). You can view one camera while driving and the 2nd camera will turn on automatically when reversing. CCD Reversing camera has IR LED which outputs digital signal.

This Digital Wireless Transmitter Receiver has digital connection you don't have to burden on signal interference. Remove your worries on installing as you can DIY installation as it is simple and easy.


---
Key Features
---
High Definition LCD Monitor
7" 16:9 TFT Colour LCD
Resolution: 800x480
Video Inputs
2 Video Inputs
One way audio input
Built-in Speaker
Remote Control, OSD Menu
Contrast, Colour, Brightness adjustable
Can connect to DVD/MP4/Camera etc
CCD image Sensor (Made by Sharp Company)
Better picture clarity, color contrasting and sharpness
Infrared LED Heavy duty hard metal cased
Waterproof and Mudproof
90 degree wide angle viewing
Digital Wireless Connection
New Technology using digital wireless transmission
No interference digital signal
Unobstructed Effective Range: 200m
Wireless connection is unhindered.
Images are delivered to your monitor clearly.
Wireless 2.4GHz Transmitter/Receiver Set
It can transmit images using high frequency connection
Power Supply: DC12~24V
Makes your Monitor Wireless
Makes your monitor wireless in less than a minute
Connect the transmitter to the camera part, and the receiver to the monitor part, the image can be transmitted wirelessly, so no wire needed between the monitor and camera
Compatibility
This Wireless Transmitter and Receiver is compatible with 4PIN monitor Kits
It is made to be used for heavy duty vehicles i.e. Trucks, Caravans, Cars, Boats etc.
Use of Digital Wireless Receiver & Transmitter
Connecting one camera to monitor

Choose any from HDWRL-A or HDWRL-B

Connecting 2 cameras in one monitor

To connect 2 cameras on your monitor, use HDWRL-A and HDWRL-B so channel A camera will not interfere with the signal of channel B camera.
Don't use the same channels in connecting to 2 cameras.
Different signals are used to connect 2 cameras to avoid signal interference
---
Item Description:
---
This monitor and reverse camera can be used with Trucks/ Caravans/Cars
Two video inputs, reversing first Connect 2 cameras to the monitor (2nd camera - optional). You can view one camera while driving and the 2nd camera will turn on automatically when reversing.
16:9/4:3 switch freely
Get CCD not CMOS cameras if you want to view the camera while driving. CMOS cameras are not designed to work for long period of time, otherwise they could get damaged easily.
Easy to install. You can D.I.Y. as long as you can locate your vehicle's 12V/24V power source.
IR LED
Lens Angle: 90 degree
Heavy duty night vision IR CCD Reversing Camera
Waterproof and Mudproof
Power Supply: DC12~24V
Consumption Current: 150mA
Tx Channel: 1 channels
T/R Frequency: 2.2G~2.3G~2.4G
Output Power: 200mW
Unobstructed Effective Range: 200 m
Operating temperature: -10°c ~ +50°c
Transmitter Dimension: L8cm*W4cm*H2cm
Receiver Dimension: L8cm*W4cm*H2cm
---
No Interference Digital Signal
---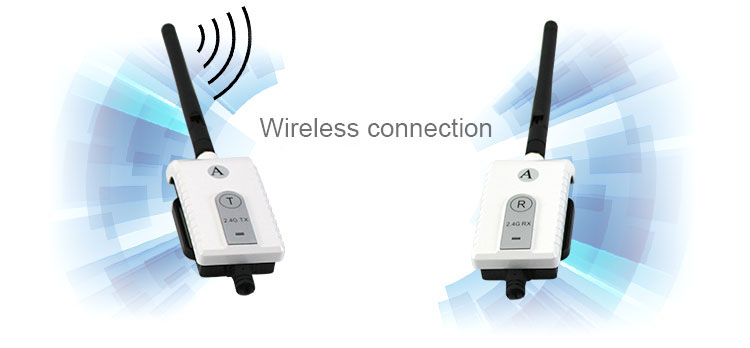 Digital wireless connection can be use to transmit video signal wirelessly but no audio signal.
---
What is the difference between Wireless Analogue Transmission and Wireless Digital Transmission?
---

Analogue systems use the same technology /frequency as bluetooth/wireless networks therefore analogue monitors can pick up interference from Bluetooth phones/headsets etc. Digital systems are paired and only 'see' the digital signals, therefore there is no interference.
---
No Cables Required
---

---
Made to be used with Heavy Duty Vehicle
---

---
Functionality and Advantages
---


---
Monitor
---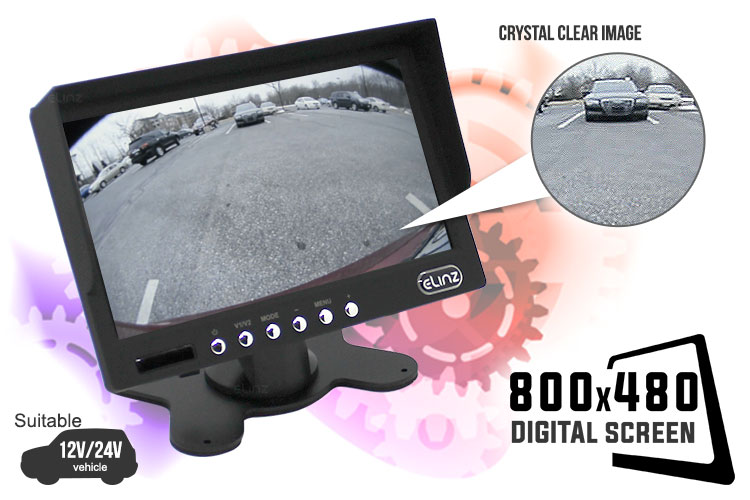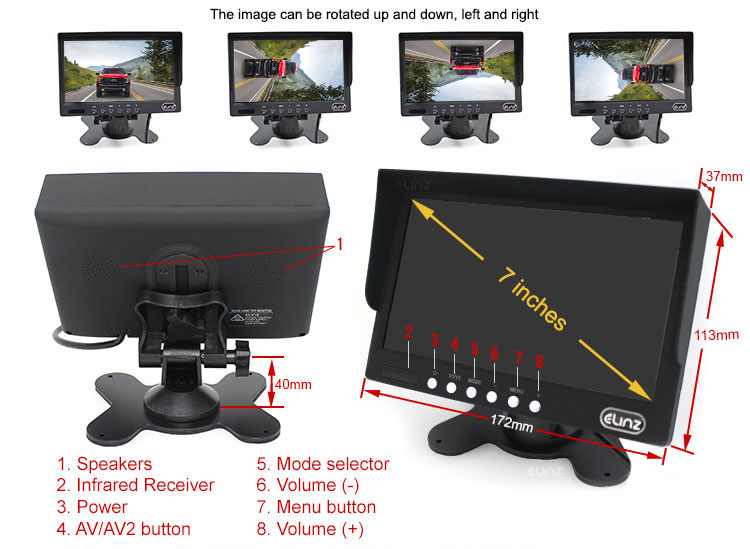 ---
Camera
---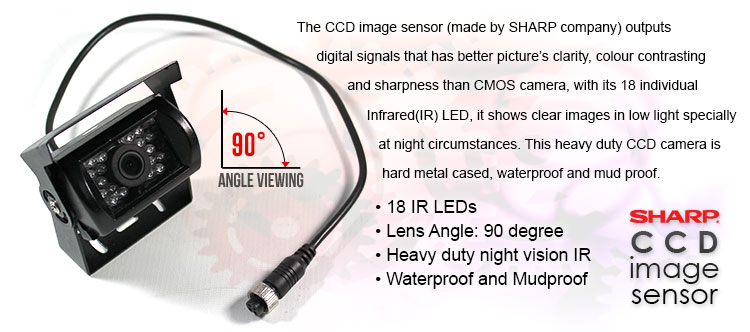 ---
Remote Controller
---

---
Dimensions
---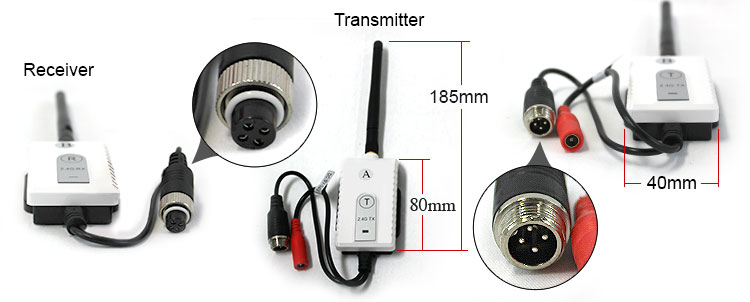 ---
How to Connect
---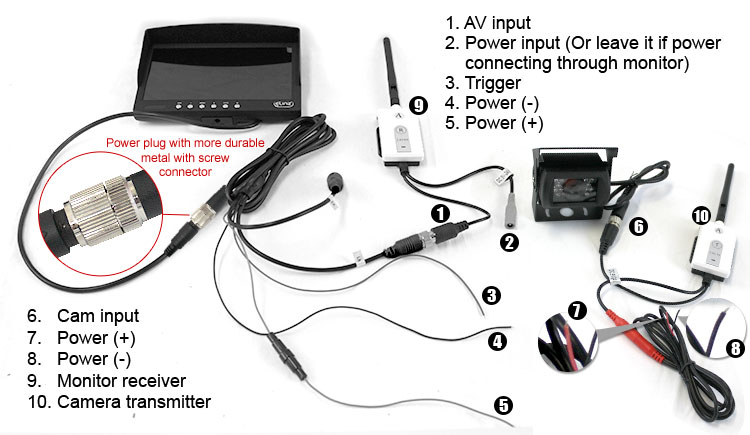 ---
What's included
---

(M7SRVS4PIN90-HDWRL-A)
Specification of monitor
Resolution: 800 X 3 (RGB) X480
Contrast: 500:1
Dot pitch:0.192 ( H) X 0.1805 (V )
Viewing angle U:50/D:60 L/R:70
Input power: DC10-24V
System: PAL and NTSC
Respond time: 30ms
Shock resistant, specifically design for mobile use
Picture display format: 4:3/16:9
Quad screen
4 video channels, 1 audio channel
Five languages OSD menu: Chinese, English, Russian, German and French
The display with two video frequency input Automatic/manual switcher
Includes flat surface stand
Front panel controls with on-screen menu
Sunshade cover is easy to install and take off
Specification of camera: Day and Night camera
COLOR sensor
Waterproof: IP68
System:NTSC:510x492,PAL 500X582
Resolution: 420 TV Lines
Minimum Light: 0 Lux(LED ON)
Electron shutter: 1/100,000(s),ON/OFF
S/N ratio; More than 48 Db
Video output: 1Vp-p 75_
Voltage:DC24V(+/-10%)
18 LED infrared for night vision
Built in microphone
Vibrations resistant, especial design for mobile use
120 degree
| | |
| --- | --- |
| SKU | M7SRVS4PIN90-HDWRL-A |
| Shipping Weight | 2.0000kg |
| Shipping Width | 0.100m |
| Shipping Height | 0.260m |
| Shipping Length | 0.400m |
| Shipping Cubic | 0.010400m3 |
| Unit Of Measure | ea |
Wireless Magic

By:

Robert

on 13 November 2015

We have a small caravan to be towed by a Kia Sportage. Like many modern cars, the car's rear view camera cannot support a second manually selected camera. We have found that a good wide angle camera assists when changing lanes and overtaking, as well as backing into caravan sites. I was hunting around the net and found this wireless model. We also bought the windshield suction cup so we can remove the screen when not towing. Most people have heard stories of poor reception from wireless sets. I had an auto electrician install the camera in the caravan, and he was stunned at how good the picture was compared to any other wireless system. We have now been driving for a few days in peak hour traffic and found that the stable image was clear and bright. I would recommend this unit to any fussy purchaser.




(5)
wireless reversing camera

By:

Francis

on 28 November 2013

Fantastic product and easy to install,highly recommend.




(5)
1. What is the top advantage of having a wireless camera system?
Installation is much easier because you don't have to deal with cables and wires between the monitor and camera.

2. Some wireless devices are known from suffering from signal interference. Is this wireless camera the same?
No. Unlike older devices, this wireless camera system uses the latest digital wireless transmission technology that prevents signal interference.

3. What does its "Quad Screen" feature mean?
It means that the monitor can receive signals and transmission from up to four wireless reversing cameras at the same time. This allows you to view four camera angles on the screen simultaneously.
---
We Also Recommend...
---
Others Also Bought...
---
More From This Category...